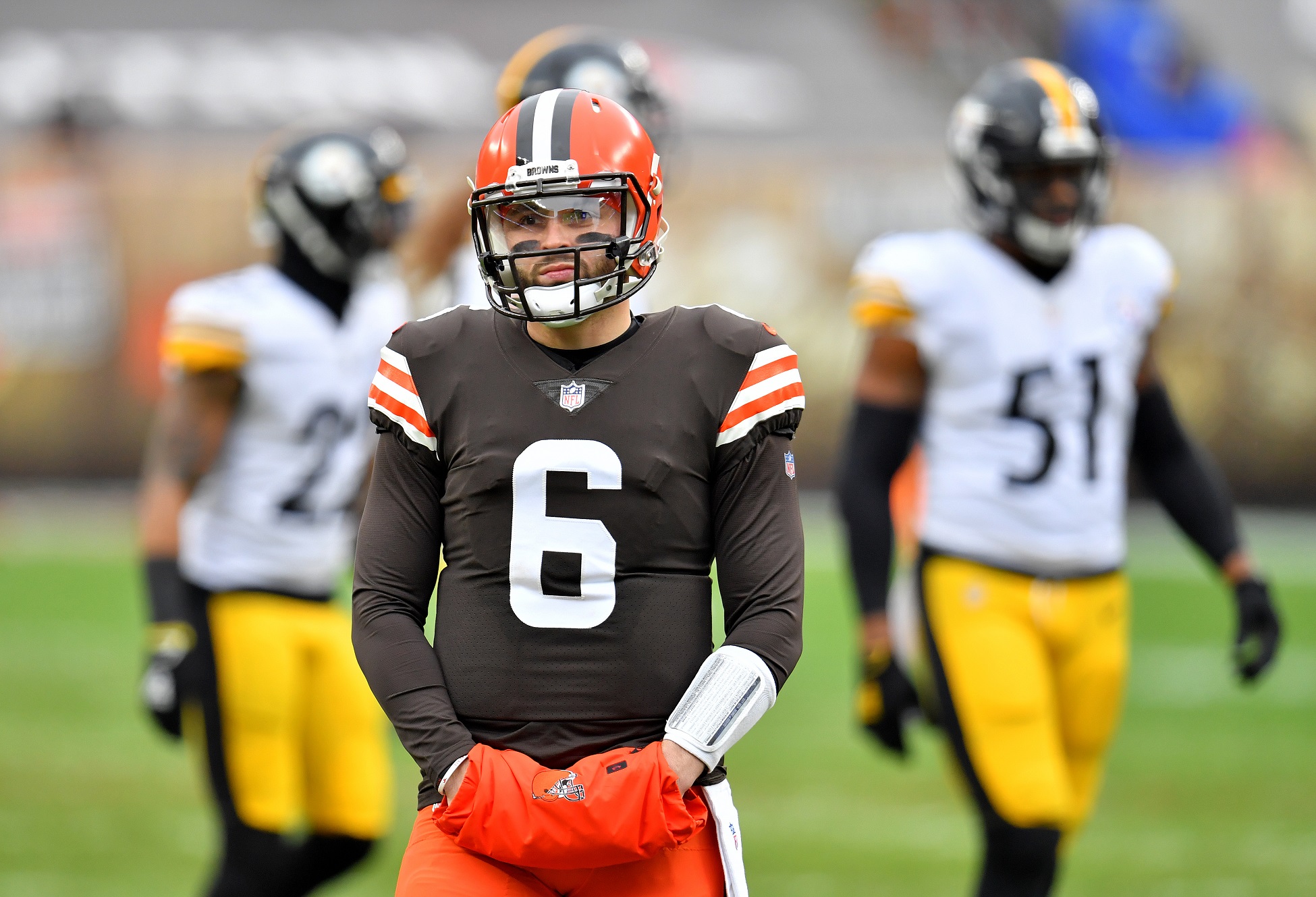 Baker Mayfield's Future Is in the Hands of Harvard Senior Ella Papanek
The Cleveland Browns have invested heavily in analytics, which could tell them whether Baker Mayfield is the long-term answer at quarterback after a solid 2020 season.
With coach Kevin Stefanski benched by a positive test for COVID-19, the Cleveland Browns' fate in the NFL playoffs rests more than ever with Baker Mayfield. Win or lose – but especially if they lose to the Pittsburgh Steelers in the AFC wild-card round – Mayfield's future is in the hands of Harvard senior Ella Papanek.
The Browns are heavily invested in analytics, and Papanek's player projection model could determine whether Mayfield's third season has been an anomaly or a justification to pick up the quarterback's expensive fifth-year option.
That's a lot of responsibility for an intern and says much about how important a role analytics has come to play in sports.
The Cleveland Browns face a crucial Baker Mayfield decision
The 2018 NFL draft was crucial to the Cleveland Browns. Coming off a winless season but holding the first and fourth selections, the Browns saw a unique opportunity to jump-start their overhaul. They selected Oklahoma quarterback Baker Mayfield at No. 1 and Ohio State cornerback Denzel Ward at No. 4.
Behind them, the Browns invested in center Austin Corbett and running back Nick Chubb in the second round, then defensive end Chad Thomas in the third and receiver Antonio Callaway in the fourth.
Ward and Chubb are now mainstays, but the team dumped Corbett to the Los Angeles Rams for a fifth-round draft pick and cut both Thomas and Callaway in a series of purges in 2019.
What the Browns do with Mayfield will weigh heavily on the final draft grade for the class. More importantly, the choice to pick up or decline Mayfield's fifth-year option after the playoffs determines whether Cleveland must re-enter the market for a franchise quarterback via draft or trade.
A chunk of the decision is in the hands of college intern Ella Papanek. Since September, the Harvard student has been working on a player projection model. In it, Sportico.com reports, she uses analytics to anticipate every NFL player's career production.
In essence, the Browns are asking the senior statistics major what the future looks like for a quarterback who had a respectable rookie season, regressed in 2019, and rebounded strongly in Year 3. The Chicago Bears said no to 2017 top-10 pick Mitch Trubisky's $24.8 million option earlier this year, and that's approximately what the Browns have at stake with Mayfield.
How did Harvard student Ella Papanek land with the Cleveland Browns?
Never underestimate the value of connections made via college affiliation. Cleveland Browns general manager Andrew Berry and chief strategy officer Paul DePodesta, long a fan of analytics-driven decision-making, are both Harvard graduates. When they went looking for research assistants, their old school was a logical place to start.
According to her Linked In profile, Ella Papanek, 21, most recently spent nearly two years in a part-time role with the Harvard Sports Analysis Collective, where she was co-president. The group's work included some statistical modeling for the Philadelphia Eagles, salary analysis for the union representing NFL players, and sports trade analysis.
Papanek's interest in the niche began with playing chess, a logical foundation for her primary role this fall: shaping a projection model to suggest every NFL player's career trajectory. In coming years, that could mean determining which running back the Browns will have to cast off. Nick Chubb and Kareem Hunt are both 25 years old, and salary-cap math suggests the Browns won't be able to pay both when their deals are up. There's also the matter of whether Baker Mayfield gets paid.
Papanek's other responsibilities this season have included weekly game reviews, a role comparable to what some teams still label "quality control" assistants.
"Her work is still in development, but it's original and creative and the sky is the limit," Brown vice president Andrew Healy told Sportico. "She's got enormous potential."
The case for Baker Mayfield, pro and con
Quarterbacking the Cleveland Browns to their first playoff appearance since the 2002 season is a feather in Baker Mayfield's helmet, but work remains. With the Pittsburgh Steelers reeling over the past month, some see beating their AFC North rival in the AFC wild-card round as a must if the 2020 season is to be considered a genuine success. That comes with implied pressure on Mayfield.
Mayfield won only six of 13 starts as a rookie, but his personal stats – 3,725 yards, 27 touchdowns, and 14 interceptions — were solid enough. However, perceptions shifted in 2019 when Mayfield threw 22 touchdowns but 21 interceptions. Detractors pointed to his numerous endorsements being a distraction.
The 2020 regular season was a step in the right direction. With the running game taking pressure off the rest of the offense, Mayfield threw less and produced more. His yardage (3,563) was a career low, but Mayfield threw 26 TD passes and just eight interceptions for a 95.9 passer rating. Still, he completed just 62.8% of his attempts.
One playoff win possibly answers the Browns' big question in positive fashion, and two definitely will. But a wild-card loss to the Pittsburgh Steelers very possibly puts Mayfield's future in the hands of intern Ella Papanek.
All stats courtesy of Pro Football Reference.