Bill Belichick is Already Dealing With a Troubling Trend That No Amount of Money Can Fix
Bill Belichick entered the offseason with some clear needs to address. Luckily for the New England Patriots, he had more than enough salary cap space to fill critical roster holes and set the team up for a quick turnaround. As we learned during the early days of free agency, Belichick showed no hesitation about signing big-name players to lucrative contracts.
Will those investments pay off? Or will Robert Kraft regret letting his longtime head coach spend an unprecedented amount of guaranteed money on free agents?
Only time will tell whether Belichick chose wisely, but he's already dealing with a troubling trend that no amount of money can fix. And if the Patriots want to make a legitimate run at the Lombardi Trophy, they can't afford for the situation to keep heading in the wrong direction.
The Patriots have invested significant resources to upgrade their depleted tight end group
Belichick benefitted from having arguably the greatest tight end of all time as the centerpiece of his offense for almost a decade. However, once Rob Gronkowski retired, it became apparent that the Patriots did not do a great job planning for life after Gronk.
After getting essentially nothing out of the position in 2019, Belichick took an aggressive approach to try to re-stock the tight end room. New England double-dipped in the third round of the 2020 NFL Draft by selecting Devin Asiasi and Dalton Keene.
However, neither player impressed in his first season in Foxborough.
Coming off a season in which Asiasi and Keene totaled five catches for 55 yards and one touchdown, Belichick completely overhauled the tight end depth chart. Despite having a reputation for passing on big-name free agents, he landed the top two players at the position. Both Jonnu Smith and Hunter Henry signed lucrative contracts that average $12.5 million per year.
Between the amount of draft capital it took to secure Asiasi and Keene — the Patriots traded up for both players — and the $87.5 million in combined deals for Smith and Henry, Belichick's critics can't say he's gone the cheap route at tight end.
Of course, whether the second-year pros and their two highly-paid teammates justify their acquisition price depends on what happens on the field.
Bill Belichick is dealing with a troubling trend that no amount of money can fix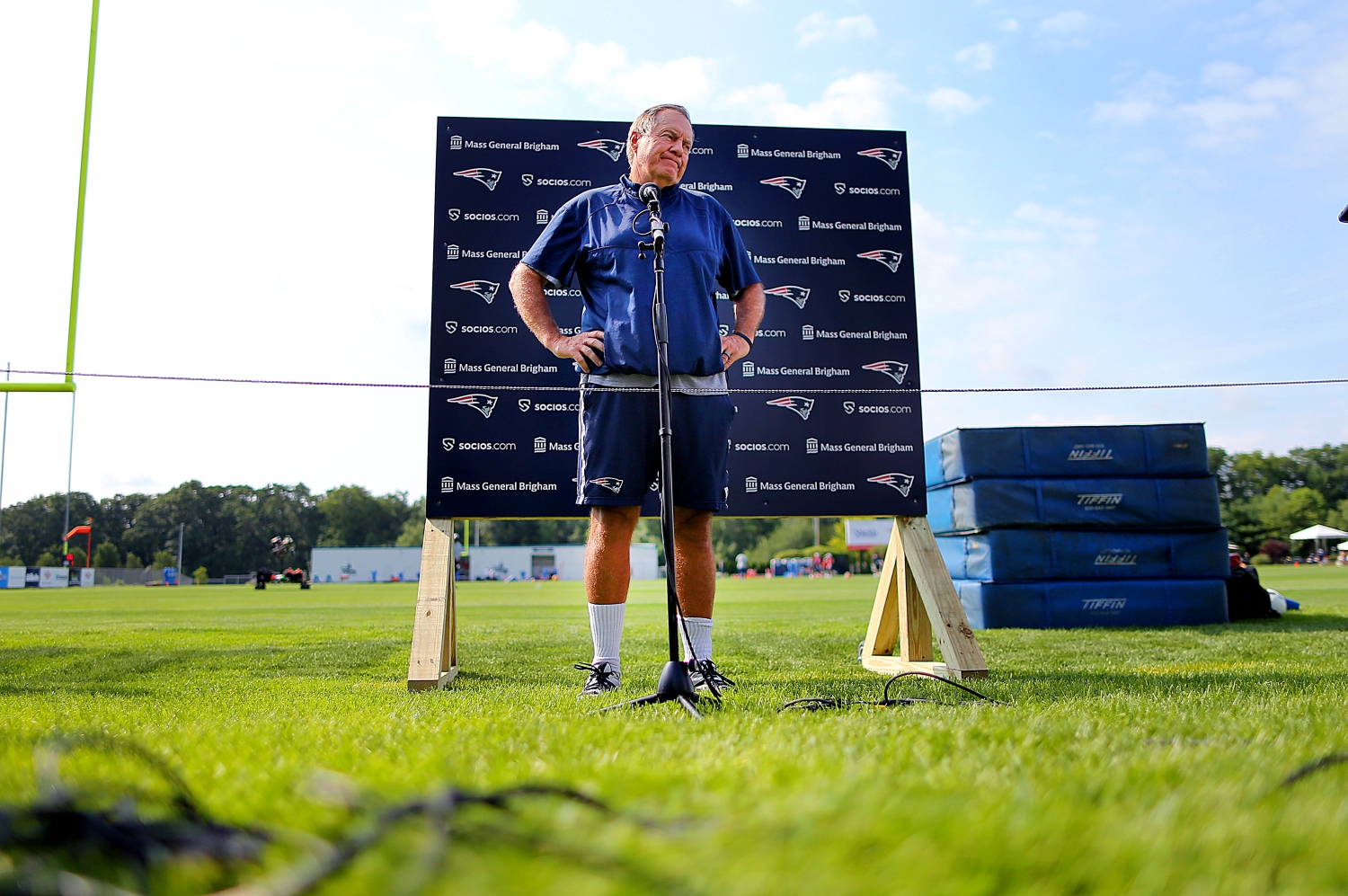 Belichick should be feeling confident about his tight end group given everything he's done during the last two offseasons. However, he's already dealing with a troubling trend that should cause some concerns about New England's ability to live up to expectations on offense this season.
Unfortunately for Belichick, no amount of money can fix the issue that's plaguing the Patriots at the moment.
Injuries have once again become a problem for a position group that needs to make a significant impact in 2021. New England already lost one tight end for the season, as Keene got put on injured reserve on Aug. 7 because of a knee problem.
Meanwhile, both of Belichick's big-money free-agent acquisitions have suffered setbacks since joining the team. Henry got banged up during the spring, and he recently sustained a shoulder injury in training camp that's caused him to miss valuable practice time.
Smith, who the Patriots signed to a four-year, $50 million contract, hurt his ankle on Sunday. As a result, the talented tight end didn't participate in joint practices against the Philadelphia Eagles. To make matters worse, backups Matt LaCosse and Tony Fumagalli missed Tuesday's session against the Eagles because of injuries.
Considering Smith and Henry both come with durability concerns — the latter has never played all 16 games in a season — the fact they're already hurt should raise concerns about what lies ahead. If they can't stay healthy and contribute, the Patriots will have a difficult time moving the ball and putting up points. And you can bet Belichick will face criticism for his work as a GM if Smith and Henry don't live up their deals because of injuries.
Belichick desperately need his big-money free agents to stay healthy if he plans on competing for a Super Bowl title
The Patriots went 7-9 in 2020 largely because Belichick didn't set the team up for success. New England didn't have starting-caliber players at key positions, and early-round picks like N'Keal Harry, Sony Michel, and Joejuan Williams struggled to live up to their draft pedigrees.
But after going on an expensive shopping spree this spring, Belichick has a roster that's fully capable of making a Super Bowl run. In order for that to happen, though, he needs his free-agent haul to pan out.
On offense, Smith and Henry must avoid further setbacks so they can do damage over the middle of the field. Nelson Agholor (two years, $22 million) and Kendrick Bourne (three years, $15 million) need to consistently get open and catch the ball from whoever starts at quarterback.
Belichick's defense should return to top-five territory. He bolstered the front seven by signing outside linebackers Matthew Judon and Kyle Van Noy and defensive linemen Davon Godchaux and Henry Anderson. Plus, the secondary received a boost with the addition of versatile defensive back Jalen Mills.
Of course, the odds of all of those players working out are essentially zero.
For Bill Belichick's sake, hopefully the Patriots end up being the outlier.
Then again, didn't they prove that over the last two decades?
All statistics courtesy of Pro Football Reference. All contract data courtesy of Spotrac.