Boomer Esiason Crushes Aaron Rodgers While Praising Another Unvaccinated QB for Doing Things the Right Way: 'I'm Sick of Aaron Rodgers off the Field'
If it weren't for the Odell Beckham Jr. drama, sports media would be all Aaron Rodgers all the time. The Green Bay Packers quarterback dominated the headlines this week. He tested positive for COVID-19 and news emerged that he is not vaccinated. This was surprising as his play on words earlier in the season led most people to think he was vaccinated.
The Sunday pregame shows got the final shots of the week in on the star QB, and former signal-caller Boomer Esiason didn't waste his chance to put Rodgers in his place. The former NFL QB didn't simply attack Rodgers for his lie or his unvaccinated status, though. Esiason made an interesting comparison between Rodgers and another unvaccinated NFL QB who is handling the situation much better.
Boomer Esiason hammered Aaron Rodgers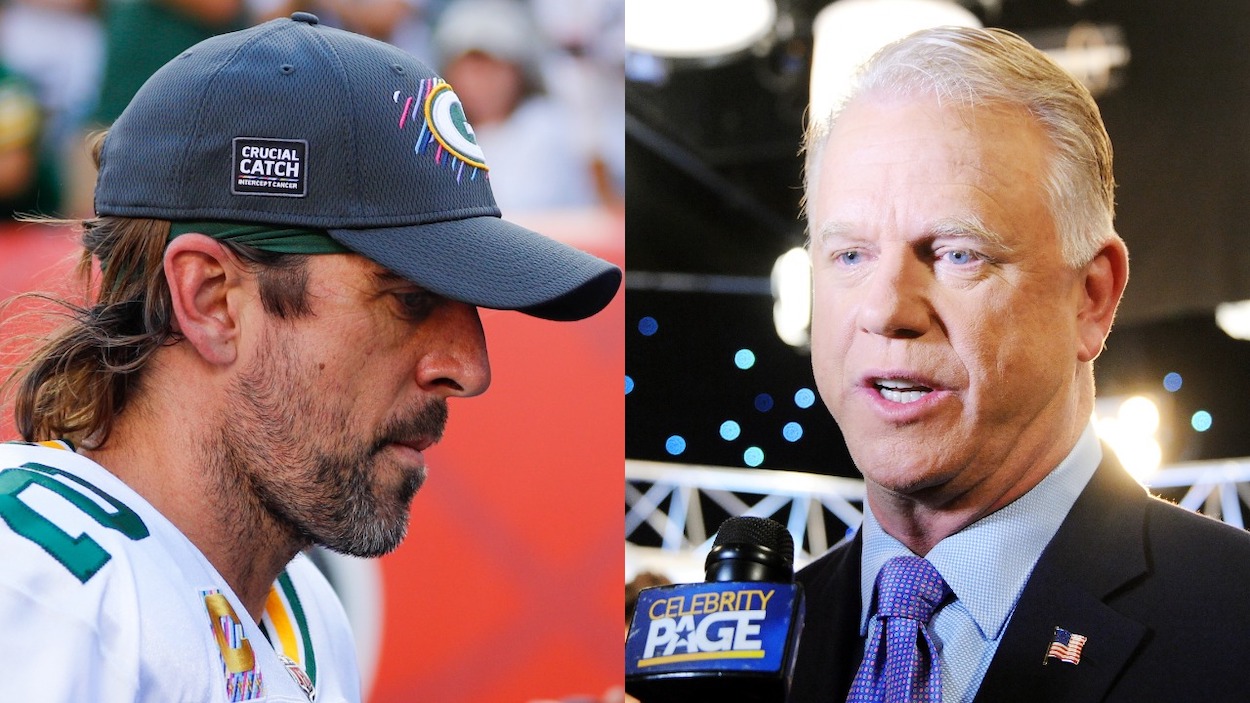 Boomer Esiason knows what it takes to lead a football team to success at the quarterback position. The 14-year pro, like Rodgers, won an NFL MVP award in 1983 and took a team to a Super Bowl that same year.
This makes Esiason uniquely qualified to analyze the Aaron Rodgers situation from a leadership perspective.
That said, while the former Cincinnati Bengals signal-caller eventually brought up some interesting and nuanced comparison between Rodgers and another unvaccinated QB, he did make a point to hammer the QB for the whole situation as well. This is TV, after all.
Esiason emphatically said of Rodgers:
I love Aaron Rodgers as a player, but I am sick of Aaron Rodgers off the field. And he really let his Green Bay Packers down. He's supposed to be the leader of a team when you're a quarterback. … And for him to go to a Halloween party, unmasked, and put himself in that situation is the things that leaders don't do. So whether you're upset about Jordan Love being drafted, or whether you're upset because your way of immunizing yourself wasn't looked at as a vaccination, you have let down the Green Bay Packers.

Boomer Esiason on Aaron Rodgers
Boomer's diatribe nicely summed up what many Green Bay Packers fans — and football fans in general who enjoy watching one of the best QBs in the NFL play —are feeling this week after all the "immunized" drama surrounding Rodgers.
What made the pregame show co-host's rant even more fascinating is that he drew comparisons between Rodgers and another QB in the same boat who is doing things the right way for his team: Indianapolis Colts QB Carson Wentz.
Praise for Indianapolis Colts QB Carson Wentz
The Aaron Rodgers saga seemed to flip public sentiment on several of the most prominent unvaccinated NFL players.
Well-known players like Minnesota Vikings QB Kirk Cousins, Buffalo Bills WR Cole Beasley, and the Colts' Carson Wentz all got begrudging kudos from critics following the news of Rodgers' untruthfulness.
The general consensus this week from some of social media's most outspoken critics of unvaccinated players was similar to this tweet by Pro Football Talk's Michael David Smith, who wrote, "Aaron Rodgers purposely misled people about his vaccination status. I respect loudly unvaccinated people like Cole Beasley more than I respect Rodgers, who has interacted with people who thought he was vaccinated while not wearing a mask."
Following this public sentiment, Boomer Esiason reached out to his old college roommate at Maryland and current Indianapolis head coach Frank Reich to discuss his own unvaccinated QB.
Reich told Esiason that, unlike Rodgers, Wentz is doing all the right things, according to NFL protocols. This is so he can stay healthy, protect people around him, and remain available for his team. Esiason explained on the NFL Today show:
I reached out to Frank Reich this week. The reason I reached out to the Indy head coach was because he has a quarterback who's unvaccinated and who has to follow protocols. Reich told me that Carson Wentz has been nothing but a role model under the conditions that the NFL has set forth. He's protecting himself, and he's protecting his team, and he's leading his team even though they're not the No. 1 team in the NFC like Aaron Rodgers is.

Boomer Esiason on Carson Wentz
Wentz wasn't a great (or even good) leader during his time with the Philadelphia Eagles. This makes the comparison between the ways Rodgers and Wentz are handling their unvaccinated status is intriguing.
Leadership aside, though, Rodgers is flat-out a better QB than Wentz. This made his absence Sunday even more glaring, and cost his team a W.
Rodgers not playing cost the Green Bay Packers a win on Sunday
We'll never know what would have happened if Rodgers was vaccinated when he tested positive this week. Maybe he could have got on the field Sunday, or maybe not. What we do know is that him not being there cost the Green Bay Packers a win.
The Kansas City Chiefs beat the Packers Sunday 13-7 in an ugly game at Arrowhead Stadium in Missouri.
Jordan Love, the Packers quarterback of the future, proved he is not, by any means, ready to be the quarterback of the present.
In his first-ever NFL start, Love was 19-of-34 for 190 yards and an interception against one of the worst defenses in the league. KC defensive coordinator Steve Spagnuolo's blitz-heavy scheme flummoxed the young QB all day. Love didn't score until 4:53 left in the game.
It was a game that was winnable for the Pack as Patrick Mahomes was shockingly bad as well. The former NFL MVP's stat line was stunningly similar to Loves: 20-of-37 for 166 yards and a touchdown.
It is hard to imagine that if the Green Bay D could have played the same with Rodgers at the helm, the defending MVP wouldn't have torn the Chiefs D apart.
The silver lining in all this is that the Packers are still 7-2 after the loss. This keeps them three games up in the putrid NFC North. They lost a game on the Arizona Cardinals, but losses by the Los Angeles Rams and Dallas Cowboys (with the Tampa Bay Buccaneers bye) keep the Packers in fine position in the overall NFC picture.
All stats courtesy of Pro Football Reference