Brad Stevens Just Exposed the Lakers' Major Offseason Problem With 3 Simple Words
Brad Stevens hasn't really been linked to the LA Lakers' coaching job, but his response to the opening was still rather telling.
While the 2022 NBA Playoffs have yet to officially begin, the LA Lakers are already in offseason mode. The iconic franchise struggled through an ugly campaign and missed the postseason, meaning that it's time to make some changes and build toward a brighter future. Unfortunately for those in Hollywood, that's easier said than done. Allow Brad Stevens to explain.
After firing Frank Vogel, the Lakers are on the hunt for a new head coach. While Stevens isn't one of the rumored candidates, he's already shut things down.
Although a single uninterested candidate might not seem like a major setback, it's emblematic of a larger issue facing the Lakers. At this point, their head coaching gig seems like a pretty unappealing proposition.
Brad Stevens is 'not entertaining' the Lakers' head coaching job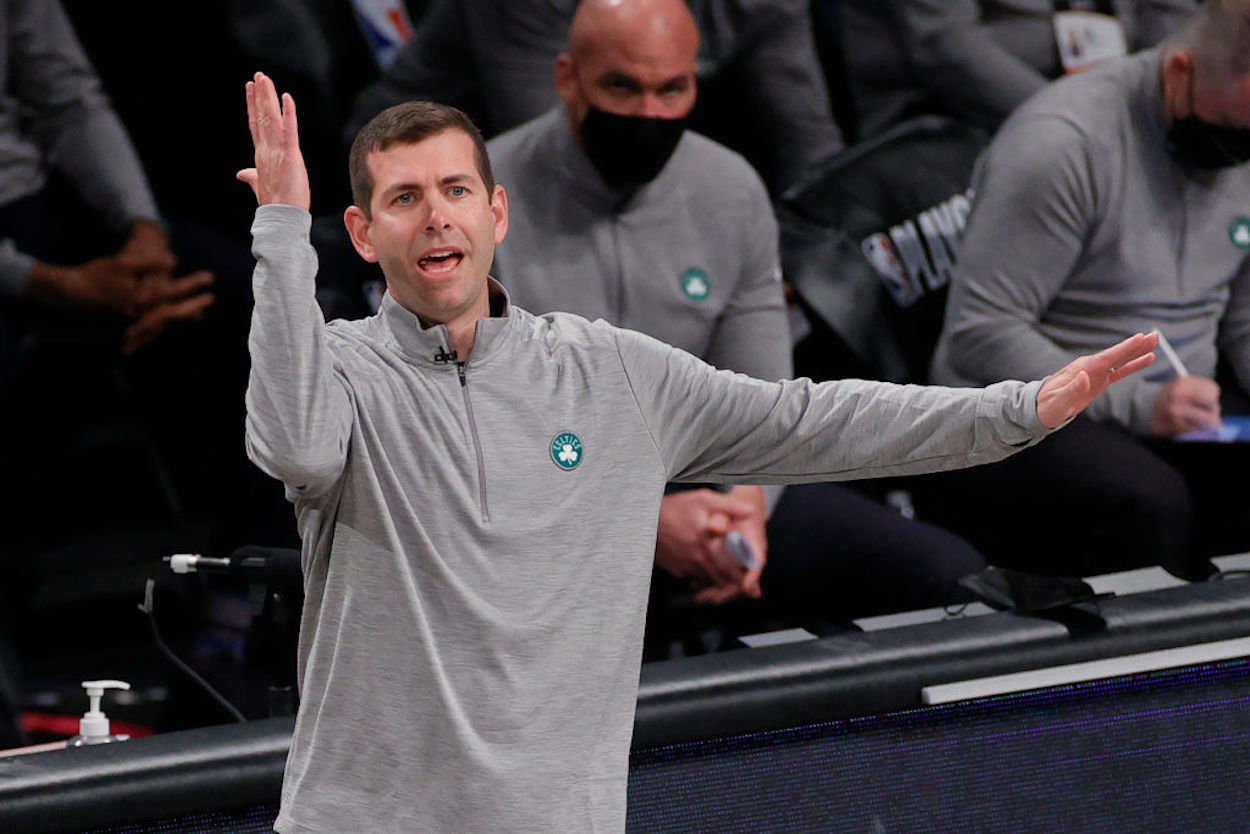 While there's room to debate the validity of Frank Vogel's firing, there's no changing the bottom line: The LA Lakers need a new head coach.
So far, the largest names linked to the job have been Nick Nurse, Doc Rivers, and Quin Snyder. Reports have emerged that LeBron James would also be happy to see Mark Jackson take charge of the Lakers, but it's unclear if there's any interest there.
Brad Stevens, the Boston Celtics' president of basketball operations, hasn't really been involved in any rumors. That reality, however, didn't prevent him from being asked about the Lakers' gig during a recent radio interview.
"No. Not entertaining," Stevens explained (h/t Mass Live). "First of all, I have no idea what my future holds. I'm in one of those positions where someone decides to move on from me, and this is the world we live in. I'm definitely not leaving to go to the Lakers. I know that for a fact."
The former Celtics coach even went as far as suggesting that he wasn't even in the running for the job.
"I have not been a person they will reach out to anyway," Stevens added. "They've got a lot of good candidates. They have a lot of better candidates than me, I'm sure."
Stevens' response reveals the true scale of the Lakers' challenge
From a cynical perspective, you could argue that Brad Stevens' response was nothing more than public relations. Since the Boston Celtics are yet to even start their postseason run, he couldn't do anything other than denying interest in another job. With that being said, though, his comments do speak to the scale of Los Angeles' challenge.
Traditionally, the Lakers have sat atop the NBA as one of basketball's premier franchises. Being their head coach was a privileged position; you'd be under pressure, but you would also have a talented roster at your disposal and a chance to chase championships. Ahead of the 2022-23 season, though, things are a bit different.
The most recent version of the Lakers missed the playoffs. The team's roster is top-heavy, defined by Russell Westbrook, LeBron James, and Anthony Davis. There's very little financial flexibility, limiting a new coach's ability to reshape the squad, and, with Jeanie Buss, Rob Pelinka, and Kurt Rambis sitting in the front office, it's unclear how much autonomy that coach will even have.
Unless you're desperate for work, have always dreamed of leading the Lakers, or can't resist the allure of a potentially massive paycheck, there's very little to draw a promising candidate to Hollywood.
That shows how bad things have gotten. Imagine the Showtime Lakers or the Lakers of the early 2000s needing a new head coach. You wouldn't believe your ears if someone responded, "No. Not entertaining."
Let's circle back to Stevens for a moment. While everyone has their own feelings about the candidates — you could argue, for example, that Doc Rivers' postseason resume suggests he's not the greatest coach around — the Celtics exec would probably improve most teams in the Association. When it comes to the Lakers, though, he ended the conversation before it began with three simple words. "No. Not entertaining."
If that response can come from Stevens, it can come from the others, too. Why would Nurse want to leave Toronto, where he's won a championship and has an elite executive in his corner. LA might be a step forward in terms of branding, but it would probably be a regression by just about every other metric.
Would Rivers, at this point in his career, care about the prestige of Hollywood? Or would he be more concerned about prioritizing the best fit and proving that his one championship wasn't a fluke?
As for Snyder, his interest in the Lakers' gig has reportedly cooled after seeing how they treated Frank Vogel.
At this point, that's the Lakers' big problem. Forget the Russell Westbrook contract, LeBron James' age, Anthony Davis' fragility, or any individual factor. They, along with on-court results and the front office's behavior, have combined to create an ugly situation. At this point, LA looks untouchable and not in a good way.
Since the team's roster really can't change much at this point, the new head coach will theoretically be a major part of stabilizing the Lakers' ship. If the top candidates fail to even entertain their offers, though, the iconic franchise will have to suffer through some more demoralizing campaigns. Maybe, if things hit rock bottom, the brass will realize that things have to be different moving forward.