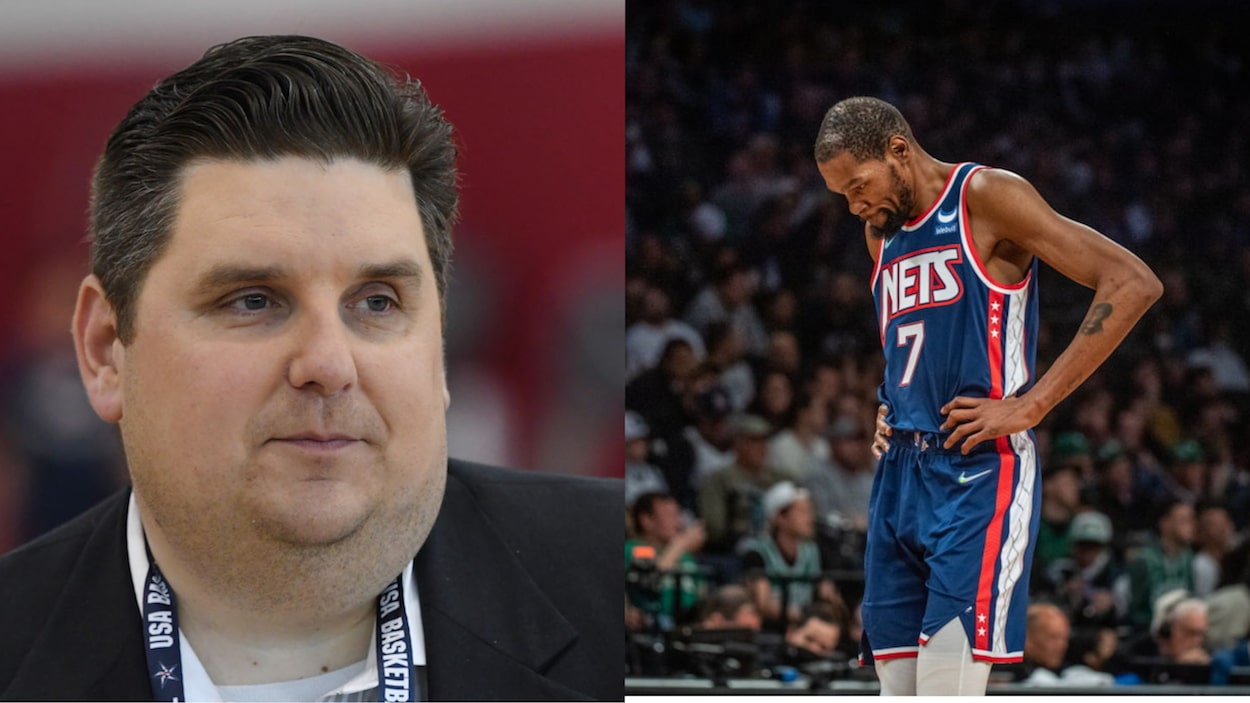 Brian Windhorst Perfectly Sums Up the Brooklyn Nets' Biggest Problem Trying to Trade Kevin Durant
Under most circumstances, you'd expect teams to be chomping at the bit to trade for Kevin Durant. The Brooklyn Nets, however, seem to have overestimated that market.
While it's never ideal to have your best player request a trade, the Brooklyn Nets presumably thought there was a silver lining to Kevin Durant's desire to leave town. Even if they'd rather have him on the roster, KD's talent would at least make him a desirable asset. Teams would be lining up for a chance to acquire him, right?
Wrong.
There's plenty of time for things to change, but, thus far, there hasn't exactly been a bidding war for the Slim Reaper's services. If anything, it seems like the Nets have made a fatal mistake and misjudged the trade market.
Let Brian Windhorst break it down for you.
The Brooklyn Nets seem to have overestimated the league's collective interest in a Kevin Durant trade
If you're selling something (or, in this case, trading a player), the ideal scenario is to have two interested parties trying to outdo the other. The Brooklyn Nets might have envisioned that happening, but, as of now, there isn't even one team willing to meet the asking price to land Kevin Durant.
"When the Nets put him on the market, Dan, I think they thought there was going to be a tremendous bidding war," ESPN's Brian Windhorst explained on Get Up. "And while there's a lot of interest, from what I can tell, that bidding war isn't really hot right now. The teams have made their offers, and they don't really feel the need to increase them."
The issue seems to at least partially stem from the combination of two factors. First, Durant only wants to play for a contender, which limits his potential trade destinations. Secondly, the Nets are asking for a massive return for a player who, while incredibly talented, is almost 34 years old. That has seemingly set up a situation in which the only teams that KD wants to join can't afford to pay Brooklyn's asking price. Doing that would slam their window shut almost immediately.
Windhorst also added that the Rudy Gobert trade caused the Nets' to raise their asking price. The rest of the league, however, isn't willing to pay that. Donovan Mitchell (theoretically) staying in Utah has also stagnated the market.
"Without Mitchell in the market, the teams are not trying to outbid each other," Windhorst added before dropping the metaphorical hammer. "It doesn't make sense for teams to sell their house to pay for a car, even if that car is a Lamborghini like Kevin Durant."
That reality leaves the Nets in a risky situation
While there's some merit to starting the bidding high, it seems like the Nets have massively overestimated the market for Kevin Durant. That might seem like a minor inconvenience now, but it could set the stage for a massive problem as the season approaches.
According to previous reports, Brooklyn is prepared to keep KD on the roster until an acceptable deal materializes. Although that's easy to say now — at this point, most players are at home and doing their own thing — it will be a different story once the preseason begins. Let's pretend for a second that the star informs the Nets that he's not going to report for duty. That not only sets up an awkward situation, forcing the players and coaches to have to field questions about Durant every single day, but it also tanks Brooklyn's bargaining position. If the Eastern Conference club can't command a massive haul now, what will the offers look like if they lose even more leverage?
While that's admittedly an extreme example, it does show the tight rope that Sean Marks and the Brooklyn Nets brass are walking. You don't want to lose a superstar for pennies on the dollar, but, at the same time, your asking price can't be so out of touch with reality that it ends the bidding war before it even starts.
Is there time for the market to change? Of course. But, as of now, the Brooklyn Nets' misjudgment seems to have set them off for a disappointing offseason and a dangerous decision.
Like Sportscasting on Facebook. Follow us on Twitter @sportscasting19 and subscribe to our YouTube channel.