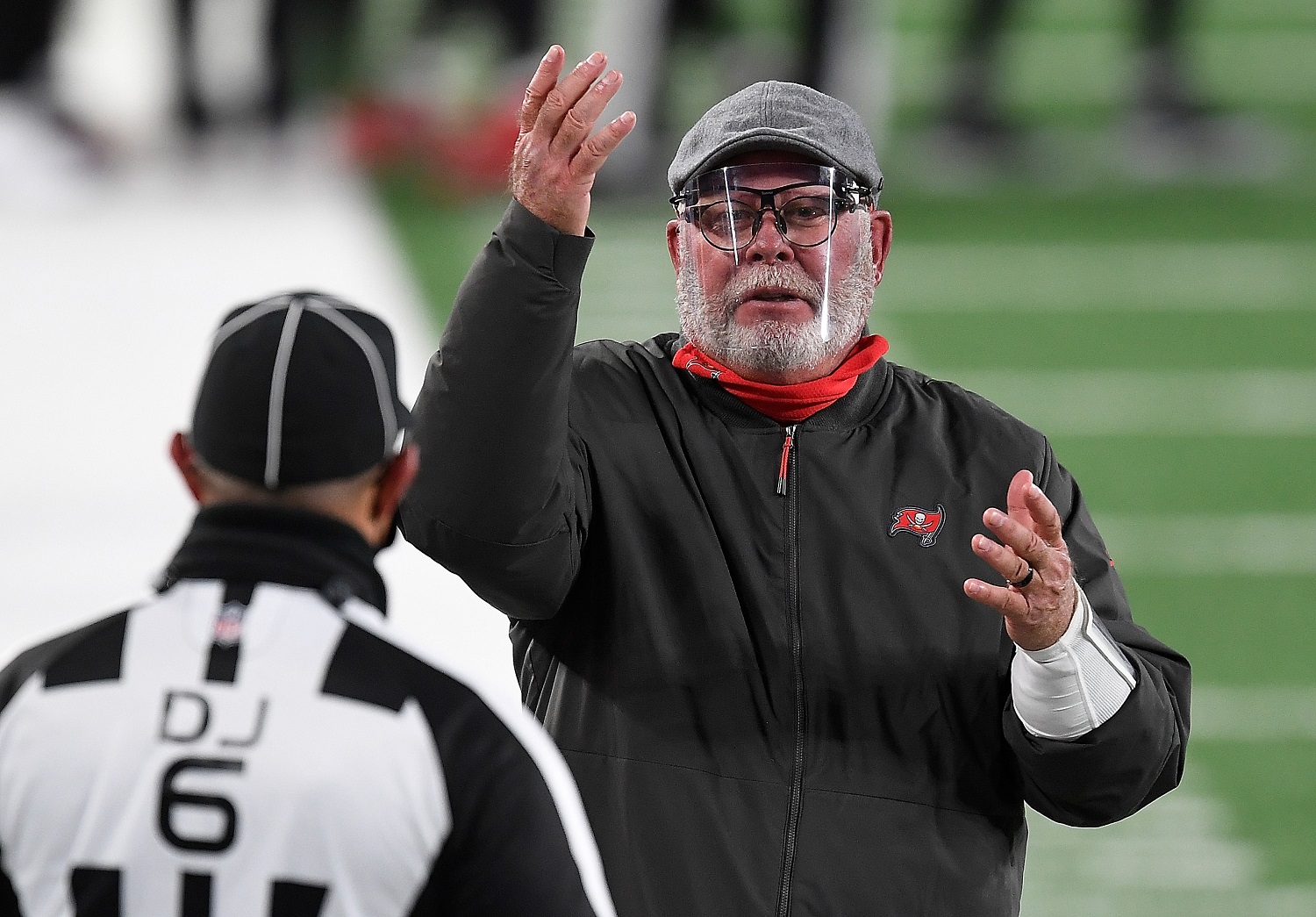 Bruce Arians Reveals What Made Working for the Chiefs at Least as Good as a Home Super Bowl
Bruce Arians' first NFL job was as an assistant coach for the Kansas City Chiefs, his opponent in Super Bowl 55.
Football is one of those strange businesses in which Bruce Arians can make 14 stops with 11 NFL or college teams and still be treated as something close to an overnight success. After all those moves, Arians likely loves the irony of coaching the biggest game of his life on the home field when the Tampa Bay Buccaneers host the Kansas City Chiefs in Super Bowl 55 on Feb. 7.
Even better, he gets to do so against the organization that gave him his first opportunity to coach in the NFL – one that remains close to his heart.
Super Bowl 55 coaches Bruce Arians and Andy Reid get around
Football is a sport of specialization. There are defensive backs who come on the field in nickel packages, running backs who are third-down specialists, and quarterbacks who run the wildcat packages.
Coaches, too, specialize. No longer are there just linebacker coaches; they handle either the inside or the outside linebackers. On offense, there often are coordinators for the running and passing games. The specialization gives coaches distinct paths through the profession.
But as the assignments become progressively more important, moving from city to city is often a necessity. Kansas City Chiefs head coach Andy Reid is in his ninth assignment with his eighth team since beginning in the profession as a graduate assistant at BYU in 1982 – and that actually constitutes stability.
By comparison, Tampa Bay Buccaneers head coach Bruce Arians is in his 14th assignment with his 11th program since starting as a grad assistant at Virginia Tech in 1975.
Bruce Arians has been a head coach four times
After a combined five years as an assistant at Mississippi State and Alabama, Bruce Arians landed his first job in 1983 as a head coach at Temple, one of the most difficult jobs in the FBS because Big Ten and ACC schools recruit Pennsylvania and New Jersey so heavily. A 27-39 record in six seasons wasn't enough to save Arians' job.
"Firing Bruce Arians set that program back 20 years," current Iowa coach Kirk Ferentz said with only the slightest exaggeration.
Arians' other head coaching jobs have come in the NFL. He began with a 9-3 record in interim work for the 2012 Indianapolis Colts. That came about when Chuck Pagano was diagnosed with leukemia. That landed him the top job with the Arizona Cardinals, where he was 49-30-1 with two playoff appearances in five seasons.
Arians became the head coach of the Tampa Bay Buccaneers in 2019 and has compiled an 18-14 regular-season mark.
Bruce Arians recalls his days with the Kansas City Chiefs fondly
Bruce Arians' bounce-back job after being fired at Temple was coaching running backs for the Kansas City Chiefs from 1989-92 under Marty Schottenheimer. Christian Okoye led the NFL in rushing in 1989 and scored 34 touchdowns in 44 games with Arians there.
Arians looks back fondly on those years in large part because of the surrounding cast. He cited general manager Carl Peterson and a talented staff of assistant coaches that included Bill Cowher and Tony Dungy.
In Arians' mind, it all started at the very top.
"First-class organization," Arians said, according to KansasCity.com. "Lamar Hunt might be the greatest man that I've ever worked for. The Glazers (in Tampa) were fantastic, but Lamar was very, very special."
Like Sportscasting on Facebook. Follow us on Twitter @sportscasting19.