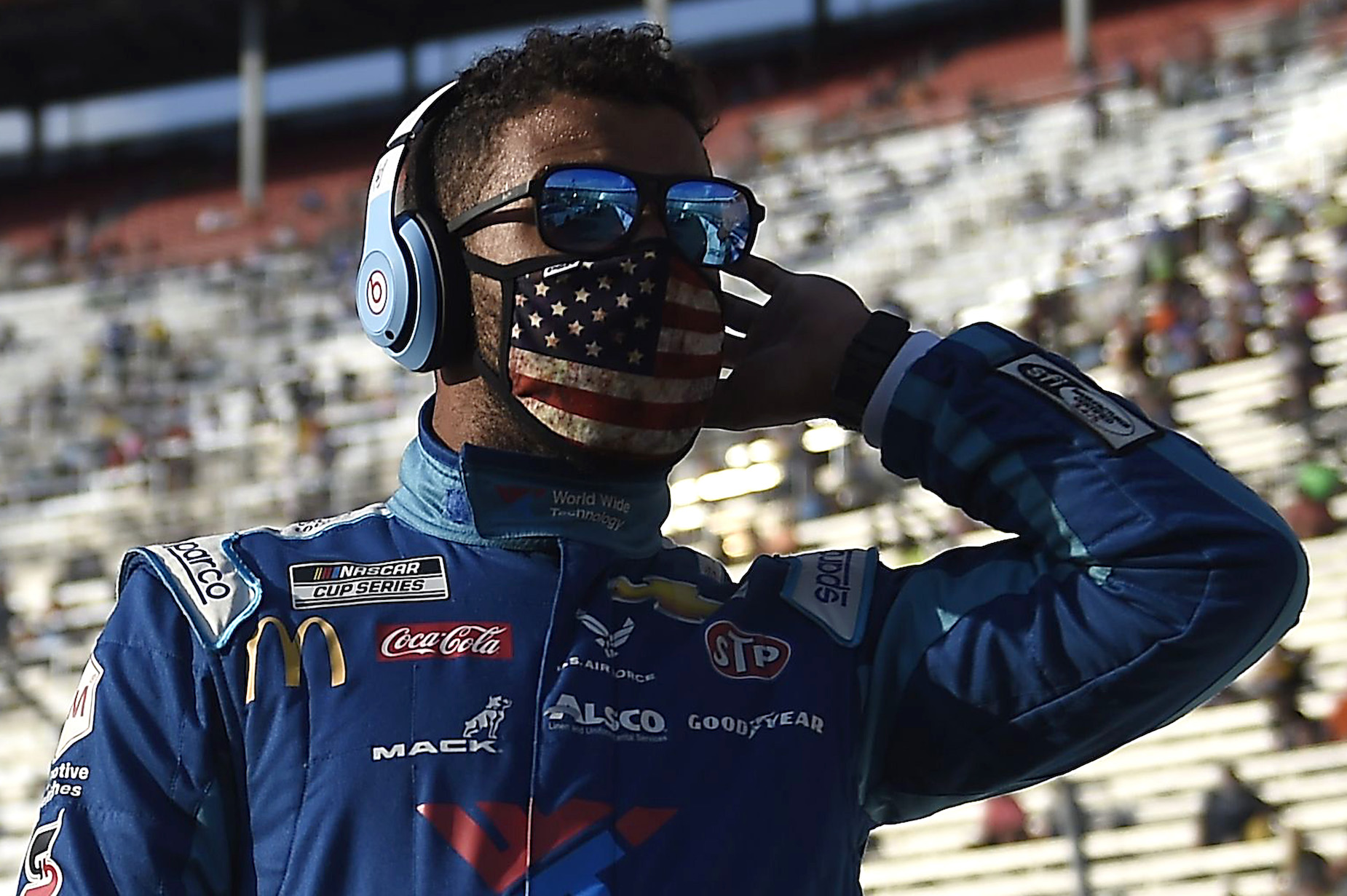 Bubba Wallace Almost Sent a Much Different Message to Donald Trump After June 2020's Noose Investigation
When Bubba Wallace took to Twitter and responded to Donald Trump in July 2020, the NASCAR driver almost took a drastically different tone.
Even if you're not the biggest NASCAR fan, you probably came to know the name Bubba Wallace. During the summer of 2020, the driver made national headlines unrelated to the world of motorsports; he threw his full support behind the Black Lives Matter movement and, following an FBI investigation of a potential noose found in his garage stall, became the target of Donald Trump's tweets.
While Bubba Wallace eventually responded by penning a tweet to "the next generation and little ones," he almost took to social media with a much different message. According to an Esquire interview, the NASCAR driver briefly considered fighting fire with fire before taking the high road.
Bubba Wallace has become pretty popular on the NASCAR scene
As the old cliche says, there's no such thing as bad publicity. While that might not always be true, Bubba Wallace has certainly received plenty of press in 2020; beyond his popularity, though, he's also a talented driver.
Wallace started racing as a child and cut his teeth on the K&N East Series, where he claimed Rookie of the Year honors in 2010. He made his Xfinity Series debut in 2012 and joined the Camping World Truck Series a year later.
In 2017, Bubba took the next step up the ladder and joined Richard Petty Racing for his first Cup Series campaign. Wallace joined the team full-time time in 2018 and stayed there through the 2020 season; he then joined Michael Jordan's 23XI Racing, where he'll climb behind the wheel of the number 23 car.
While Wallace is yet to claim a checkered flag in the Cup Series, he's still proven himself as a capable driver during his relatively short time at the top level. He earned four top-ten finishes in 2020, landing in 22nd place in the overall points standings; the driver has also won plenty of fans with his willingness to discuss issues of race and equality, topics that most athletes would traditionally shy away from.
Called out by Donald Trump on Twitter
As we've all seen, Donald Trump has no problem taking to Twitter to air his grievances. During the summer of 2020, he took aim at Bubba Wallace and fired away.
During his time on the NASCAR circuit, Wallace has never been afraid to speak his mind about social issues; he pushed NASCAR to ban Confederate flags and hit the track in a Black Lives Matter car. Given that reality and Wallace's status as the only Black driver in the Cup Series, it made national news when a noose was found in his garage at Talladega.
After an FBI investigation concluded that Wallace wasn't the target of a hate crime, Donald Trump weighed in on Twitter. "Has @BubbaWallace apologized to all of those great NASCAR drivers & officials who came to his aid, stood by his side, & were willing to sacrifice everything for him, only to find out that the whole thing was just another HOAX?" he wrote, roughly two weeks later. "That & Flag decision has caused lowest ratings EVER!"
Bubba Wallace almost sent a much different response to Donald Trump
Shortly after Donald Trump tweeted about Bubba Wallace, the NASCAR driver responded with a screenshot of a message addressed to "the next generation and little ones following my foot steps." While he ended up taking the high road, Wallace almost took a much different tone on social media.
"I had four or five tweets that I wanted to send out, that were just like… they were funny," Wallace explained to Esquire's Justin Kirkland "They were awesome,' he says, laughing, not willing to divulge exactly what they said. 'It would have been stooping down to his level. It would have been showing hate… I sat there and I talked to my girlfriend about it, and while I was typing something out very serious and from the heart, I'd be like, But should I send this one? Like this is what I really wanna do! But she's like, Hell no. Don't do it, don't do it at all."
In the end, though, Bubba Wallace ended up penning a note about countering hate with love. Given that he almost sent out a much different tweet, that message rings especially true.