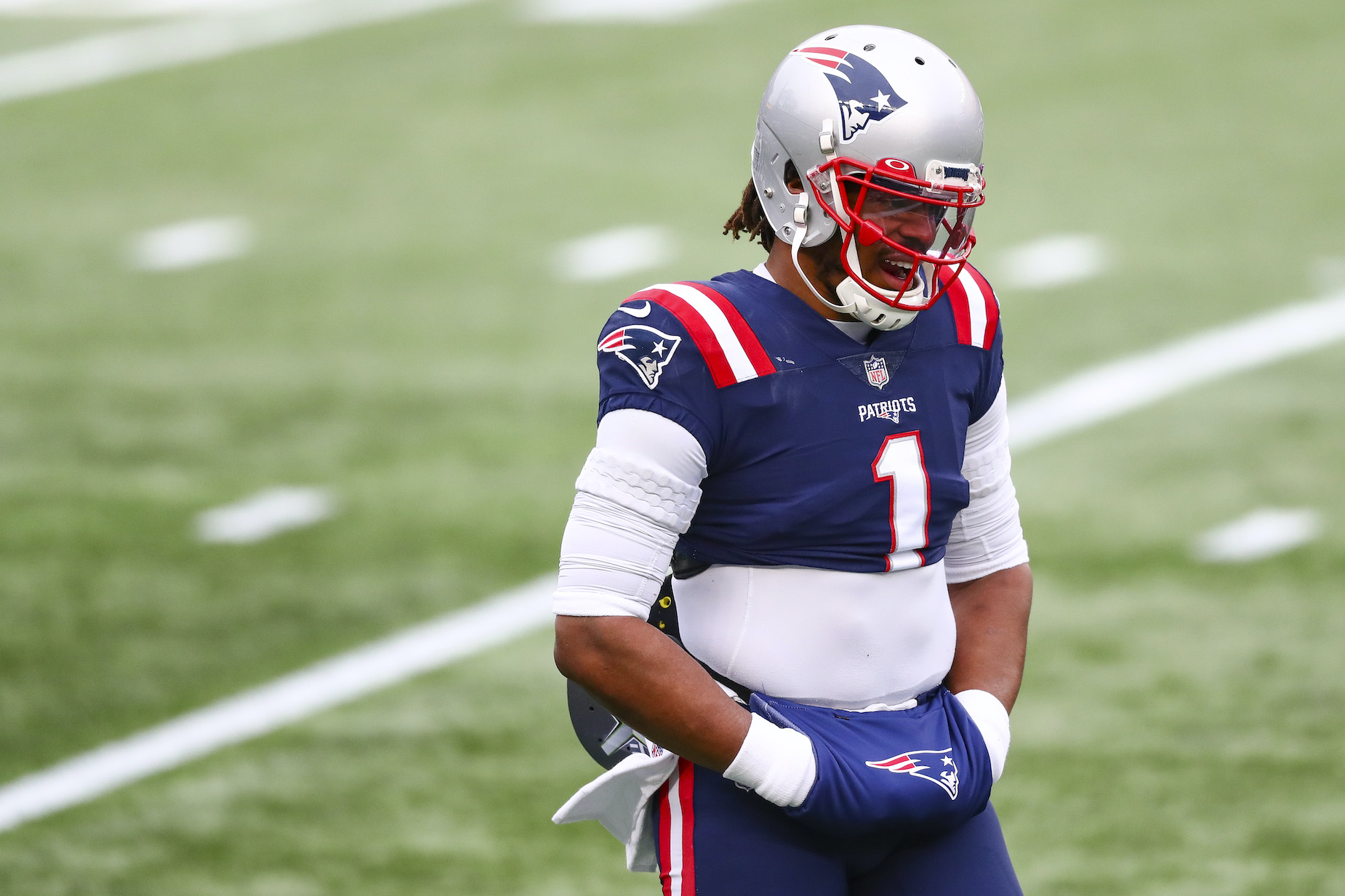 Cam Newton Can Eat His Way Back to NFL Success With McDonald's and Soul Food, According to Chad Johnson
Cam Newton struggled though a tough 2020 campaign. According to Chad Johnson, though, changing his diet could make all the difference
Now that the 2020 NFL season has come and gone, we can safely say that things didn't go according to plan for Cam Newton. Between a case of COVID-19, the New England Patriots' overall struggles, and his lack of individual success, the quarterback's campaign was nothing short of a disaster. With that in mind, Chad Johnson has a plan to help Cam get back on track in 2021.
If you're familiar with Chad Johnson, though, you know that he never does things by the book. Fittingly, his plan for Cam Newton is also pretty unconventional. In theory, the quarterback should prepare for next season by eating plenty of McDonald's and soul food.
Cam Newton had a tough 2020 with the New England Patriots
During the 2020 NFL offseason, Cam Newton was a pretty divisive figure. Some thought the former MVP was being overlooked and written off too early; others felt like the quarterback wasn't capable of putting together a competent season. Unfortunately for the signal-caller, he didn't exactly prove his doubter wrong.
Newton, of course, signed a one-year deal with the New England Patriots. While the possibilities initially seemed endless—imagine Bill Belichick and Josh McDaniels calling plays for a legitimate dual-threat quarterback—things quickly crumbled. After a strong start to the season, the quarterback's play declined and never recovered.
While there are some mitigating factors—Cam believes COVID-19 didn't help his chances and the Patriots offense wasn't exactly stacked with supporting talent—the quarterback still put together a pretty sad stat line. In 15 starts, Newton threw for 2,657 yards, eight touchdowns, and 10 interceptions. Although he did rush for 12 touchdowns, that won't be enough to earn him a long-term contract this offseason.
Chad Johnson wants to shake up Cam Newton's diet
In all likelihood, Cam Newton's terrible 2020 stemmed from a combination of factors. Former NFL receiver Chad Johnson, however, believes there one thing that the quarterback can change to improve his chances in 2021: his diet.
Like most pro athletes, Newton is a pretty intelligent eater; for the most part, he keeps it vegan, although he'll add some eggs to his diet on game day. According to Johnson, however, he should take things in the complete opposite direction.
"I'm gonna be your meal prep," Johnson explained on the I Am Athlete podcast. "First-day meal prep, we're going to McDonald's. Hotcakes with sausage, sausage and egg McMuffin, and a large orange juice. Then we're going to work out."
One meal, however, doesn't feed an athlete for an entire day. Johnson also explained that Newton would have a snack of Pop-Tarts and six hard-boiled eggs before moving on to lunch.
"Lunch, we're gonna go to Bahama Breeze," Johnson continued. "Pasta. Jerk chicken pasta, extra chicken, no asparagus." After a healthy afternoon snack of Cam's choice, there would be a dinner of "soul food," consisting of either baked or fried chicken, candied yams, macaroni and cheese, greens, and cornbread. The quarterback would also wrap things up with a slice of cake for dessert.
The goal of this diet? "It's going to create a callus in your body," Johnson explained. "No more injuries in 2021."
Chad Johnson has discussed his 'callus' theory before
While Chad Johnson's dietary advice might not be the best meal plan for a professional athlete, it's at least consistent. The former receiver has discussed the theory before and even claimed that he followed it himself.
During another I Am Athlete conversation, Johnson told Brandon Marshall that he ate McDonald's daily during his playing career to avoid minor injuries.
"People at home if you see this, eat whatever the f— you want to eat," Johnson explained. "The body has to build up a callus, you eat all this healthy stuff and sterilize everything, when s— happens to you, you're immune system can't fight s— off, you're body can't react to s—. Just live, man. All this f—ing science is what's killing everybody."
In fairness to Johnson, he did have a pretty impressive track record during his NFL career. The receiver spent 11 seasons in the pros, appearing in 166 games; he played all 16 games of a season on six occasions and never took the field fewer than 12 times during a single campaign.
Is eating McDonald's the key to NFL success? Probably not, but, at this point, Cam Newton will probably take whatever help he can get.
Stats courtesy of Pro-Football-Reference