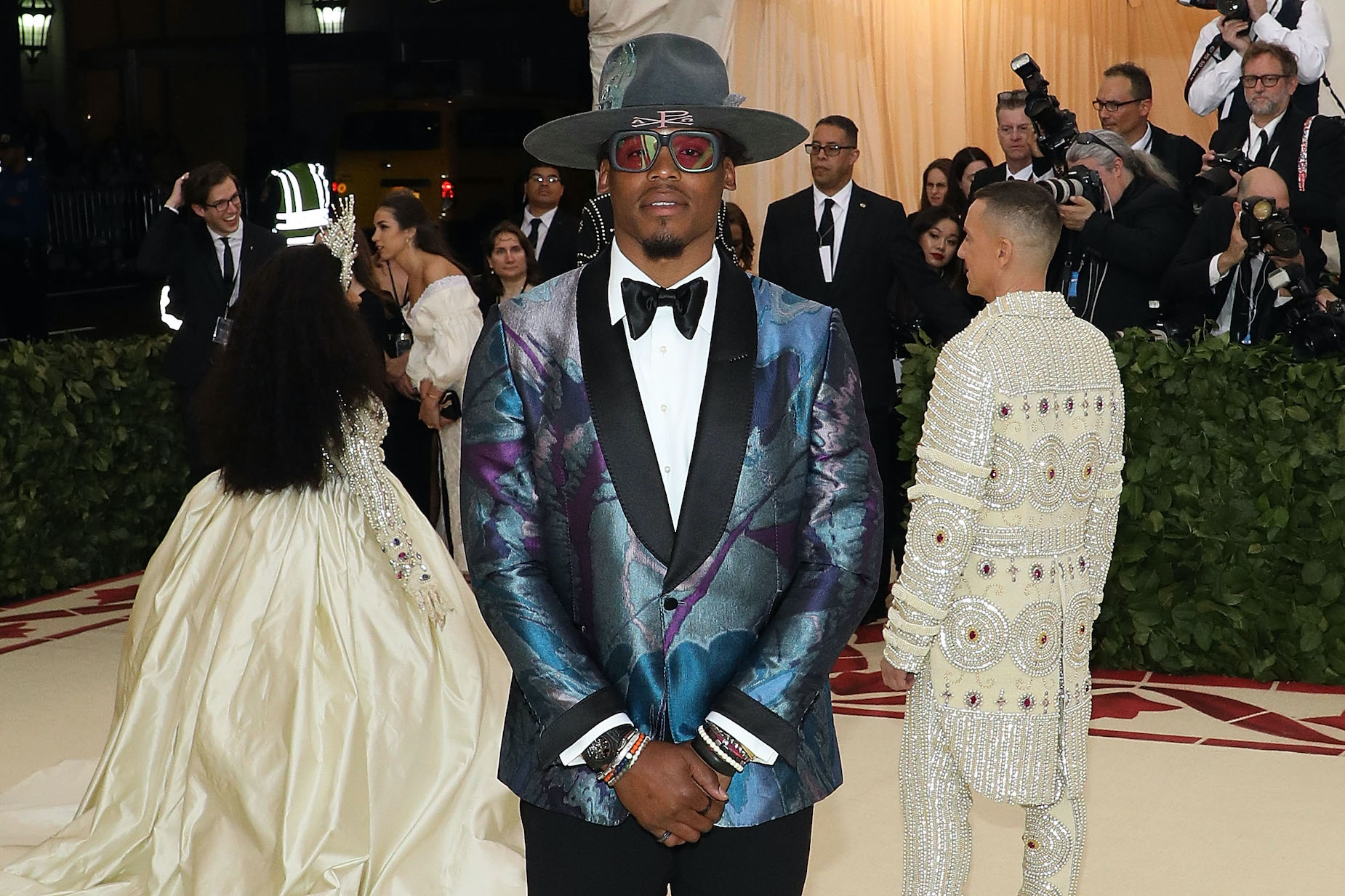 Cam Newton Has Made $122 Million in the NFL, but He Still Wears a Paper Bracelet From 2014 to Keep Things in Perspective
Cam Newton is both rich and known for his fashion choices, but he still wears a simple, paper bracelet that he got back in 2014.
Even if things haven't gone according to plan during the last few seasons, Cam Newton has still had a pretty successful football career. Thanks to his unique skillset, the quarterback has won a Heisman Trophy, spent 10 seasons in the NFL, and earned more than $122 million in salary.
Although Cam Newton could use that money to buy virtually any piece of jewelry he wants, he's always rocking a much simpler bracelet. For the veteran quarterback, a simple piece of paper from 2014 helps keep everything in perspective.
Cam Newton has earned more than $122 million in the NFL
If you're only considering his one-year stint with the New England Patriots, Cam Newton neither played that well nor made an exorbitant salary. Earlier in his NFL career, though, things were quite a bit different.
Newton became a star at Auburn, where he led the Tigers to a BCS championship, winning the Heisman Trophy in the process. On the back of that success, he entered into the 2011 NFL draft and joined the Carolina Panthers as the first-overall pick.
Even at the professional level, Newton's blend of size and athleticism looked like a deadly combination. While he threw for 182 touchdowns and rushed for 58 more during his time in Carolina, even claiming the 2015 NFL MVP crown, injuries slowed the quarterback down. He spent the 2020 campaign in New England, failing to make a major impact, and will be looking for a new job come 2021.
Despite that recent downward trend, Newton has still made plenty of money playing pro football. Thanks to his draft status and subsequent success in Carolina, the quarterback has earned a hair over $122 million in salary over the years, according to Spotrac's numbers.
Surviving a scary 2014 car accident
NFL players are used to absorbing big hits on the gridiron. In 2014, Cam Newton headed to the hospital after a different sort of impact.
In December of that year, Newton was involved in a two-car accident in Carolina; his truck flipped over multiple times during the incident. As documented by NFL.com, the quarterback suffered two transverse process fractures in his lower back and was actually taken away from the scene on a stretcher as a precaution.
While Newton only missed one week of action, he didn't want to forget what happened on that day. In fact, he still wears a simple paper bracelet to remind himself of an important lesson.
Cam Newton still wears his hospital bracelet to keep things in perspective
In the grand scheme of things, Cam Newton's car accident was pretty insignificant. The quarterback, though, doesn't want to forget what happened that day.
During an interview with Graham Bensinger that hit Youtube in early 2016, Newton showed off a paper 'Fall Risk' bracelet. While he joked that it's often mistaken for a nightclub entry wristband, it holds a much larger significance.
"Everyone knows that I got into a car accident, and this is still the band that they gave me that particular day," Newton explained. "It just reminds me that, you know, life is short. Why am I complaining? Cause that day, it could have easily been taken away from me. So, every time I look down at my wrist, that's my reality check for life. It's like, why am I complaining, you know, when I look up and see others having it worse than me. And all I've gotta do is be reminded by my left wrist."
While that video was filmed a few years ago, it seems like Newton still has that bracelet. If you look at the quarterback's Instagram posts, amid his other beads and bracelets, you can still spot a yellow band with black letters spelling out "Fall Risk."
Even if he's not earning as much money as he once did, Cam Newton can still afford to visit a jeweler and buy virtually anything he wants. No amount of gold and diamonds, however, can replace a piece of paper from the hospital.
Stats courtesy of Pro-Football-Reference