Charles Barkley Spent an Entire Dream Team Practice Avoiding Coach K After Inadvertently Giving His Daughter a Minibar's Worth of Alcohol: 'I've Never Been This Scared in My Life'
When you think of Charles Barkley, the word "scared" probably doesn't usually spring to mind. While the forward-turned-broadcaster wasn't known to back down from any challenge — just ask those who tried to fight him — he didn't take any chances during a Dream Team practice.
Sir Charles, it seems, had given one of Mike Krzyzewski's daughters permission to take some alcohol from his minibar fridge. When things didn't go according to plan, Barkley found himself sharing a practice court with Coach K and trying to avoid the potentially angry father.
Charles Barkley and Coach K were both members of the Dream Team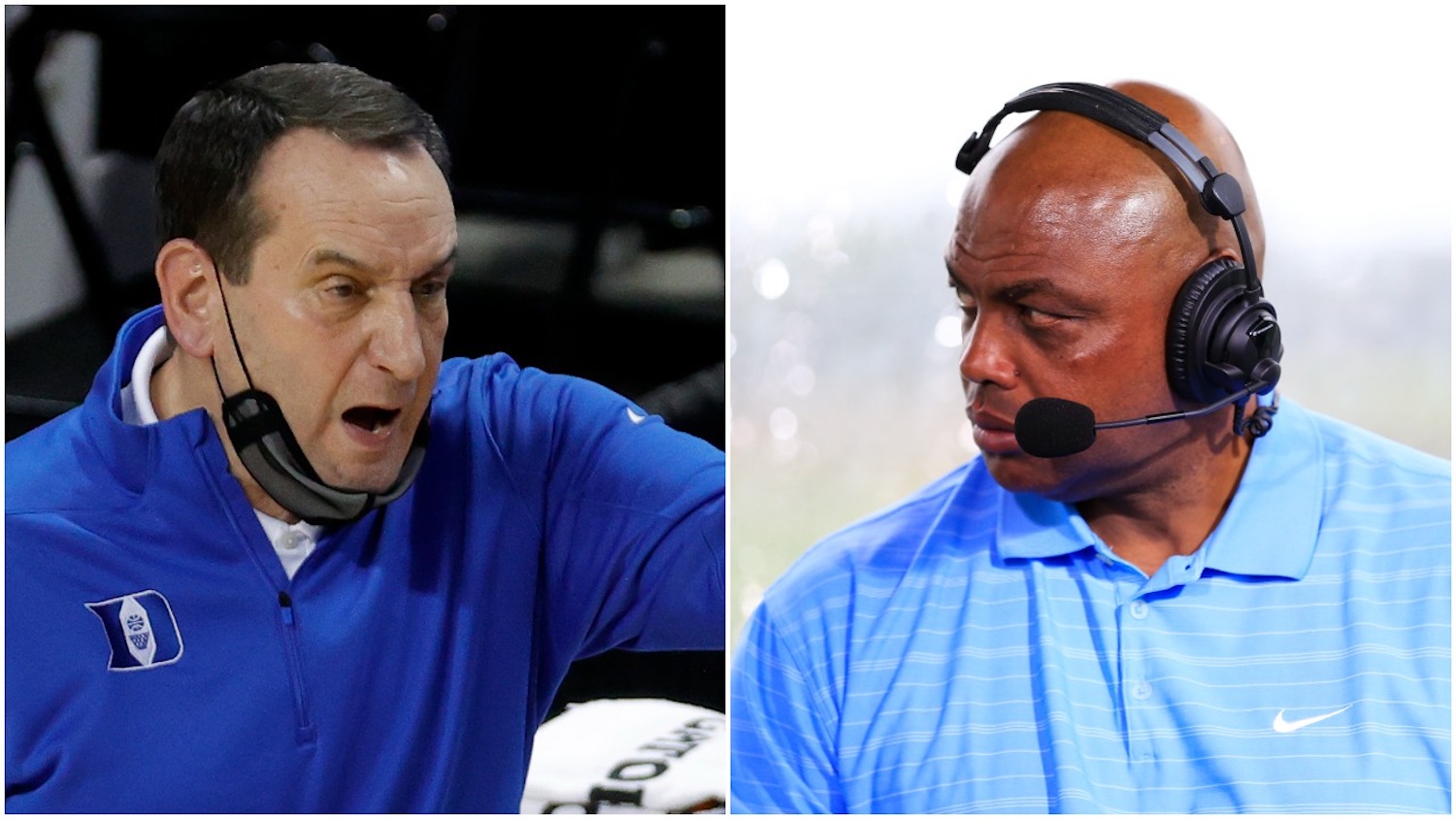 In terms of the Dream Team, guys like Michael Jordan, Larry Bird, and Magic Johnson steal most of the headlines. The entire squad, however, boasted big names, including Barkley and Krzyzewski.
Sir Charles was near the height of his powers in 1992 and turned in a strong Olympic tournament. From a statistical perspective, the forward proved the Dream Team's best player, pacing the unit in scoring and shooting an eye-popping 71.1% from the floor (59-of-83) and 87.5% (7-of-8) from the three-point range. While you could argue that it's easy to thrive in blowouts against weak competition, Barkley still outperformed his peers.
Although Coach K didn't quite have the same star status as Chuck at the time, he had proved himself a capable bench boss. After surviving a rough start to his time at Duke, Krzyzewski's Blue Devils had turned a corner. The program captured the NCAA title in 1991 and 1992, earning the coach a spot on the Dream Team as one of Chuck Daly's assistants.
Barkley faced a scary practice after giving one of Krzyzewski's daughters alcohol
As long-time basketball fans will know, Barkley was never afraid to land himself in hot water. This was the man, after all, who starred in a commercial based on the assertion that he wasn't a role model. While that trend continued during his time with the Dream Team, the forward did find himself fearing the consequences of his actions.
"I've never been this scared in my life," Barkley explained on a recent episode of The Steam Room. "So we're playing on the Dream Team, and one of coach's daughters asks me, 'Charles, can I go get a couple of beers out of your minibar?' Scottie [Pippen], Michael [Jordan], me, and Magic played cards every single night. So his daughter says, 'Charles, can I go get a couple of beers out your minibar?' I said, 'Of Course.' I give her my key. When I get back to the room about five hours later … my minibar is empty."
Given that he inadvertently provided Krzyzewski's daughter with an entire minibar's worth of alcohol, Barkley was a bit uneasy when he crossed paths with the coach.
"I get to practice the next day. Coach K is on one end [of the floor], I'm on the other end," Sir Charles continued. "Coach K comes to the other end, I'm circling, bending, and getting to the other end. I don't want to get close to this man. … Listen, I'm terrified."
At the end of the session, the moment of truth finally arrived as Krzyzewski asked Barkley if they could talk. While Chuck quickly told his side of the story and apologized, Coach K wasn't upset with the forward. "He said, 'It's alright, it wasn't your fault. It was her fault,'" Sir Charles added.
For his part, the coach confirmed the story was true, adding that he thought his daughter drank some of the beverages, then sold the rest.
Coach K also had a memorable encounter with Michael Jordan during the 1992 Olympics
Given that the Dream Team consisted of some of the greatest talents to ever hit the hardwood, it's reasonable to assume that everyone involved left Barcelona with some stories to tell. While the Barkley-alcohol experience may be a bit unconventional, Coach K also had a more wholesome encounter with Michael Jordan.
As Krzyzewski recounted in one of his books, he was enjoying a soda after practice when His Airness approached him and asked if it was possible to do some extra work. The two men spent about 30 minutes together, then Jordan thanked Coach K and shook his hand before heading on his way.
"Michael Jordan had just called me 'Coach,' and he had said 'please' and 'thank you,'" Krzyzewski explained in Beyond Basketball. "This was at a time when he was at the very top of his game and was one of the most recognizable faces not only in sport but throughout the world. Michael Jordan had earned global recognition as a symbol of excellence. That day, I learned that everyone on Michael Jordan's team is treated with respect."
If you combine that experience, Barkley providing his daughter with alcohol, and a gold medal, it's safe to say that Coach K had an unforgettable summer in Barcelona.