Dale Earnhardt Jr. Once Said That 'the Most Punchable Face in NASCAR' Belonged to 1 of His Closest Friends
During his time in the world of motorsports, Dale Earnhardt Jr. has seen and done just about everything imaginable. That's allowed him to build up quite the reserve of knowledge when it comes to racing. He even knows a thing or two, it seems, about punchable faces.
During a 2017 episode of his podcast, Dale Earnhardt Jr. decided he wasn't going to pull any punches and addressed that topic directly. In a surprising twist, Junior's pick for 'the Most Punchable Face in NASCAR' was actually a long-time friend and teammate.
Dale Earnhardt Jr. had quite the NASCAR career
From a cynical perspective, you could argue that Dale Earnhardt Jr.'s NASCAR career wouldn't have been the same without his iconic last name. While being an Earnhardt certainly helped in the popularity department, Junior still turned into quite the success.
While he didn't always plan on racing—he actually earned an automotive degree and was on his way to becoming a mechanic—Dale Jr. eventually realized that climbing behind the wheel gave him and his father something to share. After that, though, his talent took over.
Earnhardt Jr. joined the Busch Series in 1996; two years later, he stepped up to the Cup Series. While his time on the stock car circuit wasn't perfect, he still put together quite the career.
In total, Dale Jr. won 50 races across the Cup Series and what's currently called the Xfinity Series, took the top spot at two Daytona 500s, and was a 15-time winner of NASCAR's Most Popular Driver title. He also built up an estimated $300 million fortune along the way, which isn't too shabby either.
Dale Earnhardt Jr.'s pick for 'the Most Punchable Face in NASCAR'
In the world of sports media, there are a few stock questions that every athlete hears over and over again. Anything about a 'punchable face,' however, is coming out of left field.
As explained by For the Win, reporter Jeff Gluck ended an interview with Dale Earnhardt Jr. by asking the driver for a question he should pose to the next interviewee. Not only did Junior suggest, "Who has the most punchable face in NASCAR?" but he also answered himself.
"A punchable face, in my opinion — and I think you might have a little bit different opinion because we've talked about this — a punchable face, to me, is just a face you look at, and you want to really punch it," Earnhardt Jr. explained on his podcast. "You might like the person, you might like the guy. So my punchable face is probably TJ Majors."
Who is TJ Majors, and how does he know Dale Jr.?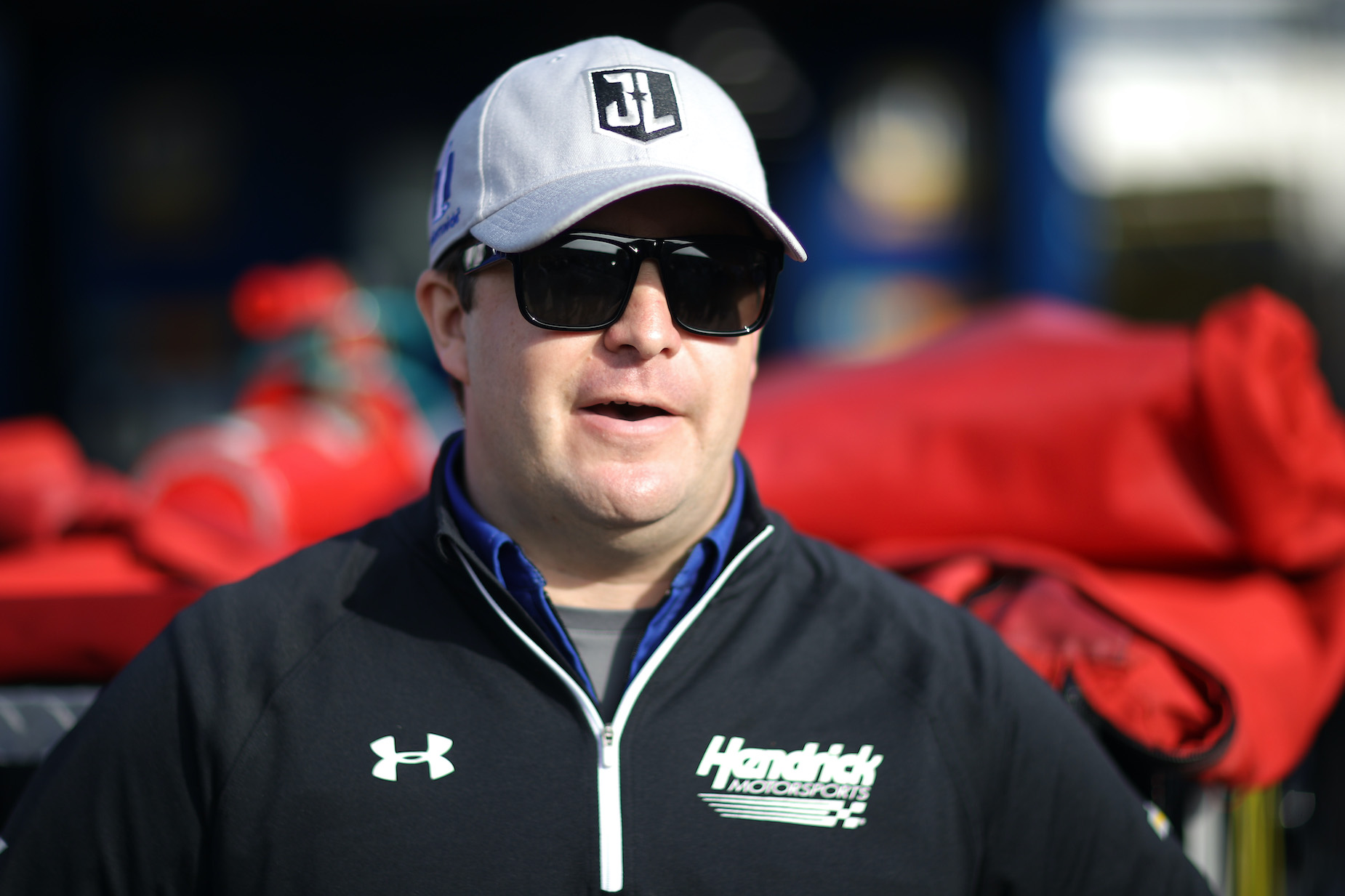 Even if you're a hardcore NASCAR fan, TJ Majors might not be a name you're familiar with. He's still spent plenty of time around both the race track and Dale Earnhardt Jr., though.
As laid out on Motorsport.com, "Majors, who also used to race himself, worked as the spotter for Dale Earnhardt Jr. for over 15 years before Earnhardt retired at the end of last season, opening the door for Majors to join [Joey] Logano in 2018."
As you might imagine, Majors formed quite the bond with Junior over the years. The two men are close friends, even if Earnhardt told the world that his former spotter has a pretty punchable face.
"I don't want to hurt TJ. I like him — (he's) one of my best friends, he was the best man in my wedding," Dale Jr. clarified. "But man, wouldn't you just like to sock that face one time? Wouldn't you?"
Being friends with someone like Dale Earnhardt Jr. probably comes with some serious perks. Sometimes, though, it seems like there's also the risk of taking a punch.