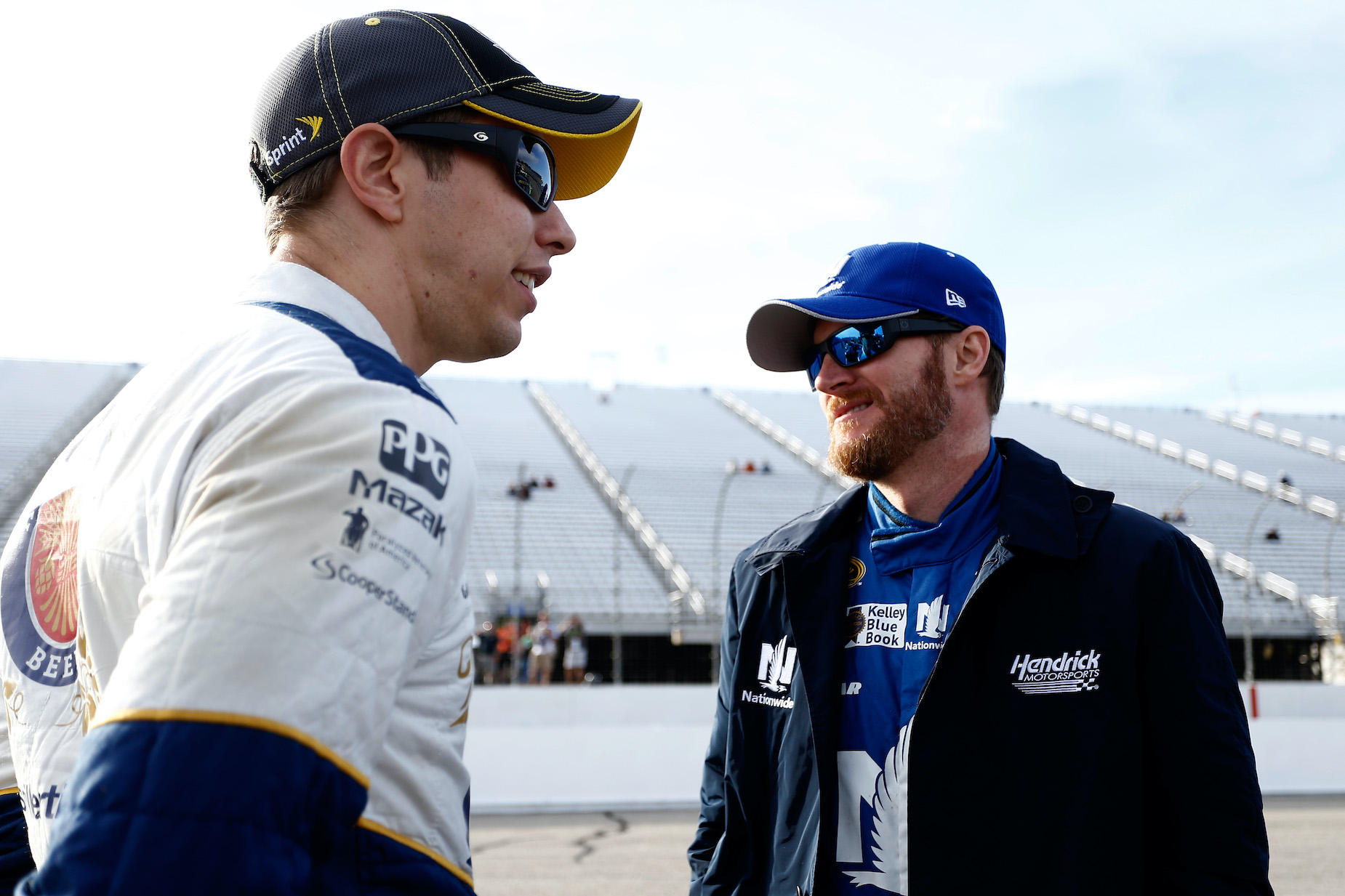 Dale Earnhardt Jr. Once Out-Dueled Brad Keselowski in a Spontaneous Race to a 'Port-A-John' During the Daytona 500
Brad Keselowski and Dale Earnhardt Jr. had plenty of races during their time on the NASCAR circuit, including one sprint to the bathroom.
If you're a fan of motorsports, you're probably well acquainted with the site of two drivers duking it out in a final push for the finish line. While Dale Earnhardt Jr. and Brad Keselowski have had their fair share of races over the year, the two men once found themselves locked in battle with a simple prize on the line: the chance to be the first one into a port-a-john.
During the 2012 Daytona 500, a fiery crash forced the drivers to take an unplanned break. At that moment, both Dale Earnhardt Jr. and Brad Keselowski decided they needed to make a run to the bathroom. Only one man, however, could get there first.
Dale Earnhardt Jr. is modern racing royalty
Growing up, Dale Earnhardt Jr. didn't dream of becoming a race car driver. At the end of the day, though, that didn't stop him from becoming modern NASCAR royalty.
Dale Jr. actually earned an automotive degree and took a job in his father's dealership; a new service manager, however, brought an end to those duties. Earnhardt Jr. then started working more on his sister's late models and, before long, started spending more time behind the wheel himself.
Although Junior primarily started racing in order to foster a relationship with his father, he proved to be a natural driver. He made his Busch Series debut in 1996 and, after two years, stepped up to the Cup Series.
While Dale Earnhardt Jr. didn't have the same level of success as his famous father, he did still managed to win plenty of races during his time on the track. In total, he claimed 50 checkered flags across the Cup Series and what's now known as the Xfinity Series and earned 15 NASCAR's Most Popular Driver titles.
Brad Keselowski also won plenty of NASCAR races
In terms of pure popularity, Brad Keselowski couldn't quite compete with Dale Earnhardt Jr. The Michigan naive, however, hasn't had an issue winning races.
Keselowski started out in the Truck Series before making the jump to the Busch Series in 2006; after two years, he stepped up to make his Cup Series debut.
In total, Keselowski has won 73 races across NASCAR's top-two levels; along the way, he's also earned a Cup Series and a Nationwide Series championship. He also took home three Nationwide Series Most Popular Driver title crowns, proving he's a bit more than just a talented driver.
Dale Earnhardt Jr. and Brad Keselowski once squared off in a race to the bathroom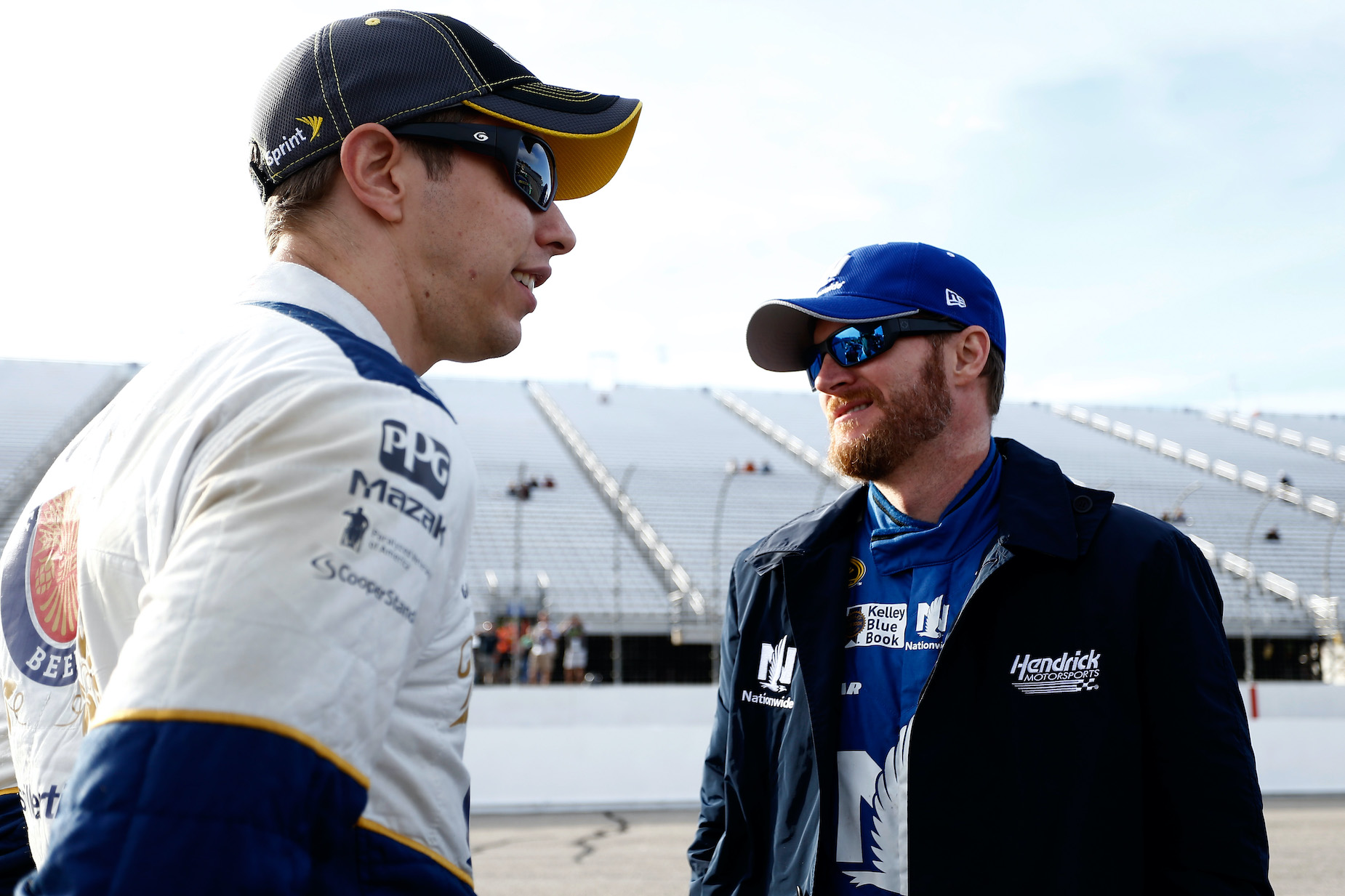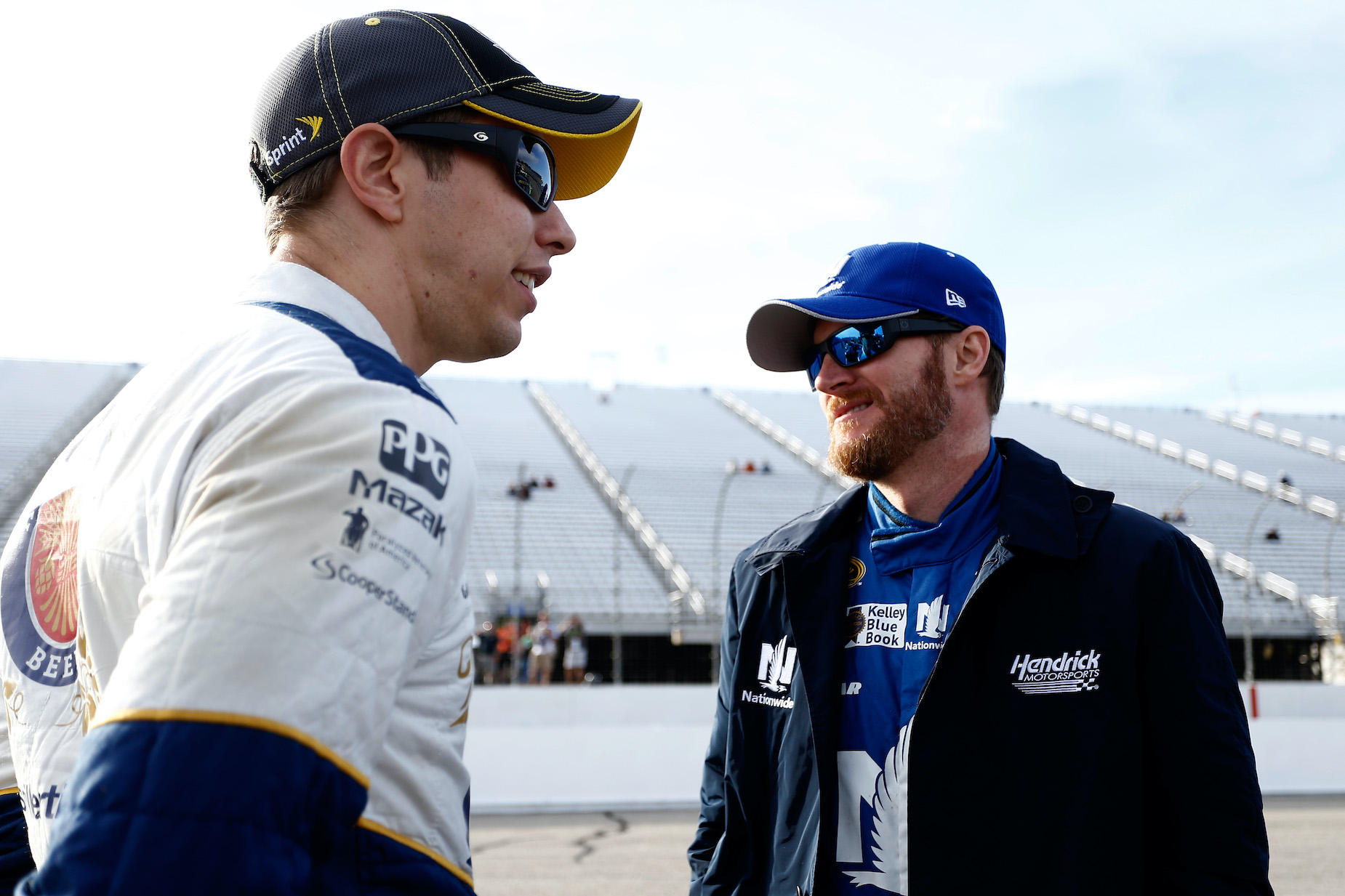 During their time on the NASCAR circuit, Dale Earnhardt Jr. and Brad Keselowski have squared off in plenty of races. In 2012, however, they took part in a different sort of battle.
During the 2012 Daytona 500, an on-track fire cause an extended delay; faced with a lengthy red flag, the drivers found themselves with plenty of time on their hands. In that context, Earnhardt Jr. and Keselowski decided it was time to head to the bathroom. As NASCAR drivers, though, their competitive juices started flowing.
"So he started walking to the port-a-john, and I thought, 'Man, that's a good idea. Where's this port-a-john at," Dale Jr. explained on his podcast, according to For the Win. "I got to looking and saw where it was, and I kind of jogged up behind him quietly, tapped him on the shoulder, and said, 'Race ya!' We started running and with his long legs, man."
To counteract Keselowski's physical advantage, Earnhardt Jr. had to channel his father and resort to some aggressive tactics. Ultimately, they helped him earn a hard-fought win.
"I thought I got this guy beat. But he had me beat, actually. I had to give him the shoulder," Jr. continued. "We got to the port-a-john, and I had to push him, put the bumper to him, and push him by where he overran the port-a-john. At this point, literally, my heart is pounding out of my chest, and I'm almost embarrassed about how out of breath I am. So I go into the port-a-john and stood there for five minutes before I ever took a leak just to catch my breath. Like, holy moly, I can't let anybody see how terrible I feel."
Dale Earnhardt Jr., it seems, might not be the best runner. When push comes to shove, though, he's not one to challenge in a race.