Dale Earnhardt Jr. Spent His First Visit to New York City in a Limousine Trying to See 'Hookers'
These days, Dale Earnhardt Jr. is modern motorsports royalty. While he never managed to claim a Cup Series championship, he's found fame and fortune through his NASCAR success. Before he made his way into the media, though, Junior was a bit rougher around the edges.
Take, for example, Dale Earnhardt Jr.'s first trip to New York City. While his father was there to celebrate another Winston Cup title, Dale Jr. had something else on his mind: finding "hookers."
Dale Earnhardt Jr. always knew how to have fun
When you think of a professional athlete preparing for success, you probably imagine someone like Tom Brady, who completely devotes himself to his craft. Dale Earnhardt Jr., however, used to do things quite a bit differently.
As a boy, Dale Jr. got into his share of trouble; at one point, he even landed himself in military school. While he eventually managed to pull things together and find success behind the wheel, he still knew how to have a good time.
"It's documented, and I'll admit, in the Bud years, we had a lot of fun," Earnhardt Jr. told Graham Bensinger. "I mean, we raised hell. We'd go and party and, when we did Bud appearances, we were in bars, you know, signing autographs for fans at a bar. And if there wasn't no racing the next day, we would have beers and hang out. And when I'd come home, we had a ritual that we'd go to the bar every Tuesday. We'd go every Wednesday. We'd do back-to-back nights every week. … And when [the bar] closed, we'd come home and party."
Spending his first trip to New York City doing some unusual sightseeing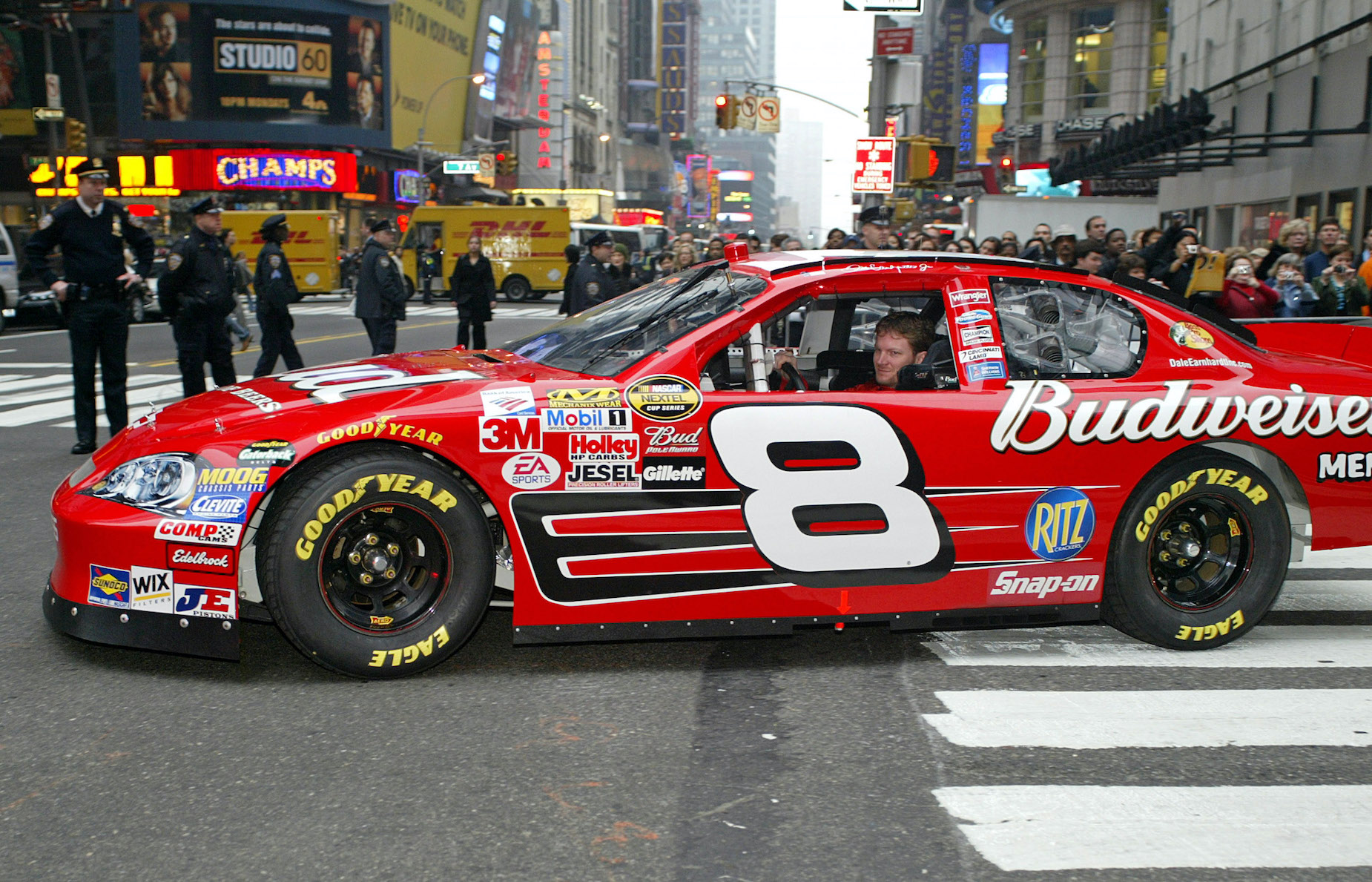 Dale Earnhardt Jr.'s hobbies weren't limited to racing, drinking, and playing Madden, though. During his first trip to New York City, he had something else on his mind.
As Wright Thompson explained in an old ESPN story centering around Junior's appearance on The Daily Show, the NASCAR star first visited the Big Apple in 1994, at which point he'd have been roughly 20 years old. At the time, Dale Earnhardt Sr. had won his seventh Cup Series crown, and the family was in town for the annual awards banquet.
As a young man from North Carolina, Earnhardt Jr. felt out of place in the big city. In order to occupy his time, he decided to take an unusual sightseeing tour.
"I was f*cking out of my element," Dale Jr. explained. "I made the limo driver drive me around for a whole day looking at run-down f*cking places and hookers. I was like, 'I wanna see a hooker right now.' He'd drive there, 'There's one over there on the corner.' I'm like, 'Holy s*it, a real hooker.'"
These days, Dale Earnhardt has dialed back his wild and crazy ways
Although Dale Earnhardt Jr. had a bit of a wild streak during his youth, things have settled down a bit since. A major change took place after he joined Hendrick Motorsports and teamed up with some veteran drivers.
"I didn't learn how to be good at racing until I got at Hendrick," Junior told Bensinger. "And that's nobody's fault, but I learned, when I got to Hendrick, and I got around Jimmie Johnson and Jeff Gordon, what being a really dedicated driver was really about. What being a professional was about, what applying yourself and being accountable was about."
Junior also mentioned crew chief Steve Letarte as someone who set expectations and held the young driver to them. "Nobody'd ever done that before," Earnhardt added.
Since then, Dale Jr. has retired from full-time racing; he's not the co-owner of JR Motorsports and has moved into the media. On a personal level, he's also gotten married and has two children.
If nothing else, Dale Earnhardt Jr. also took a much more conventional trip to New York City in 2018. As spelled out by Rare Country, he enjoyed the "beautiful" city and took in the tourist sights.