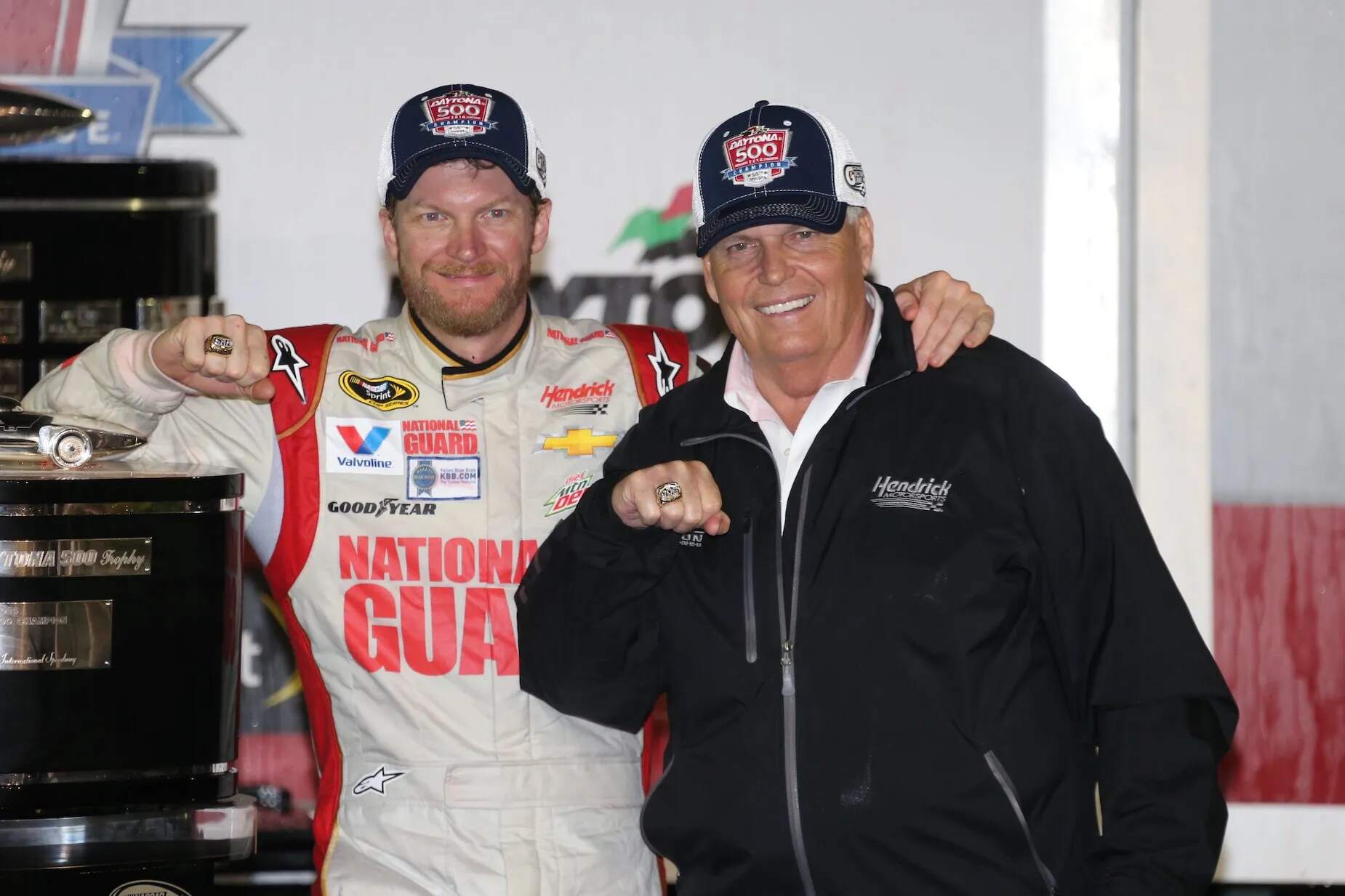 Dale Earnhardt Jr. Turned His Unusual Phobia and 'Biggest Hold-Up' Into a Savvy Business Opportunity
While Dale Earnhardt Jr. has a pretty unusual phobia, the NASCAR star and his wife turned that fear into a savvy business opportunity.
If you're a motorsports fan, you're probably pretty familiar with Dale Earnhardt Jr. During his time behind the wheel, the driver proved to be more than capable of success. Away from the track, though, something as small as a piece of jewelry can trip him up.
For all of his fame and fortune, Dale Earnhardt Jr. has kosmemophobia, which is a fear of jewelry. While that can cause some issues during day-to-day life, the NASCAR star also turned that obstacle into a savvy business opportunity.
Dale Earnhardt Jr.'s unusual fear of jewelry
Given his massive net worth, Dale Earnhardt Jr. could probably afford to buy any piece of jewelry in the store. The NASCAR star, however, won't be doing that anytime soon. In fact, he's pretty afraid of rings, bracelets, and necklaces.
"[My wife] Amy thought that I was making it up and that there's no such thing as a jewelry phobia," Earnhardt Jr. once explained on his podcast, according to For The Win. "But there is a word. It's one of them long, crazy words, but it's real. There's people that have it."
For reference, that word is kosmemophobia, and, in Junior's case, it seems to trace back to childhood.
"My sister used to chase me around the house with necklaces and stuff," Dale Jr. once explained, according to NBC Sports. "It's creepy to me. … [Kelley Earnhardt Miller] made it worse. She definitely antagonized me and terrorized me when I was younger."
Dale Earnhardt Jr. turned that fear of jewelry into a savvy business move
As you might imagine, Dale Earnhardt Jr.'s fear of jewelry caused some issues when he decided to get married. According to NBC Sports, he even admitted his phobia was "the biggest hold-up" when it came to tying the knot. That problem, however, set the stage for a business opportunity.
While Junior doesn't wear a conventional metal wedding band, he does have a wooden ring. Since that one can get scratched, though, he's more likely to slip some silicone onto his finger.
Dale Earnhardt Jr. and his wife Amy even teamed up with QALO, a company that sells silicon rings, in an "exclusive collaboration." The couple's ring design also "features a unique geometric pattern that references a key design element from their wedding celebration."
In isolation, having kosmemophobia seems like it could be pretty inconvenient. Dale Earnhardt Jr., however, found a creative solution to the problem. Not only is he married and rocking a wedding ring, but he turned his fear into a savvy business opportunity.
Dale Earnhardt Jr.'s net worth is massive, thanks to his NASCAR stardom
Growing up, Dale Earnhardt Jr. never planned on being a NASCAR star. He ultimately found his way behind the wheel, though, and from there, the rest is history.
Although he began racing to form a relationship with his father, Junior proved to be pretty capable behind the wheel. He joined the Busch Series in 1996 and, after two years, stepped up to the Cup Series circuit. While he didn't have the same success as his famous father, Dale Jr. still won 50 races over the years and claimed an incredible 15 NASCAR's Most Popular Driver titles.
That popularity helped Earnhardt Jr. build up a massive net worth. Although he didn't win a Cup Series championship, he still landed many big-time endorsement deals. Today, his fortune is estimated at $300 million, and, despite retiring from full-time driving, shouldn't start shrinking anytime soon.