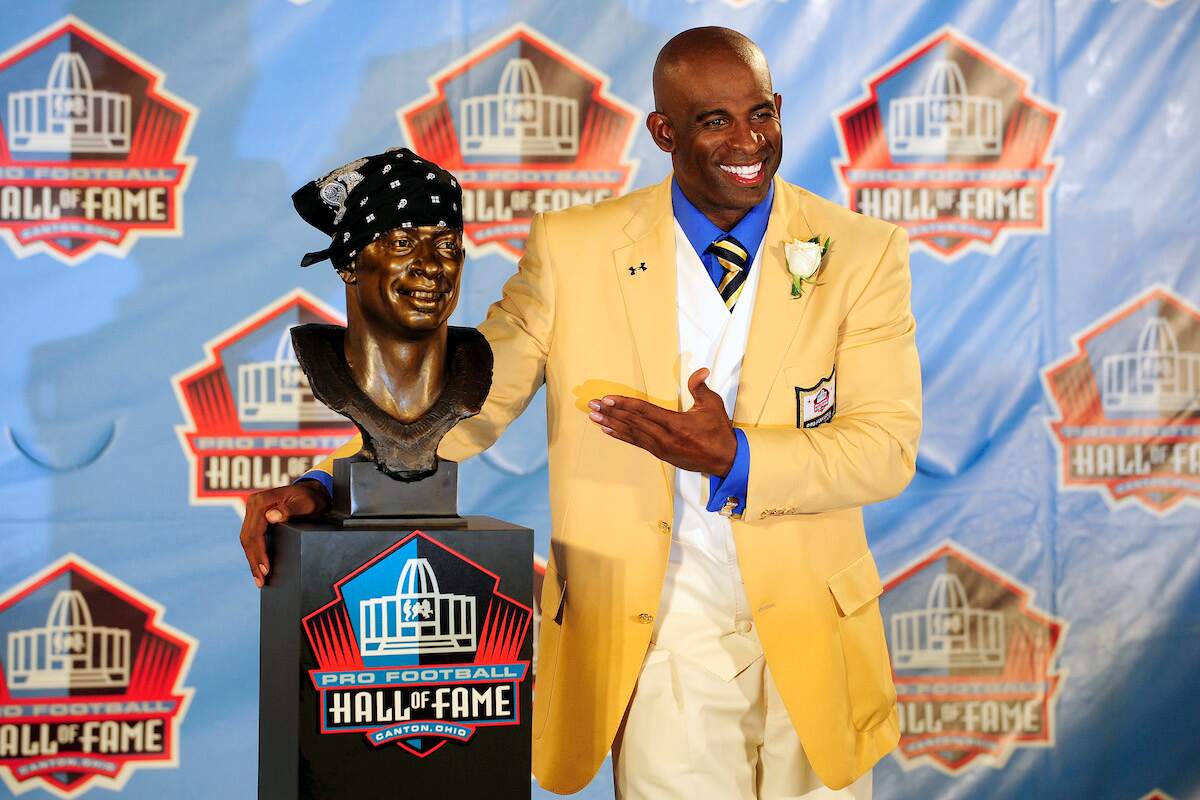 Deion Sanders Wants Journalists to 'Get Out of the Way' and Let NFL Players Decide Who Enters the Pro Football Hall of Fame
No one knows NFL personnel better than other players, so Deion Sanders believes they are the best arbiters of who is or isn't a Hall of Famer.
The Pro Football Hall of Fame is home to the best players and coaches in NFL history. Hall of Famer Deion Sanders wants their peers to decide who gets inducted.
Currently, journalists who cover the sport vote on the players who are nominated for the Hall in Canton, Ohio, and who ultimately gets in. But Sanders wants them to "get out of the way" and let NFL players become the gatekeepers of the Hall of Fame. No one knows NFL personnel better than other players. So he believes they are the best arbiters of who is or isn't a Hall of Famer.
Deion Sanders' thoughts on the Pro Football Hall of Fame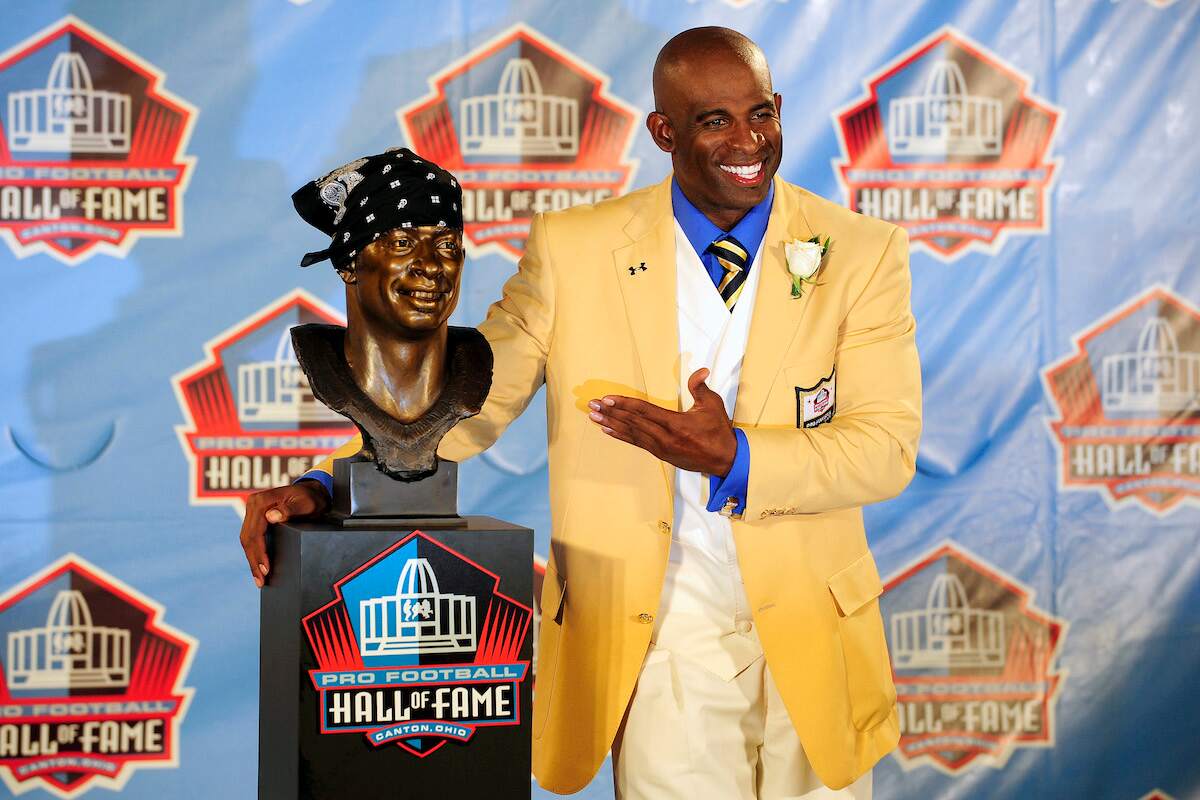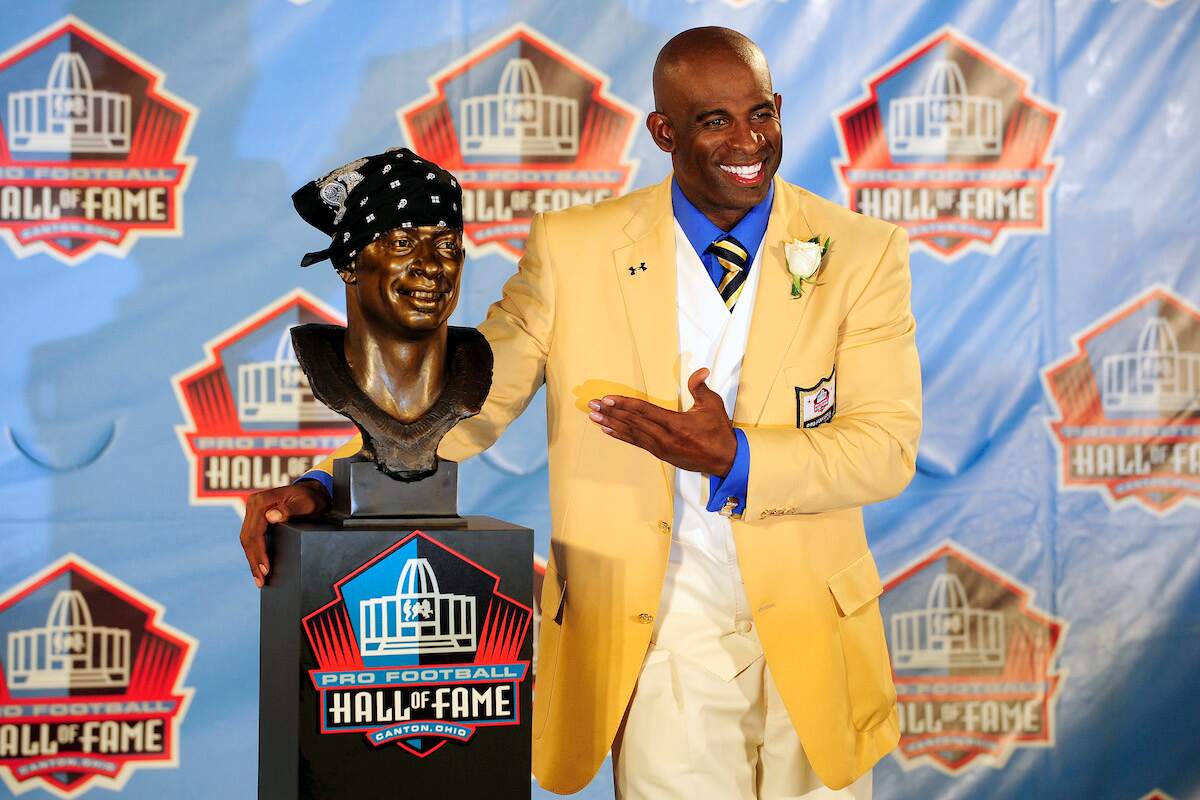 Even when he was a player, Sanders wasn't shy about sharing his thoughts on many topics. This has continued after his playing days ended. Sanders has talked before about how he feels there are too many people enshrined in Canton.
The 55-year-old feels that if players were involved in the voting process, this would change. Sanders discussed his thoughts in an interview with Hall of Fame voter Peter King. The retired cornerback asked the writer how he determines someone belongs in the Hall.
After King's answer, Sanders gave his response with four simple words: "He changed the game." Sanders said when he was a young football player, he was told this is what it takes to enter the Hall.
Deion Sanders wants Hall of Fame voting to change
Sanders was vocal about the current system to decide who gets in. He said the voters "need to get out of the way" and let the players choose. Sanders elaborated, "When we're together, we know who ain't got no business in there." The former two-sport star called out the fact that the current committee of reporters has a quota to meet in terms of the number of inductees every year. He feels this leads to the Hall being too crowded.
Sanders didn't elaborate on what his ideal voting would be. Although he did say there would be an "upper room" for the elite game changes, as decided on by their peers. The current process involves a committee of 49 media personalities, chosen by the Hall's Board of Trustees, who scrutinize a list of nominees to pare it down to 25 semifinalists and then 15 finalists.
Those finalists are then voted on annually. Finalists must receive at least 80% of the vote in order to be inducted. The committee must select "between four and eight new members" each year, according to the Pro Football Hall of Fame's website.
Criticisms of the Pro Football Hall of Fame's voting process
Sanders likely isn't the only former player to want changes made to the Hall of Fame selection process. However, others who agree with him aren't as vocal about it or as willing to speak out publicly. One recent inductee did receive criticism. Longtime Jacksonville Jaguar Tony Boselli played for the expansion franchise from its first season in 1995 until 2001. The tackle was inducted in 2022.
Boselli was a good player, with five Pro Bowl appearances. But he may not be at the level expected of a Hall of Famer. But importantly, he was the first Jaguar to be elected to the Hall more than two decades into the team's existence. There are people who believe that helped him get inducted, as Inside the Star reports.
It's that type of potential "inclusionary attitude" that Sanders and other former players believe is what is leading to the Hall of Fame becoming diluted with very good — but not elite — players receiving their bronze busts in Canton.