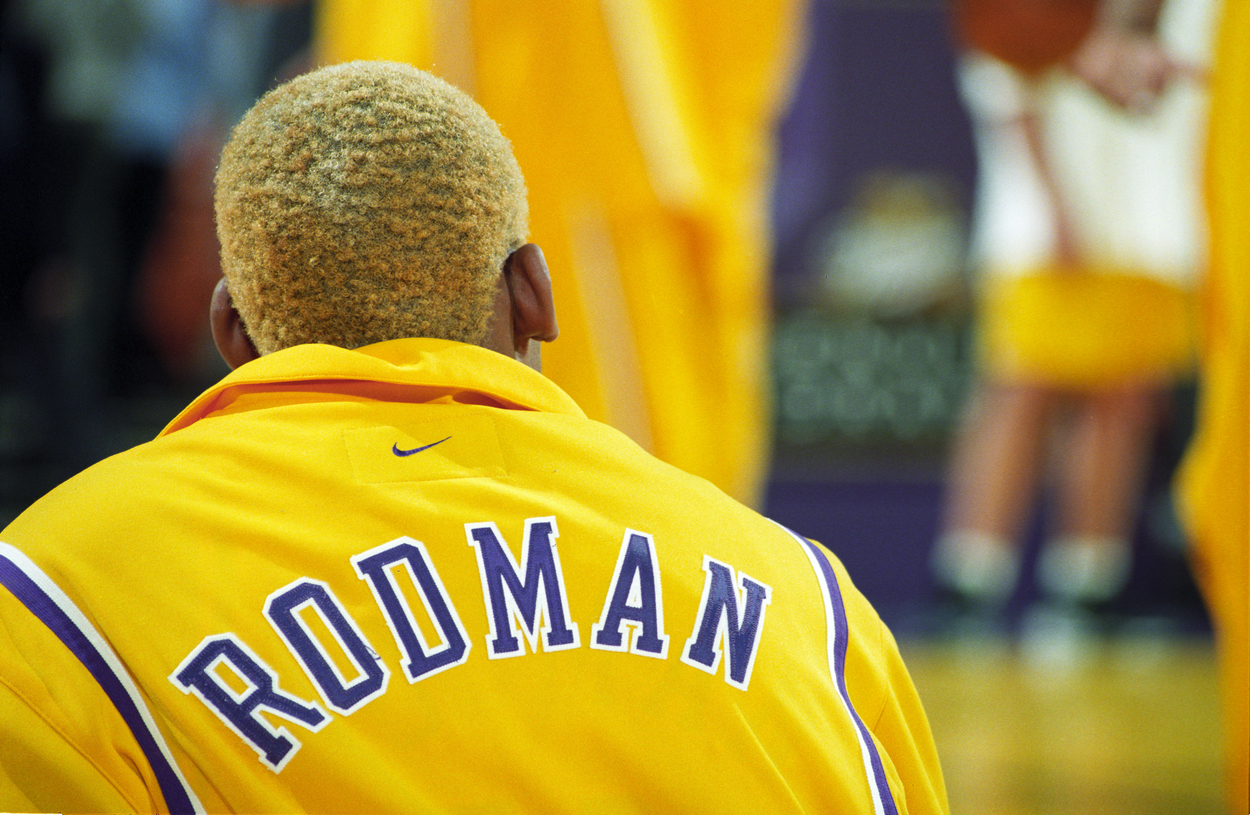 Dennis Rodman Broke Down in Tears After a Reporter Called Him Selfish: 'I've Got 10 Charities Here That I'm Going to Give $10,000'
Just before Dennis Rodman joined the Los Angeles Lakers, the Hall of Famer started crying after a reporter called him selfish.
Of all of the Hall of Fame players to suit up for the Los Angeles Lakers, Dennis Rodman is technically one of them.
The five-time NBA champion was a superstar rebounder and defender for 14 seasons, leading the league seven times in boards and earning eight All-Defensive Team selections. But The Worm's time in LA was brief, unproductive, and full of the typical hijinx of which the eccentric Rodman was known.
Rodman's Lakers career also got off to a less-than-auspicious start. Mainly, it was an incident involving a pointless press conference, an angry reporter, and a sobbing Rodman.
Dennis Rodman scheduled a pointless press conference before signing with the Lakers
On February 13, 1999, the LA Times broke the news that Rodman agreed to sign with the Lakers. In the report, owner Jerry Buss said, "Dennis is Dennis. We're not about to tell Dennis how to be someone else. We'd take him the way he is."
However, Rodman had yet to put pen to paper for several days afterward, leading to the media questioning the delay.
On Feb. 21, with the Lakers playing the Nuggets in Denver, Rodman scheduled a press conference inside a Planet Hollywood restaurant in LA. Thinking it was his official "I'm coming to the Lakers" announcement, approximately 30 reporters ventured to the eatery. But after Rodman arrived — about 40 minutes late, by the way — the media was met with typical Rodman madness instead.
"He rambled. Like a bored man with a microphone and too much free time," wrote Jeff Pearlman in the book Three Ring Circus: Kobe, Shaq, Phil, and the Crazy Years of the Lakers Dynasty. "There was, everyone came to realize, no reason to be here. It was a circus arranged by the modern-day P.T. Barnum, sans elephants and tigers."
It wasn't long, however, before Rodman's circus would end in tears from its ring leader.
A reporter's question about selfishness made Rodman cry
One of the reporters on the scene of Rodman's press conference was Lisa Guerrero of KCBS-TV. A one-time actor and LA Rams cheerleader, Guerrero was frustrated with what transpired.
"He said, 'I just called this press conference to see if you would all show up, and you did,'" Guerrero told Pearlman in Three Ring Circus. "He's laughing and laughing like it's funny. Well, enough was enough for me."
According to the LA Times, Guerrero asked the rambling Rodman, "Don't you think you are being a distraction, causing this whole circus and prolonging your signing? Don't you think that's kind of being selfish for someone trying to be a team player?"
"Are you kidding me, honey?" Rodman shot back. "You're calling me selfish? I've been a team player, honey. I've been a team player for 13 years. … All of a sudden, I do something like this, and I'm selfish."
That wasn't the end of it, however. Rodman turned from defensive to emotional. He burst into tears as he explained to Guerrero and everyone else why he wasn't selfish (h/t: Three Ring Circus).
"I'm never going to win," [Rodman] said between tears. "No matter what I do for this league, for the game of basketball, I'm never going to win." He opened a piece of paper, pointed to some letters. "I've got 10 charities here that I'm going to give $10,000 to. You tell me if that's selfish." He was holding a takeout menu.

Jeff Pearlman
Two days after the teary press conference, Rodman officially signed with the Lakers. And Guerrero gained national attention as the reporter who made Dennis Rodman cry.
Dennis Rodman's time with the Lakers was controversial and brief
Putting the Planet Hollywood fiasco in the past, Rodman teamed up with Shaquille O'Neal and Kobe Bryant to help the Lakers attempt to win their first title since 1988.
Things started well. LA won its first nine games with the future Hall of Famer on the court. However, that didn't stop Rodman from deciding he needed a break from basketball, particularly from Kobe and Shaq.
"I said, 'Jerry [Buss], I gotta take a break.' One reason: Shaq and Kobe," Rodman told CBS Sports. "I couldn't deal with those [expletives] … I'm used to winning, but I can't deal with these [expletives expletive-ing] every [expletive] game. Like, [expletive]. I mean, every, I'm like, [expletive], we're winning, what? So I go, and I say, 'I'm so used to having calm and serenity and stuff like that.'"
The solution? A trip to Vegas, where he and Buss gambled while the Lakers lost two of three games without him.
Eventually, Rodman did return. But his exit from LA would be permanent shortly after. On April 16, less than two months after his Lakers career began, Rodman was released. In 23 games, he averaged 11.2 rebounds and earned 13 technical fouls.
"He was all sorts of mess," said former Laker Derek Harper in Three Ring Circus. "He showed up; he didn't show up. It was more headache than anything else."
Stats courtesy of Basketball Reference