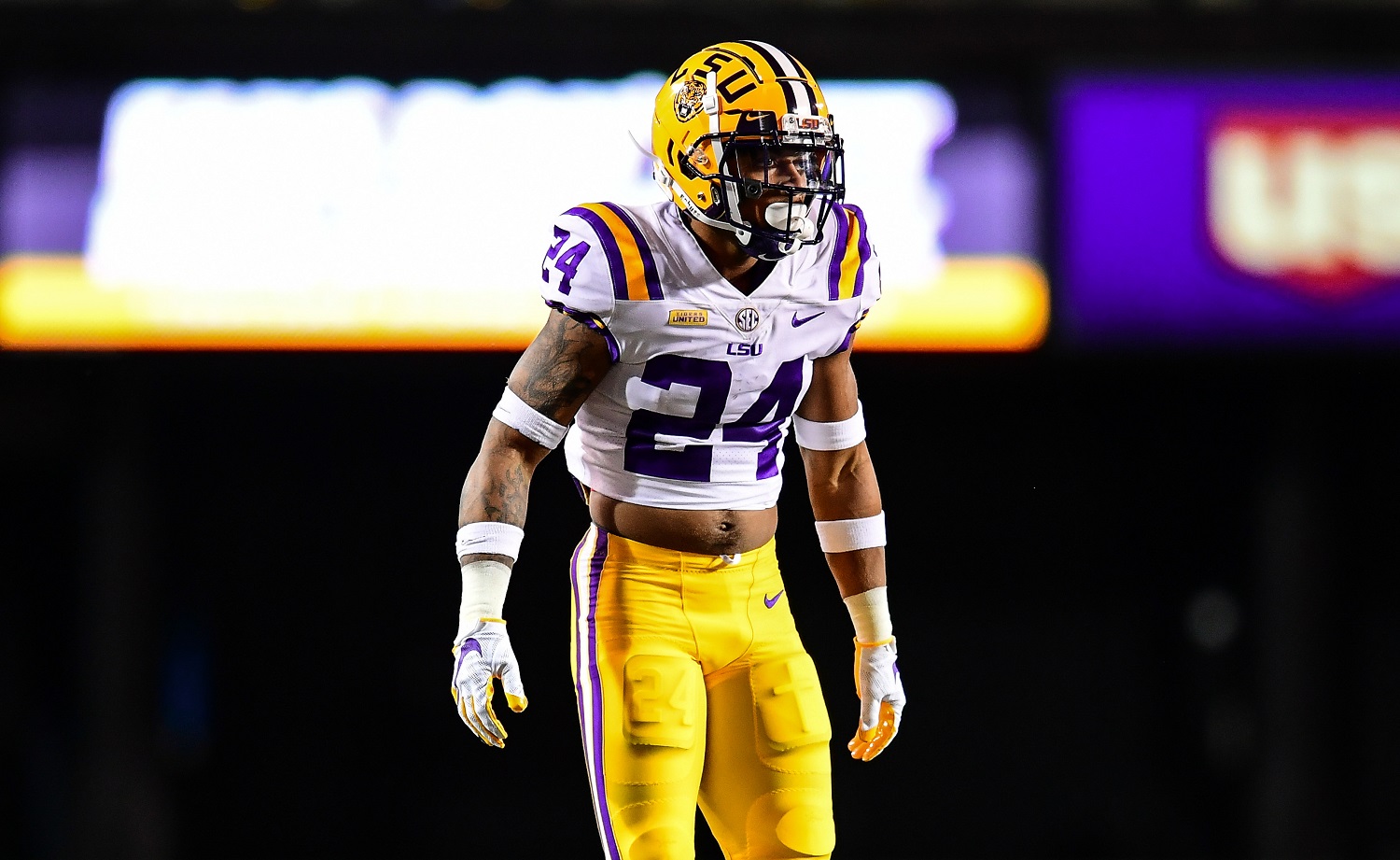 Derek Stingley Jr. Could Push Tyrann Mathieu to Write LSU a $1 Million Check
All-SEC cornerback Derek Stingley Jr. is switching his jersey to No. 7, a big honor for LSU Tigers players.
Tyrann Mathieu has earned first-team All-Pro honors three times in eight seasons, but Derek Stingley Jr.'s future looks brighter than the Honey Badger's past. That helps explain why even Mathieu is making a big bet on the LSU Tigers' star cornerback.
Mathieu says he'll write his alma mater a seven-figure check if Stingley lives up to the standards set by past members of an elite LSU fraternity.
Derek Stingley Jr. will wear No. 7 for LSU this fall
Star defensive back Derek Stingley Jr. will wear LSU's coveted No. 7 jersey this fall, the school announced. The junior cornerback has logged two stellar seasons as an all-conference pick for the Tigers. He's a likely first-round pick when he enters the NFL draft.
Stingley led the SEC with six interceptions in 2019 while wearing No. 24. Missing three games as a sophomore contributed to his not making a pick in 2020, but there was a bigger reason. Opponents simply stopped throwing in his general direction.
Patrick Peterson, who won the Thorpe Award in 2010 as the nation's top college cornerback, wore No. 7, as did Mathieu, a Bednarik Award-winning safety as the nation's defensive player of the year. Grant Delpit, a 2019 Thorpe winner, also wore the number.
Though No. 7 is more closely identified with LSU defenders, All-American running back Leonard Fournette has also worn the uniform. Free safety JaCoby Stevens wore it in 2020 after receiver Ja'Marr Chase opted out of playing last season.
While offensive stars have worn the number — most notably former All-American running back Leonard Fournette — it is generally associated with LSU's rich history of defensive backs, so Stingley is a natural pick.
"It's an honor to be part of the legacy of players that have worn the No. 7 jersey," Stingley said, according to The Advocate. "I'm looking forward to upholding the tradition and the standard of play that has been set by the group that has come before me."
Mathieu bets big on LSU's Stingley
Pro Football Focus recently tweeted that Stingley "might be the best athlete to take the field this fall." Mathieu hopped on board almost immediately.
"Duh he's no. 7. If he win Thorpe or Heisman I'll donate another million to LSU," Mathieu said on Twitter.
Trevon Moehrig of Texas Christian won the Thorpe Award last season and went to the Las Vegas Raiders in the second round of the NFL draft. By becoming his successor, Stingley would score the Tigers' fourth Thorpe Award, following Peterson, Morris Claiborne (2011), and Delpit.
$1 million is certainly within his budget
Mathieu entered the NFL in 2013 as the third-round pick of the Arizona Cardinals, where he earned his first All-Pro honor in 2015. The Cardinals released him in March 2018 after they declined to pick up a two-year, $19 million option and the sides couldn't agree on a compromise.
Mathieu played the following season with the Houston Texans for $7 million, after which his gamble in turning down the Cardinals paid off. On March 19, 2019, Mathieu and the Kansas City Chiefs agreed upon a three-year, $42 million contract with $26.8 million guaranteed.
The deal also worked out nicely for the Chiefs. He has totaled 10 regular-season interceptions in two All-Pro seasons, as well as one pick in the playoffs.
Like Sportscasting on Facebook. Follow us on Twitter @sportscasting19.