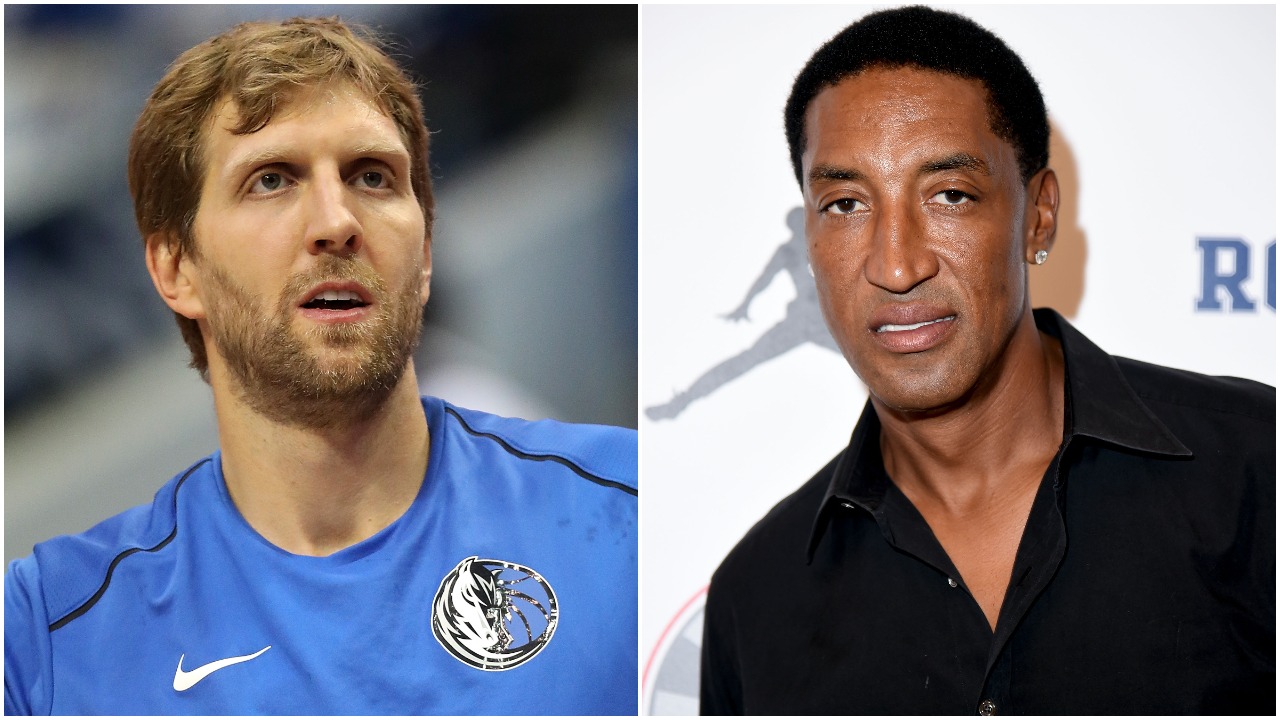 Dirk Nowitzki Torched Idol Scottie Pippen in an Exhibition as a 19-Year-Old, Later Said He Was Disappointed to Meet Him Because He Was an 'Arrogant Ass Beyond Belief'
19-year-old Dirk Nowitzki dropped 50-plus points in an exhibition against a team featuring his idol, Scottie Pippen, and later said he was disappointed because Pippen was an "arrogant ass."
Of all the great NBA players who have come from Europe over the years, Dirk Nowitzki is arguably the greatest of them all. Giannis Antetokounmpo or Luka Doncic may hold that title at some point, but if it's me making the call, I'm going with Dirk for now.
Like many players of his generation, foreign or domestic, Nowitzki was a fan of the Chicago Bulls growing up, which makes sense as he was a teenager in the 1990s when Michael Jordan and Scottie Pippen led them to six NBA titles.
However, unlike most teenagers, Dirk actually got to play against Jordan and Pippen back in those days when the pair visited Nowitzki's home country of Germany just ahead of their famed "Last Dance" season.
And then 19-year-old Dirk lit them up, which must have been an incredible feeling for him as Pippen was his idol. But you know how they say never to meet your idols because you'll be disappointed?
Well, that's exactly what happened to Nowitzki when he joined Scottie in the NBA, which led to the future Hall of Famer saying some not-so-nice things about the six-time NBA champion.
19-year-old Dirk Nowitzki lit up a team that included Scottie Pippen, Michael Jordan, and Charles Barkley in 1997
Back in the day, Nike sent a number of its most prominent endorsers overseas to participate in what they dubbed the "Hoop Heroes Tour." The players would often put on a little camp, sign autographs, and, of course, promote Nike apparel.
In 1997, the "Hoop Heroes Tour" took place in Berlin, Germany, and Nike brought out the big guns for this particular tour as Michael Jordan, Scottie Pippen, and Charles Barkley were all on hand. In addition to the other events, a couple of exhibition games were typically held, and then-19-year-old Nowitzki, who had become one of the biggest young stars in all of Europe, was lucky enough to be on the floor against a group of NBA stars.
Years later, Barkley spoke on just how impressed he was with Nowitzki that night in Berlin and how not even Pippen, at the time one of the best defenders in the NBA, could stop him.
"So Dirk is kicking our ass. He's got like 25 at halftime. And me and Michael are like, 'Scottie, you gotta pick it up a little bit.' And he says, 'Man, I'm gonna lock him down in the second half. I'm gonna lock him down in the second half.' Dirk finished with like 52."

Charles Barkley on Dirk Nowitzki dropping 52 points on Scottie Pippen
Now, in the footage of that particular game that does exist, I'm not spotting Jordan anywhere. And I didn't see MJ in the first exhibition that was played, either. I'm not saying he wasn't there, but I'm just saying I didn't see him. But we'll go ahead and take Barkley's word for it.
Besides, this is more about Nowitzki and Pippen anyway, and Dirk apparently had some issues with his idol during his early years in the NBA.
Dirk thought Pippen was an 'arrogant ass' in his early years in the NBA
Less than a year after taking the floor against Pippen in Germany, Nowitzki joined his idol in the NBA when he was taken with the ninth overall pick in the 1998 NBA Draft by the Milwaukee Bucks, who then shipped him to the Dallas Mavericks in the multiteam deal that also brought Steve Nash to Big D.
The start of Nowitzki's rookie season was delayed due to a lockout, but he finally made his NBA debut on Feb. 5, 1999, in a Mavs loss to the Seattle Supersonics. Dirk missed all five of his field-goal attempts and finished the night with just two points.
Three games later, Dallas matched up with the Houston Rockets, who'd acquired Pippen from the Bulls in the offseason as Chicago entered rebuilding mode after winning title number six. Barkley was also on Houston's roster at the time, so this was Dirk's first chance to square off with them in a real game. And he discovered just how different it was from that night in Berlin.
Perhaps this was Scottie going into Michael Jordan's "personal" mode, but he played more minutes than anyone that night in Dallas. It's not as if he had a great game, as he made just six of 16 shots from the floor and one of four from the foul line for 16 points, but he did hold Dirk to eight points instead of 52. And the Rockets took a 105-95 victory to boot.
A few years later, Nowitzki spoke on how mesmerized he was playing against the guys he grew up watching when he first entered the NBA. He specifically mentioned his first game against Pippen, who he called his idol. But the next thing he called him wasn't as nice.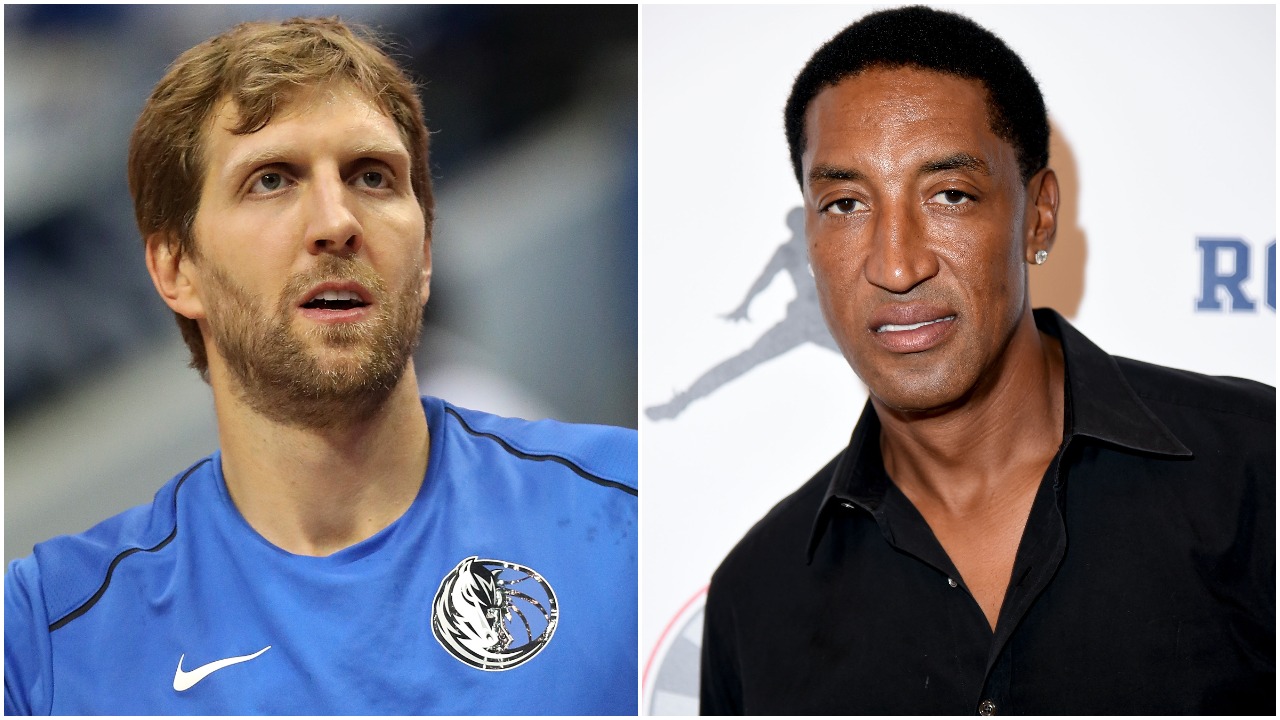 "That was my idol really, Scottie Pippen. When I came over at age 20, I think my third NBA game (it was his fourth) was against Scottie Pippen. That was a hammer feeling. You're standing on the court playing against them; I couldn't believe it at first. But in the meantime, it's my fifth year. You have to lose the respect eventually.

"That was difficult my first year. All the posters I had all over my bedroom, suddenly I was playing against them, that was crazy. And I was totally disappointed because Scottie Pippen was my idol. That's an arrogant ass beyond belief."

Dirk Nowitzki on Scottie Pippen
We're obviously not sure precisely what Pippen ever said to Nowitzki, but it couldn't have been good if Dirk, known to be one of the nicest guys in NBA history, would say something like that. But that animosity must have gone away as his career progressed.
Pippen paid tribute to Nowitzki ahead of the final home game of Dirk's career
While Dirk's first season in the NBA was a bit of a struggle, he calmed himself down.
Over the next two decades, Nowitzki became one of the greatest players in league history. He was a 14-time NBA All-Star, became a 12-time All-NBA selection, and was named NBA MVP in 2007. Nowitzki scored 31,560 career points in the regular season, good for sixth on the all-time list, and an additional 3,663 in the postseason.
Of those, 582 came in the 2011 NBA playoffs when he led the Mavs to their first (and still only) NBA title, winning NBA Finals MVP in the process.
Following Nowitzki's final Dallas home game in April 2019, several NBA legends paid tribute to him, including Barkley, who once again told the story of how Dirk lit him up in Germany. Only in this version Nowitzki scored 42 points. But I digress.
If there was ever any true bad blood between Dirk and Scottie, it was long gone as Pippen gave a beautiful speech about Nowitzki, kicking things off by saying how much Dirk inspired him. He went on to say how Nowitzki played the game the right way and how he inspired people all over the world. And Nowitzki looked truly honored to hear these things as Pippen was saying them.
It may have taken a little longer than Dirk would have liked, but he clearly earned his idol's respect.
Have thoughts on this topic? Keep the conversation rolling in our comments section below.