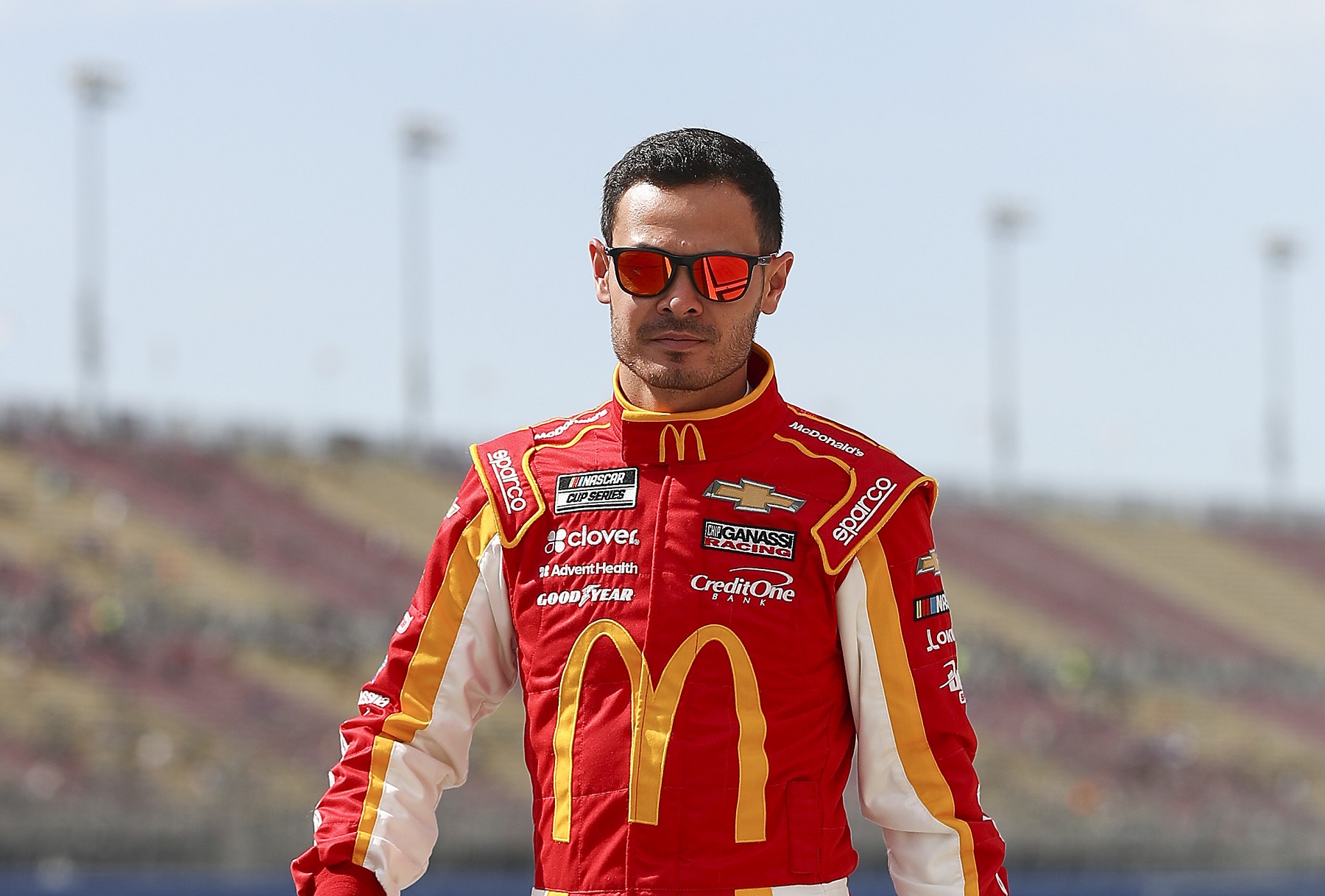 Disgraced Driver Kyle Larson Just Took a Huge Step Toward His NASCAR Return
Suspended NASCAR Cup Series driver Kyle Larson appeared on CBS to reassure race fans that he is not a racist.
Kyle Larson had said and done all the right things previously to repair the damage of his single careless, hurtful comment. Now, the disgraced NASCAR Cup Series driver has taken another crucial step forward by doing a television interview so that the public could hear him in his own words.
It may be the move that opens the door toward NASCAR lifting its suspension and allowing Larson to get back behind the wheel and resurrect a once-promising career on the country's best-known racing circuit.
Kyle Larson made a serious mistake in April
Kyle Larson has felt the full brunt of his reckless comment uttered during a meaningless event. NASCAR suspended him indefinitely for his racist slur during an iRacing event in April that was streamed on Twitch. The event filled the void created by the COVID-19 pandemic that had shut down live sporting events.
Other drivers as well as fans who were following the event heard the slur. With sponsors, including Chevrolet, dropping Larson, the Chip Ganassi Racing team recognized the gravity of the situation and fired him.
It was not a decision taken lightly because Larson's career was on the rise. He had earned a full-time job in the NASCAR Cup Series in 2014 at the age of 21 and posted six victories in 223 career races. Larson raced concurrently in the Infinity Series through the 2018 season and scored another 12 wins.
Kyle Larson sits down with CBS
Kyle Larson acknowledged that he used a racist word in the April incident. But he wants his fans and the public in general to know he isn't a racist.
Larson, 28, appeared on CBS This Morning on Oct. 16 to talk about the incident in the virtual race and what has happened since being suspended and fired.
"I know deep down I'm not a racist," Larson said in his first television appearance since the uproar. "I said a racist word."
During the virtual race, Larson had called out to his spotter, who is white, asking, "You can't hear me at all?" followed by the offensive word.
An unidentified fellow NASCAR Cup Series driver replied, "Hey Kyle, you're talking to everyone, bud." 
Larson explained to CBS that he had raced with that spotter in Australia, and the circle of people they associated with "used the word casually as a greeting." As such, he didn't comprehend how unacceptable it should have been.
"I know it's not my word to use," he said. "So, you know, I need to get it out of my vocabulary, and I have."
Asked if he understood now the seriousness of his mistake, Kyle Larson said he did.
" I didn't think of how it … took African-Americans, probably in their thoughts, took them back to slavery and things like that and injustice and stuff that they have had to work so hard to overcome."
What's the next step in returning to NASCAR?
Kyle Larson has completed sensitivity training that was mandated by NASCAR. He has not yet applied for reinstatement following his suspension in April. Doing the television interview appears to be a step in preparation for requesting that the suspension be lifted.
Getting the NASCAR approval would be a major development, but Larson would still have to find a racing team, and those spots are hard to find. The current speculation centers on Hendrick Motorsports because Jimmie Johnson is retiring from full-time racing at the end of the season in early November.
Alex Bowman will move from Hendricks' No. 88 Chevrolet to take over the No. 48 car in the NASCAR Cup Series beginning at Daytona in February. That leaves Bowman's current seat open.
In order for Kyle Larson to even compete for the spot, the Hendrick team would have to be able to line up sponsors, presumably including Chevrolet, willing to deal with potential backlash from customers and business associates who might not be as forgiving toward Larson.
It's likely that the Hendrick team has already put those feelers out and that the NASCAR community should learn Larson's fate before Thanksgiving.