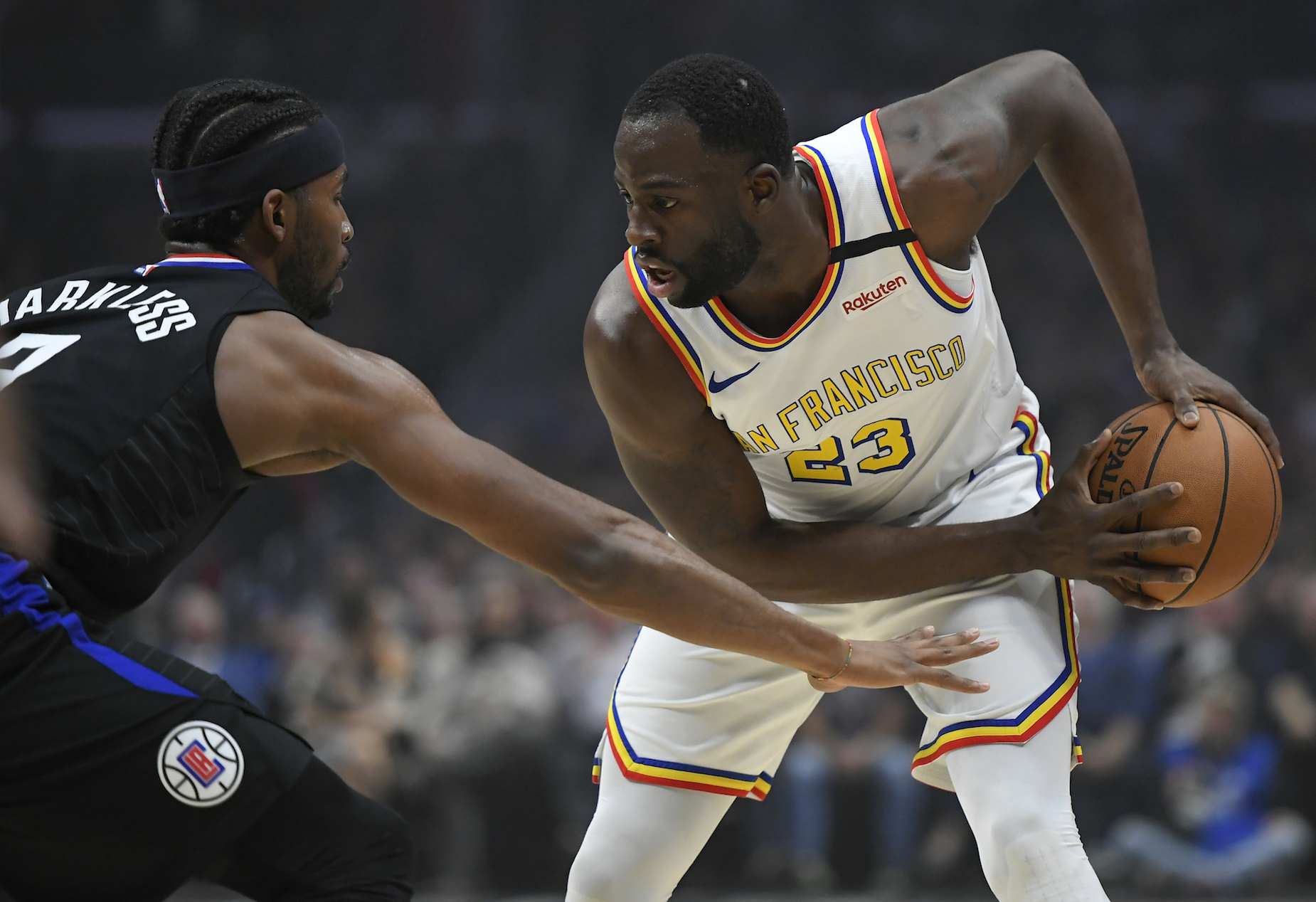 Draymond Green Is Using His Converse Contract to Help Kids in His Hometown
While Draymond Green might not be the most popular man in the NBA, he's using his sneaker deal with Converse to help kinds in his hometown.
Whether you love him or hate him, Draymond Green is simply part of the NBA landscape. Golden State Warriors fans will know the forward as a key part of the club's modern success; others view him as more of a cheap shot artist than anything else. No matter how you feel about the big man, he's still become a household name with plenty of money in the bank.
While Draymond Green might not have the best reputation, he's still using his star status for good. Thanks to his sneaker deal with Converse, the forward is helping out his hometown of Saginaw, Michigan.
Draymond Green's colorful NBA career
Some professional athletes prefer to keep their heads down and let their play do the talking. Draymond Green, for better or worse, isn't one of those players.
After high school, Green took his talents to Michigan State; during his four seasons with the Spartans, he established himself as a tough customer, capable of scoring, defending, and rebounding in the paint. That profile helped him land with the Golden State Warriors as the 35th overall pick of the 2012 NBA draft.
While Green didn't start out as a major contributor, he gained more responsibilities with each passing season. As the Warriors grew into a championship-quality squad, he became a key component of the team's success; with Steph Curry and Klay Thompson on the perimeter, he was able to handle the opposition's interior threats.
For all of his on-court success, though, Green has developed a bit of a reputation as a dirty player. During his time in the NBA, he's piled up more than $800,000 worth of fines; his offenses range from simple technical fouls to criticizing officials and, most recently, tampering.
Making more than $80 million in the NBA
Between his less-than-impressive scoring numbers and his frequent fines, Draymond Green might not seem like a shoo-in to cash in on contracts and endorsements. The Warriors forward, however, can laugh straight to the bank.
During his time in Golden State, Green's salary has grown. According to Spotrac's contract data, he started out earning less than $1 million per season; by the end of his current deal, which expires after the 2023-24 campaign, he'll be making more than $27 million. By then, his career earnings will have eclipsed $184 million.
Beyond his playing salary, though, Green has also become a force away from the hardwood. While he might not be the flashiest guy in the room, he's still capable of impressing some big-time brands.
"He's worthy of any blue-chip or multibillion-dollar company's ad dollars," Omar Johnson, former chief marketing officer for Beats by Dre, told Marc J. Spears of The Undefeated. "Draymond scores in multiple dimensions. You're going to be hard-pressed to find someone more personable, intelligent, and humble. People always talk about his big personality, but there is something bigger. Draymond just shines. You don't find that combination in many athletes. Those combinations usurp scoring. He's always made our brand proud in interviews, locker rooms, and business settings."
Draymond Green is using his Converse deal to give back
One of Draymond Green's business partnerships is with Converse. As Nick DePaula laid out for ESPN in March 2020, the forward "signed a multiyear, multimillion-dollar shoe deal with Converse, making him a face of the company and a featured endorser across all brand marketing and product launches."
That contract, however, is doing more than adding some extra cash to Green's bank account. It's also allowing the Warriors big man to give back to his hometown.
According to a tweet from ESPN's Eric Woodyard, Green "will support the First Ward Community Center by donating 550 pairs of Chuck Taylor All-Stars to local youth in his hometown of Saginaw, Michigan."
For all we know, the next Draymond Green could be in the crowd that day, and those sneakers could launch his NBA career.