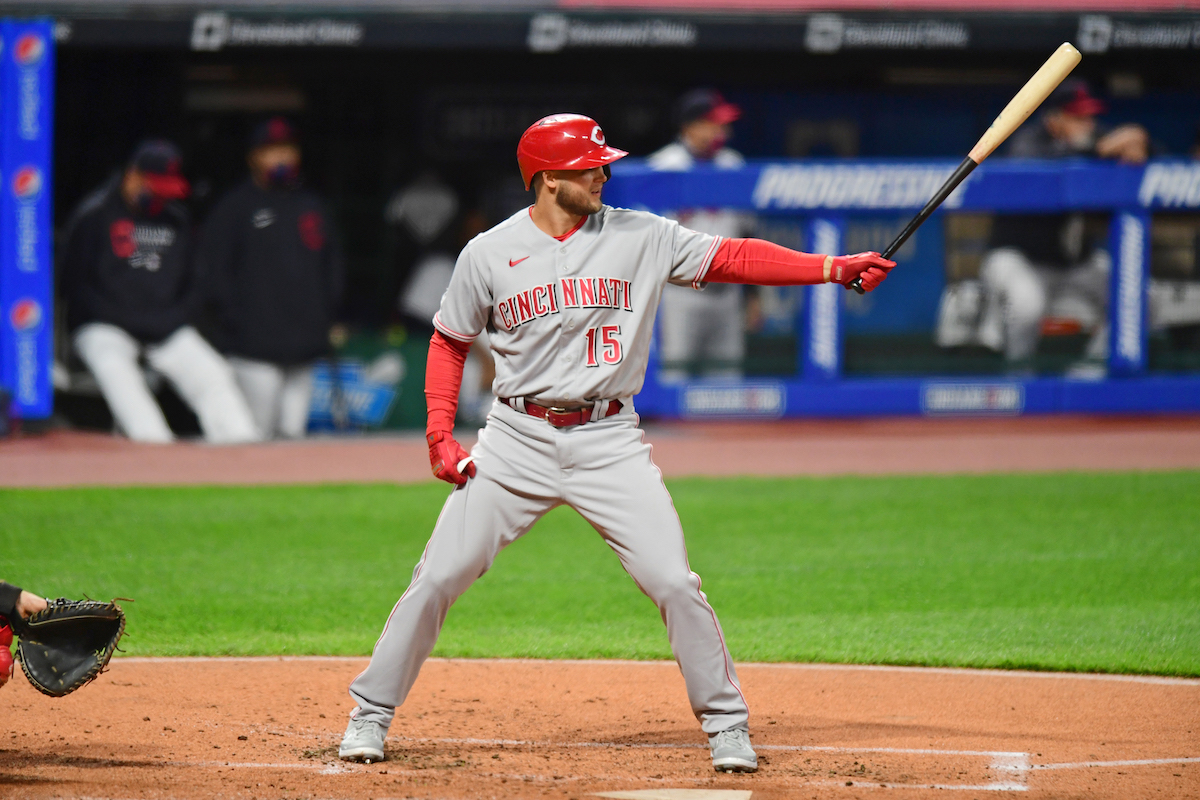 Fantasy Baseball Sleepers: 5 Late-Round Outfielders With Immense Upside
These five late-round outfielders would give your fantasy baseball team plenty of upside. They may be sleepers, but they could also be league-winners.
No team is complete without a strong stable of MLB outfielders, but you might as well chase after some of the leading fantasy baseball sleepers to go along with the standouts you secured at the top of the draft.
You're not going to find a Juan Soto, Ronald Acuna Jr., Mike Trout, or Mookie Betts in the later rounds, but that's not the point. Each team in your league is likely landing at least a few of the true stars at the position due to the overwhelming depth of talent in left, right, and center field. You can differentiate yourself by finding a legitimate contributor toward the back end of the selection process.
As opposed to the other positions in this series, such as the catchers and starting pitchers, we're only interested in players with an average draft position (ADP) of at least 300 this time around. These are all guys who come off the board rather late in a typical draft, but that shouldn't diminish their appeal. Each of the five carries with him upside that's not exactly commensurate with his position on the boards.
Anyone can hit on a star in the first few rounds. Land a sleeper (or two) who goes off, and you're likely to be right in the thick of the championship chase.
Riley Greene, Detroit Tigers
ADP: 309.6
Age: 21
2021 Stats: 558 PA, 95 R, 25 2B, 8 3B, 24 HR, 84 RBI, 16 SB, .301/.387/.534 (across two minor league levels)
Spencer Torkelson isn't the only top prospect who resides in Detroit. Riley Greene actually joins him in the top five of MLB.com's list of the 100 leading prospects heading into the 2022 season, and the outfielder's tools could make him an early contributor to both the Motown lineup and your fantasy squad.
"The Tigers are impatient enough with this build that I expect Greene to be up as soon as possible without the team giving up a year of control. That could be Opening Day if he signs a long-term extension, or it could be a few weeks into the season if service-time manipulation still serves the owners' interests," RotoWire prospect expert James Anderson told The Athletic's John Laghezza, and the early spring training results back up the sentiments.
Greene has three hits in his first nine at-bats, and those include a triple and a homer. He might strike out a bit too frequently (already four punch-outs in spring training), but his bat speed and plus power should pair with his defensive ability at center field to make him immediately playable.
Even if he's stuck in the minors to start the season, you'll reap the rewards of a late-round pick throughout the second half of the season when he puts his five-tool skill set (the real kind, not the hyperbolic descriptor) on display at a ripe young age of 21.
Brandon Marsh, Los Angeles Angels
ADP: 370.6
Age: 24
2021 Stats: 260 PA, 27 R, 12 2B, 3 3B, 2 HR, 19 RBI, 6 SB, .254/.317/.356
A lot hinges on Brandon Marsh's walk rate.
Perhaps a bit impatient because he was so eager to make an impact at the big league level, the 24-year-old struggled to make consistent contact and struck out a whopping 35.0% of the time. He also walked on just 7.7% of his plate appearances, which was a stark contrast to the double-digit figures he posted in the minors that rose to 14.5% over 24 games at Triple-A before his promotion.
Still, the tools are blindingly obvious, so long as he remembers that he can take pitches and wait for the right moment to strike.
Marsh's max exit velocity sat in the 86th percentile, his sprint speed checked in at the 95th percentile, and he already displayed some ability to turn around on offspeed pitches. He almost never produced pop-ups and hit line drives on 49 of his 147 batted balls, which was the second-highest rate among everyone with at least 100 balls put in play. This isn't necessarily a fluke, either, since he made solid contact and peppered line drives to all fields in the minors, as well.
As long as he can put his bat on the ball with a bit more consistency, especially against the curveballs that kept him to an xBA of .179, there's something potentially special developing alongside Mike Trout and Jo Adell in the Angels' outfield.
Jorge Mateo, Baltimore Orioles
ADP: 430.0
Age: 26
2021 Stats: 209 PA, 19 R, 11 2B, 1 3B, 4 HR, 14 RBI, 10 SB, .247/.293/.376
At the very least, Jorge Mateo is coming off the boards in the "free asset" range and has the potential to float your roster in one specific category: steals.
Mateo swiped 10 bases (five apiece with the San Diego Padres and Baltimore Orioles, who acquired him off waivers) during a 2021 season in which he registered just 209 plate appearances. Down in the minors, he had 24 steals in 2019, 25 in 2018, 52 in 2017, 36 in 2016, and 82 in 2015. That last number is obviously a bit ridiculous since it came seven years ago while he was playing Single-A and High-A ball within the New York Yankees organization, but it's still indicative of the baserunning juice at his disposal.
So, too, is his 99th percentile sprint speed.
At 30.4 feet per second, he trailed only Eli White (30.5), Derek Hill (30.5), Tim Locastro (30.7), and Trea Turner (30.7) in 2021. In fact, throughout the entirety of the Statcast era (2015-present), only Locastro (30.9) and Byron Buxton (30.6) have a higher career mark than Mateo's 30.5.
If his plate discipline improves (unlikely) or the power in his swing translates after a 19-homer season at Triple-A in 2019 (far more likely), he could be more than a single-category contributor. But even if he's that limited, he'll still be valuable so long as Baltimore gives his glove and legs playing time.
Nick Senzel, Cincinnati Reds
ADP: 386.0
Age: 26
2021 Stats: 124 PA, 18 R, 4 2B, 0 3B, 1 HR, 8 RBI, 2 SB, .252/.323/.315
Nick Senzel was supposed to be the total package, which is why he came off the board as the No. 2 pick of the 2016 amateur draft and cemented himself as a top prospect before making his big league debut in 2019. Even that went swimmingly as he slashed a respectable .256/.315/.427 while smashing 12 homers and stealing 14 bases in 104 games.
Since then, the wheels have fallen off. He's only logged 202 plate appearances since his rookie season, plagued by a seemingly endless stream of injuries, and he's been unable to get anything going at the plate.
However, the tools are still there, even if they're lying dormant as he moves from heavy-hype territory into the post-hype realm.
Admittedly in a limited 2021 sample, Senzel made contact on a career-best 89.1% of his swings in the zone and a career-best 65.1% of his chases. He continued to hit line drives at a high rate, and his expected slugging percentage was another lifetime best (.438). In fact, his hard-hit percentage (39.6) was one more tick in a long list of personal bests, and that came while he struck out less and walked more than he ever had at the MLB level.
A .284 BABIP (.336 xBABIP) was one of many culprits (ditto for a balky knee that plagued him throughout the year) as his actual results paled in comparison to the underlying metrics. So long as the Reds remain patient with him — and they have no reason to do anything else with Ken Griffey Jr. positioned prominently on a penny-pinching payroll following an offseason in which they pursued lower expenditures more than competitiveness — it feels like a breakout is imminent if he can stay healthy.
That's a big "if," but it's easier to stomach when his ADP is closer to 400 than 350.
Lamonte Wade Jr., San Francisco Giants
ADP: 326.8
Age: 28
2021 Stats: 381 PA, 52 R, 17 2B, 3 3B, 18 HR, 56 RBI, 6 SB, .253/.326/.482
The only explanation for LaMonte Wade Jr.'s ADP lagging well behind his level of production as an out-of-nowhere contributor during his age-27 season — one that actually yielded a stray back-of-the-ballot MVP vote —  is a pervasive belief that it was nothing more than a fluke. If it wasn't replicable, why bother chasing past production that's unlikely to result in future success?
However, the big issue there is that the underlying metrics back up the surface-level numbers.
Wade's xBA (.256) was actually higher than his real batting average (.253). His xSLG (.475) was in line with his real slugging percentage (.482). He sat above the 50th percentile almost across-the-board on his Statcast profile, and the combination of a 35th percentile strikeout rate and 80th percentile whiff rate indicates room for growth as he gets better at reading the ball out of MLB pitchers' hands.
Though Wade's glaring platoon splits (.268/.341/.518 in 339 plate appearances against righties; .135/.200/.189 in 42 plate appearances against lefties) could put a cap on his playing time, he's set to make the most of his trips to the plate and prove that his 2021 success was entirely sustainable.
All stats, unless otherwise indicated, courtesy of Baseball Reference, Fangraphs, and Baseball Savant. ADP data courtesy of FantasyPros.