Hideki Matsuyama's Haul From The Masters Estimated At $600 Million
The jacket presented to him by the Augusta National Golf Club isn't the only new green in Hideki Matsuyama's life. The 29-year-old champion of The Masters Tournament has opened the door to a mile-high stack of hundred-dollar bills thanks to his one-stroke victory over Will Zalatoris.
Winning The Masters paid off instantly for Hideki Matsuyama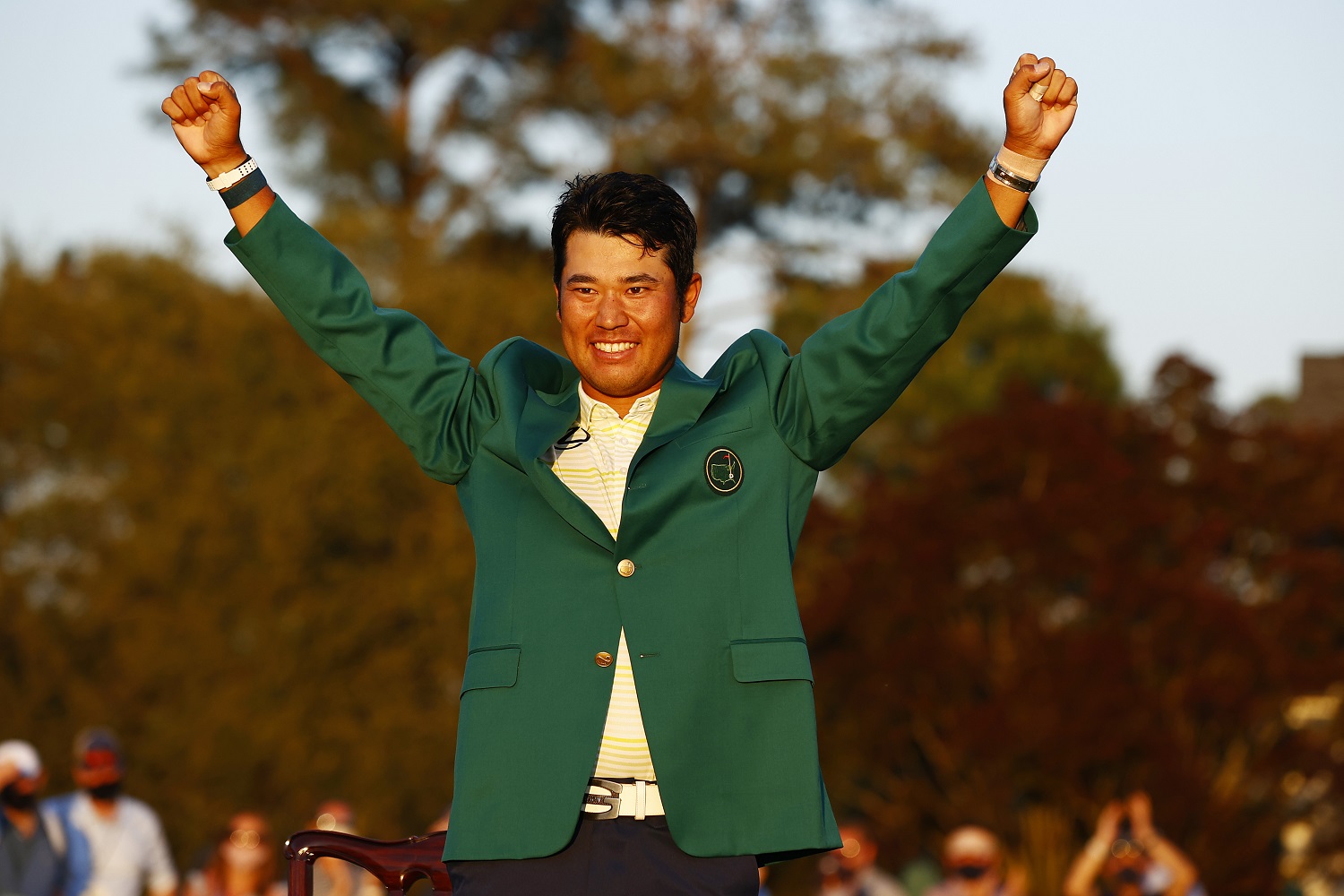 Hideki Matsuyama had been carving out a nice living since joining the PGA Tour on a limited basis in 2013 and then beginning a full-time schedule the following season. Matsuyama scored his first victory at The Memorial in 2014 and won twice apiece in 2016 and '17. Combined with 41 other top-10 finishes, his career earnings entering the current season exceeded $29.5 million.
Still, that's small change. Top golfers make even more through endorsements, and prize money accounts for just a fraction of the net worth accumulated by the likes of Tiger Woods and Phil Mickelson. The rest of their money comes from lending their name and image to companies selling everything from watches to real estate.
That's a wealth-enhancer with which Matsuyama is about to become even more familiar than he already is. The $2.07 million check that comes with winning The Masters is simply a down payment on the fortune that goes along with winning one of golf's four major championships.
The fact that Matsuyama hails from Japan, probably the most golf-crazy nation on the planet, makes it that much better for him.
His low-key life on the PGA Tour is officially over
While a consistent contender on the PGA Tour, Hideki Matsuyama has been decidedly low-key. Until his victory at The Masters, many golf fans knew little about him other than his approach shots to the green land close to the pin with ungodly frequency.
In 2017, he surprised the media at the PGA Championship, where he finished tied for fifth, by announcing the birth of his child. Until then, no one even knew he was married, The New York Times reported.
"No one really asked me if I was married, or, you know, so I didn't have to answer that question," he said. "But I felt that after the PGA would be a good time, because our baby is born, and I thought that would be a good time to let everyone know."
He can kiss that level of privacy goodbye. Matsuyama is now a contender to light the Tokyo Olympics torch this summer.
Bob Dorfman, a sports marketing expert at Baker Street Advertising, figures Matsuyama will be in demand on both sides of the Pacific Ocean long past the day he retires as a full-time player.
"Barring any career-ending injury or scandal, I'd say a Masters win is easily worth $600 million for Matsuyama," Dorfman told Sportico.com. "He'll be an icon in his golf-mad country."
Dorfman bases the estimate on $20 million a year in endorsements for 30 years in part based upon the fact that Japanese tennis player Kei Nishikori has never won a major but takes in more than $30 million a year from sponsors.
Astonishingly, Dorfman's expectation for Matsuyama comes in on the low end.
Hideki Matsuyama's haul could reach $1 billion, ESPN analyst says
ESPN analyst Andy North estimated that Hideki Matsuyama's victory could be worth $1 billion. That skews toward hyperbole, but Matsuyama is so well-established in his homeland that large deals should materialize instantly and then potentially grow over the years. Matsuyama was already making as much as $10 million a year from Lexus (autos), Srixon (sporting goods), and Nomura Securities (finance industry).
Given the importance of golf in Japanese sports culture, new opportunities will pour in there. Matsuyama speaks little English, but a marketing expert doesn't see that as an impediment for U.S. corporations looking to connect to golf fans and a sizable Asian population.
"English doesn't really matter for a full-page ad in GQ," said Bill Sanders, who helped market Chinese baseball great Yao Ming.
Like Sportscasting on Facebook. Follow us on Twitter @sportscasting19.