How Tall Is Serena Williams?
Throughout the years, the height of a tennis player has become more important. It allows an athlete to produce faster serves and achieve better angles during the matches. But with regard to tennis great Serena Williams, does height even matter? She's well known for her dominance on the court whether from a powerful serve or a crushing backhand, but just how much does one's body type matter to find success? And how tall is Williams exactly?
Tennis players' heights have changed over time
With new technology comes changes to tennis rackets and training. These days, players are stronger, more powerful, and even taller. The conventional wisdom is that smaller athletes are faster, better able to move about the court. While a taller player is more likely to get a hard-to-reach ball, do they have an advantage elsewhere? 
The answer depends. Tall players are known for quicker serves with sharper angles. My Tennis HQ lists the average height of the men's ATP Top-10 tennis players at 6 feet, 3 inches. Conversely, the players ranked from Nos. 50 to 100 have an average height of 6 feet. That data suggests the taller players are more successful. However, some of the tallest men's players to ever step foot on the court aren't the most famous or successful. 
Of course, it's not always foolproof and doesn't mean players standing below 6-3 aren't good enough. Just look at Roger Federer and Rafael Nadal — both 6 feet, 1 inch, and two of the top male tennis players of all time. Tennis Abstract dove further into the data, finding that taller players have better first serves and higher ace percentages. However, height doesn't really give tall players a second-serve advantage. 
How tall is Serena Williams?
When Williams first burst onto the scene, her body type wasn't that of the normal tennis player. With strong, muscular arms and legs, it was hard to compete against her serve or intense forehand. Stars Unfolded lists her height at 5 feet, 9 inches, with a 150-pound weight. While that's pretty tall for a woman outside the sports world, it's actually much smaller than many of Williams' tennis rivals throughout her career.
Her own sister, Venus, is listed at 6 feet 1 inch; other rivals Maria Sharapova and Caroline Wozniacki are taller at 6 feet 2 inches and 5 feet 10 inches, respectively. So while height is an absolute advantage in certain situations, Williams clearly makes the case that it isn't everything. The 39-year-old is successful because of her intense power, speed, and agility. 
Williams has faced her fair share of criticism over her body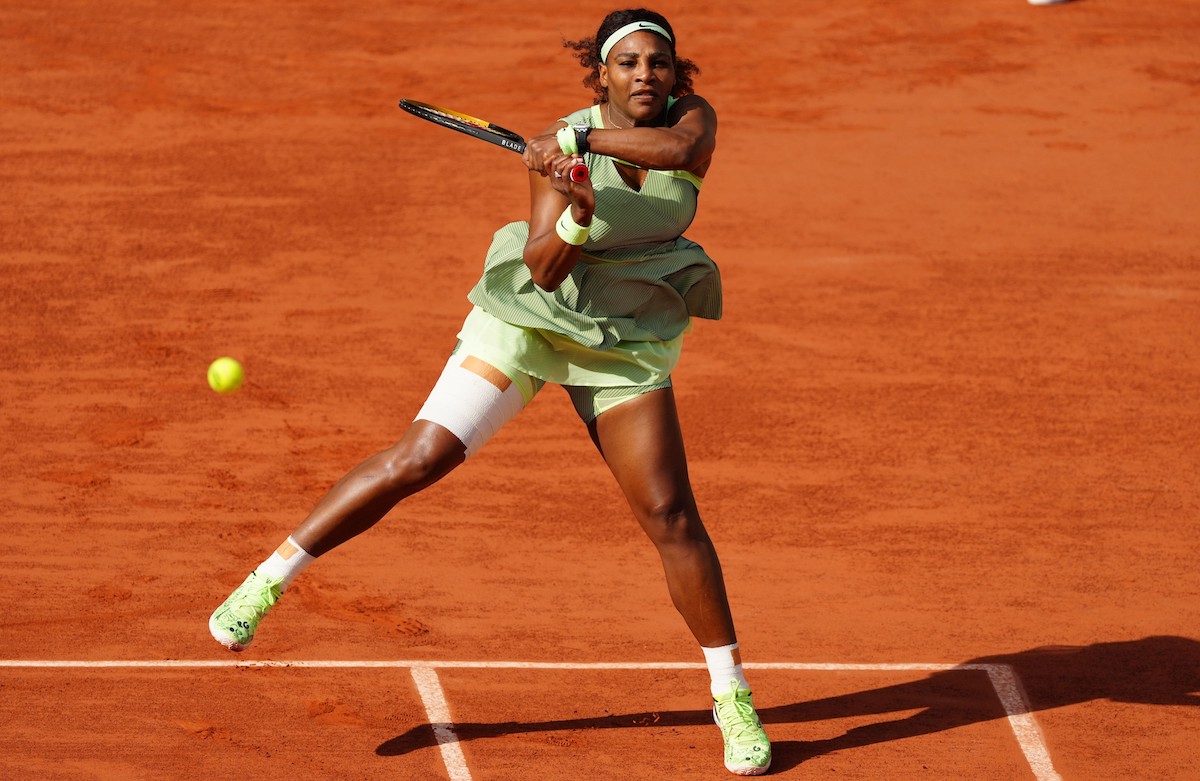 Williams is no stranger to criticism. While it's often due to her outrageous outfits, there are times when some people blast her body type. Romanian businessman and former pro tennis and hockey player Ion Tiriac did just that. In a January 2021 interview, Tiriac said he thought Williams should retire because she's not as fit as she used to be. He went on to say that "at this age and weight that she is now," it's time for her to hang up her racket.
Needless to say, many fans, including Williams' husband Alexis Ohanian, weren't happy with his comments. He took to Twitter to defend his wife and take a jab at Tiriac. Ohanian's initial response included a sharp tongue comment about how his 3-year-old has more Grand Slam victories than Tiriac, but he didn't stop there. A few days later, he added: "2021 and no holding back when a racist/sexist clown with a platform comes for my family."