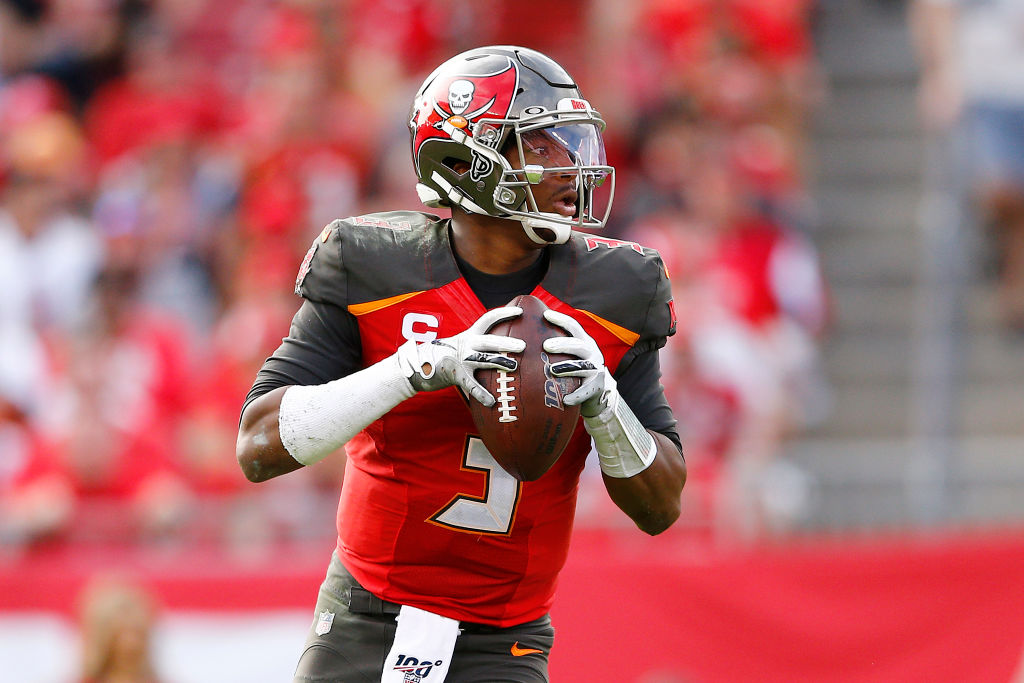 Jameis Winston is Taking After Tom Brady in an Attempt to Save His NFL Career
Jameis Winston may have lost his starting job to Tom Brady, but he's also following in the NFL veteran's footsteps, hoping it will save his career.
While Tom Brady may have stolen the NFL spotlight by joining the Tampa Bay Buccaneers, that move didn't happen in a vacuum. That move meant Jameis Winston was surplus to requirements; the quarterback has since signed with the New Orleans Saints. That isn't the only change he's made during the offseason, though.
Jameis Winston may have lost his job to Tom Brady, but there doesn't appear to be any hard feelings. In fact, Winston is emulating the veteran in one specific way, hoping that change helps save his career.
Jameis Winston lost his starting job to Tom Brady
Starting quarterback is one of those positions, like goaltender, where there's only room for one top dog at a time. Jameis Winston experienced that reality this offseason, losing his job to Tom Brady.
Coming into the 2019 campaign, things were supposed to be different for Winston and his Tampa Bay Buccaneers. Bruce Arians has a reputation as a quarterback guru who loves to push the envelope in the passing game; Byron Leftwich, his offensive coordinator, knows what it's like to be a promising young quarterback trying to live up to the hype. Together, they seemed like the perfect pair to help Winston take his game to the next level.
In reality, though, that didn't exactly happen. Winston did pass for 5,109 yards and 33 touchdowns, but he also threw 30 interceptions and fumbled 12 times. While there were some mitigating factors, like injuries and the lack of a ground game, Arians apparently had enough. When free agency opened, the Buccanneers went out and landed Tom Brady.
With Brady in Tampa, Jameis Winston needed to find a new job. Unable to find work as a starter, however, he signed a one-year deal with the New Orleans Saints. In a best-case scenario, he'll be this season's Teddy Bridgewater; if not, he'll be hoping that a year with Sean Payton and Drew Brees look good on his resume.
Following in Tom Brady's footsteps and going vegan
After losing his job to Tom Brady, it would be understandable if Jameis Winston didn't want to hear the veteran quarterback's name for a while. Intentionally or not, however, the New Orleans Saints' backup is following in his replacement's footsteps.
In a recent Bleacher Report feature about his " plan to return to NFL stardom," Winston revealed that he had changed his diet. "He went vegan, losing 17 pounds and counting," Tyler Dunne wrote. The story also explained how a doctor suggested that a healthier diet would help Winston better recover from offseason surgery; while the quarterback was initially skeptical, he was soon sold on the results.
Tom Brady, of course, follows a famously strict diet. While he has been known to eat lean meat on occasion, he does avoid dairy; in 2019, USA Today referred to the quarterback as "the most prominent athlete to embrace veganism."
In fact, Dunne himself even called Winston's new diet "downright TB12-esque." Come football season, the New Orleans Saints backup will be hoping that he's able to perform a bit more like Brady, too.
Will a new diet help Jameis Winston improve as a quarterback?
While eating healthier can't hurt, it's unreasonable to expect that avoiding meat and dairy will turn Jameis Winston into a world-beater. At the same time, though, his decisions this offseason have suggested a potential change in mindset.
Over the years, Winston has been pegged as immature and irresponsible. In a 2015 Jacksonville.com story, for example, Winston family adviser David Cornwell called Jameis " immature and a knucklehead," saying he wasn't ready for the off-field responsibilities of being an NFL player. Colin Cowherd voiced a similar opinion in March 2020, using Baker Mayfield and Winston to highlight the importance of maturity under center.
Between accepting a non-starting job in a good situation and changing his diet, though, Jameis Winston seems to be making the steps necessary to save his NFL career. Even if he never turns into a Tom Brady-level winner, it seems like a step in the right direction.
Stats courtesy of Pro-Football-Reference