Jayson Tatum or Jaylen Brown? 1 of these Boston Celtics Stars Has to Go
How long can this go on? For five years, Jayson Tatum and Jaylen Brown have been the future of the Boston Celtics. They are now the present and things are as bleak as they've been in a while in Boston. Last year, the team finished the season 36-36 and was bounced in the first round of the playoffs. This year, just making the playoffs might be considered a success.
The experiment is over. Tatum and Brown aren't what everyone thought. It's time to shake things up in Boston and one of those two All-Stars has to go.
The Boston Celtics desperately need a change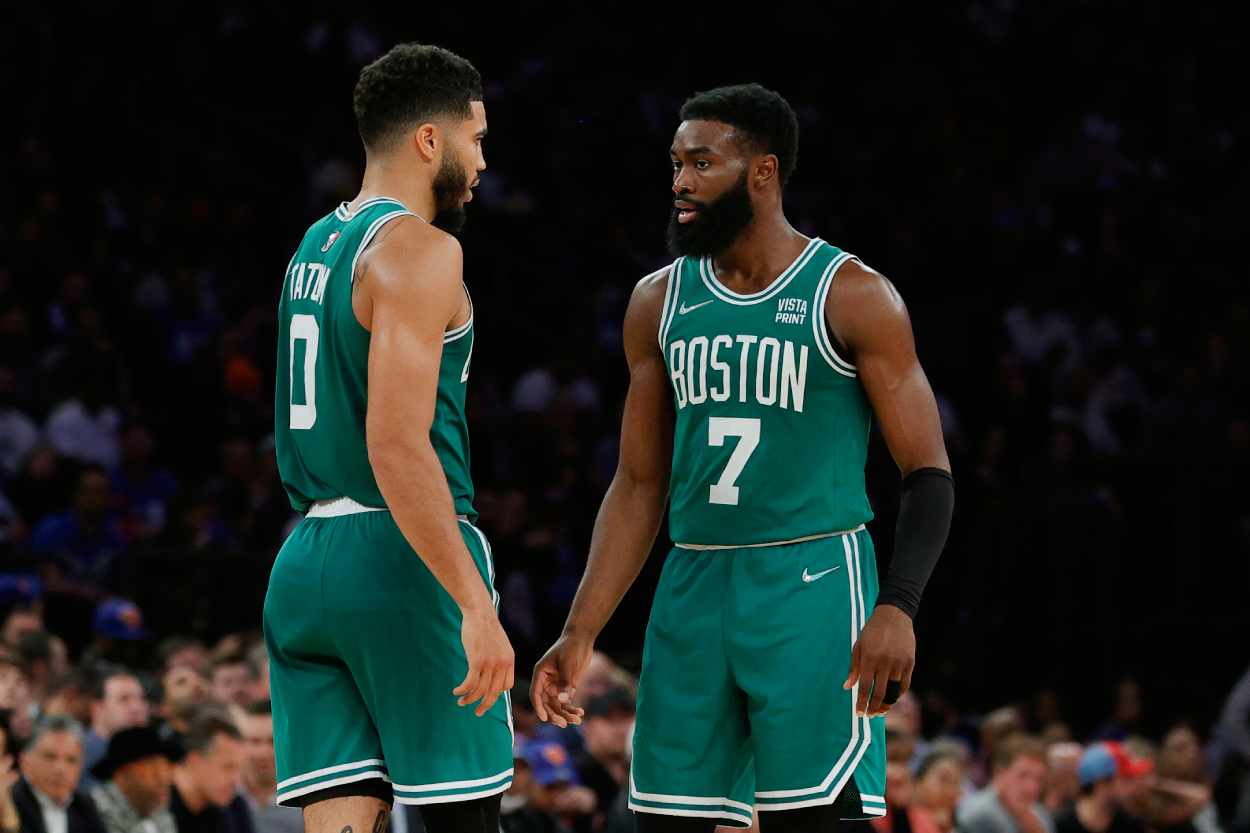 The Tatum and Brown plan has to be put to bed. Is five years not enough proof to show it's not working? Three seasons ago, the Celtics made the Eastern Conference Finals and have regressed since.
Tatum and Brown aren't true superstars. In Boston, they are stars, but neither one makes the players around them better. They haven't proven to be leaders. Effort and hustle are constantly questioned with this team, and that's a reflection of both first-year head coach Ime Udoka and Boston's two All-Stars.
The Celtics attempted to shake things up with some front-office moves prior to the season. Danny Ainge, their longtime president of basketball operations, resigned. Brad Stevens, the team's head coach the previous eight years, left his position to fill Ainge's. Stevens then hired Udoka to run the show on the floor.
More change is needed, and it needs to happen on the court. Tatum or Brown must go if the Celtics ever want a shot at banner No. 18.
Jayson Tatum or Jaylen Brown? One must go
At this point, trading either Tatum or Brown wouldn't be an impulsive decision. Although the Celtics are 16-19 and have lost three straight, they have been mired in mediocrity the last two seasons. There are zero signs of turning things around.
It's time for Stevens to make a move, but is he too loyal to Tatum and Brown?
If there is any significant change to be made, it has to start with dealing one of the two. There is nobody else on the roster that will bring back anything of value. Stockpiling picks should be a thing of the past for Boston.
Ainge swindled the Brooklyn Nets when he traded Paul Pierce and Kevin Garnett, collecting boatloads of draft picks for the foreseeable future. Picks, however, are meaningless if you don't do anything with them, and many of those picks went to waste.
Tatum or Brown will bring back a proven star and possibly more, but Stevens has to put loyalty aside and make the right move.
Brown is the likely one of the two to be traded
Could Brown be traded to the Philadelphia 76ers for disgruntled star Ben Simmons? Earlier reports had the Sixers saying any potential deal involving Simmons with the Celtics would have to start with Brown. The Celtics, according to Shams Charania of The Athletic, pulled back.
"When it came to Philadelphia being hard-charged on getting Jaylen Brown in any scenario, yeah, I think it ended being like, 'We're not listening,'" Charania said, per Boston.com. "Again, there's really not a deal constructed. Marcus Smart, guys like that, that's not going to fulfill what Philadelphia is looking for and what they wanted."
Brown's destination wouldn't necessarily have to be Philadelphia.
De'Aaron Fox of the Sacramento Kings has been involved in trade rumors, as has Domantas Sabonis of the Indiana Pacers. Both players would provide a need for the Celtics.
Trading Tatum would be much bolder but shouldn't be dismissed. Tatum is the better player, but if a genuine superstar becomes available, the Celtics have to take a look.
In either case, one must go. Right now, the Celtics are stuck in mediocrity. They are a bottom-level playoff team which is where you don't want to be in the NBA. They are looking at a repeat of last year as a one-and-done playoff team with no hope of building through the draft.