Jayson Tatum Takes Steps to Be the Leader the Boston Celtics Desperately Need After Blowout Loss
Who is the leader of the Boston Celtics? Do they even have one? Leadership has been the big question this year as Boston has hovered around .500 all season. Two-time All-Star Jayson Tatum finally took a step to become the team's leader Friday night, and it happened after getting blown out by the Philadelphia 76ers, sending Boston back below that .500 mark.
Is Jayson Tatum the leader of the Boston Celtics?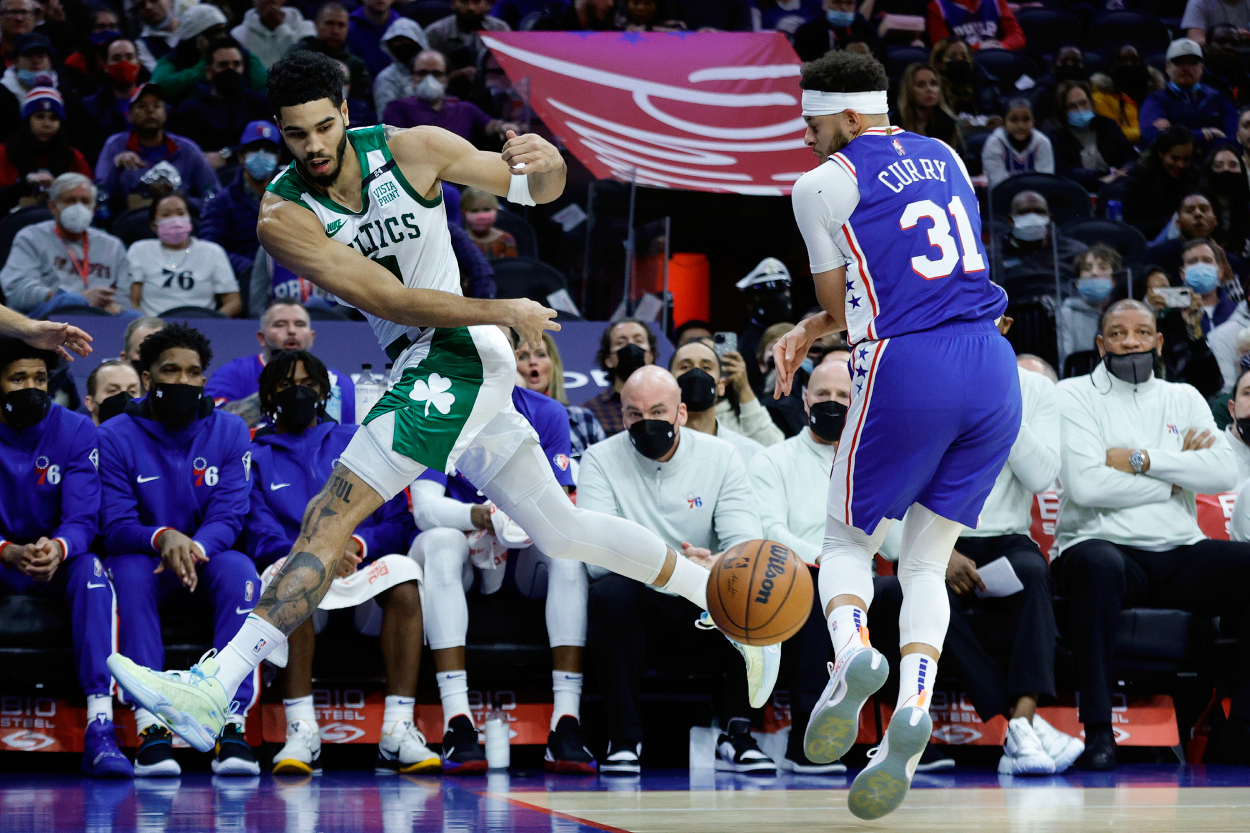 The Celtics have an identity problem. There has been a major shakeup within the organization this year after Brad Stevens left coaching to take over for Danny Ainge, who resigned from his team president role. Stevens brought in Ime Udoka to step in as his replacement.
Things haven't gone so well in Boston. More than halfway through the season, Boston is 21-22. The Celtics are on pace to finish just where they wound up a year ago — a disappointing 36-36.
So who's their leader? Tatum is their best all-around player but isn't much of a take-charge guy. The same can be said for Jaylen Brown, the team's second All-Star. Is Marcus Smart the guy? He's the fiery one but shot selection and strong on-court decisions aren't his strengths.
Even Udoka doesn't seem to know who the leader is. He recently questioned the team's leadership, and he also pulled back naming captains after initially saying they would be named.
"We've talked about it; I've talked about it with the staff," Udoka said before the season, per Mass Live. "You got guys who have been here, the core guys, with Marcus, Jaylen, Jayson, they've been here forever. But you got a guy like Al (Horford) who's coming back and is a veteran presence, veteran voice that they all respect and listen to. We're going back and forth on that. You can't have four team captains but it's something that we'll pick and choose and we know some of the guys off the top that everybody respects and listens to."
He never named one. In November, he said naming a captain is in the "rearview."
Jayson Tatum took steps to becoming that leader after a blowout loss to the 76ers
The Celtics looked to get back over the .500 mark for the first time since Dec. 7, 2021, when they were 13-12. It didn't go well as they got off to a rough start and never could catch up to the 76ers in Friday night's 111-99 loss. It wasn't even that close.
Boston was down 32-14 after the first quarter and trailed 55-35 at halftime. Tatum, like most of the Celtics, struggled all night, finishing with 20 points on 7-of-17 shooting. He did, however, step up after the game and take the heat for Boston's early struggles.
"Obviously, it started with the first unit," Tatum admitted after the game, per CLNS Media. "It started with myself. We just had way too many turnovers in the beginning of the game"
Tatum said he was too careless with the ball and wasn't aggressive coming off screens. He finished with seven turnovers.
Despite the ugly numbers, Tatum took ownership. It's a far cry from his analysis after the Celtics were blown out on their own court in their home opener against the Toronto Raptors.
"We know why we lost," Tatum said, according to Mass Live. "They just played harder than we did, played tougher. It wasn't rocket science. We're all professionals. We're all adults. We understood what had happened." 
Tatum has gone from the generic "we didn't play hard" to taking personal responsibility for the slow start Friday.
Tatum needs to become that leader the Celtics desperately need
Someone needs to step up and claim that leadership role for the Celtics. Tatum should be that guy.
Boston has seen it all this year. They've had teammates call out each other. They've blown multiple double-digit losses late in the game. The Celtics haven't been able to eke out the close games. They have seen just about everything except leadership.
Udoka was quick to point that out last week after blowing a big lead to the New York Knicks.
"It wasn't about the last play again. It was everything leading up to it," Udoka said after the Knicks game. "We need some leadership. Somebody that can calm us down and not get rattled when everything starts to go a little south. I think it snowballs between our guys."
Someone needs to quickly step up in Boston. Tatum may have elected to take that first step after a rough night on the court.