Jeff Gordon Remembered How Dale Earnhardt Would 'Test' Him on the Track: 'He'd Mess With You Just to Mess With You'
No matter how much time has passed since his tragic death, no motorsports fan will forget Dale Earnhardt. While the North Carolina-native found plenty of success during his time on the track, he also became famous for his 'Intimidator' persona. Jeff Gordon experienced that side of Earnhardt first hand.
While the two men were both NASCAR stars, Jeff Gordon didn't get any special treatment from the man in black. In fact, he has vivid memories of how Dale Earnhardt would "test" him on the track.
Dale Earnhardt became famous as NASCAR's 'Intimidator'
Whether you're watching a movie or taking in a sporting event, just about every narrative will feature a good guy and a bad guy. During his time on the NASCAR circuit, Dale Earnhardt had no problem playing the villain.
Although he had plenty of skill behind the wheel—you don't win seven Cup Series championships by accident—Earnhardt was always willing to push the envelope. After the famous 'Pass in the Grass' though, he took things to the next level.
While he had previously been known as Ironhead, Earnhardt then morphed into the Intimidator; with his black car, signature scowl, and ability to bully anyone out of the way, he became the perfect pantomime villain.
Despite some bumps in the road—on one occasion, he received some troubling death threats—that branding worked out pretty well for Dale Earnhardt. Whether you loved him or hated him, just about every racing fan knew the Intimidator and wanted to see what would happen every time he hit the track.
The Intimidator tests Jeff Gordon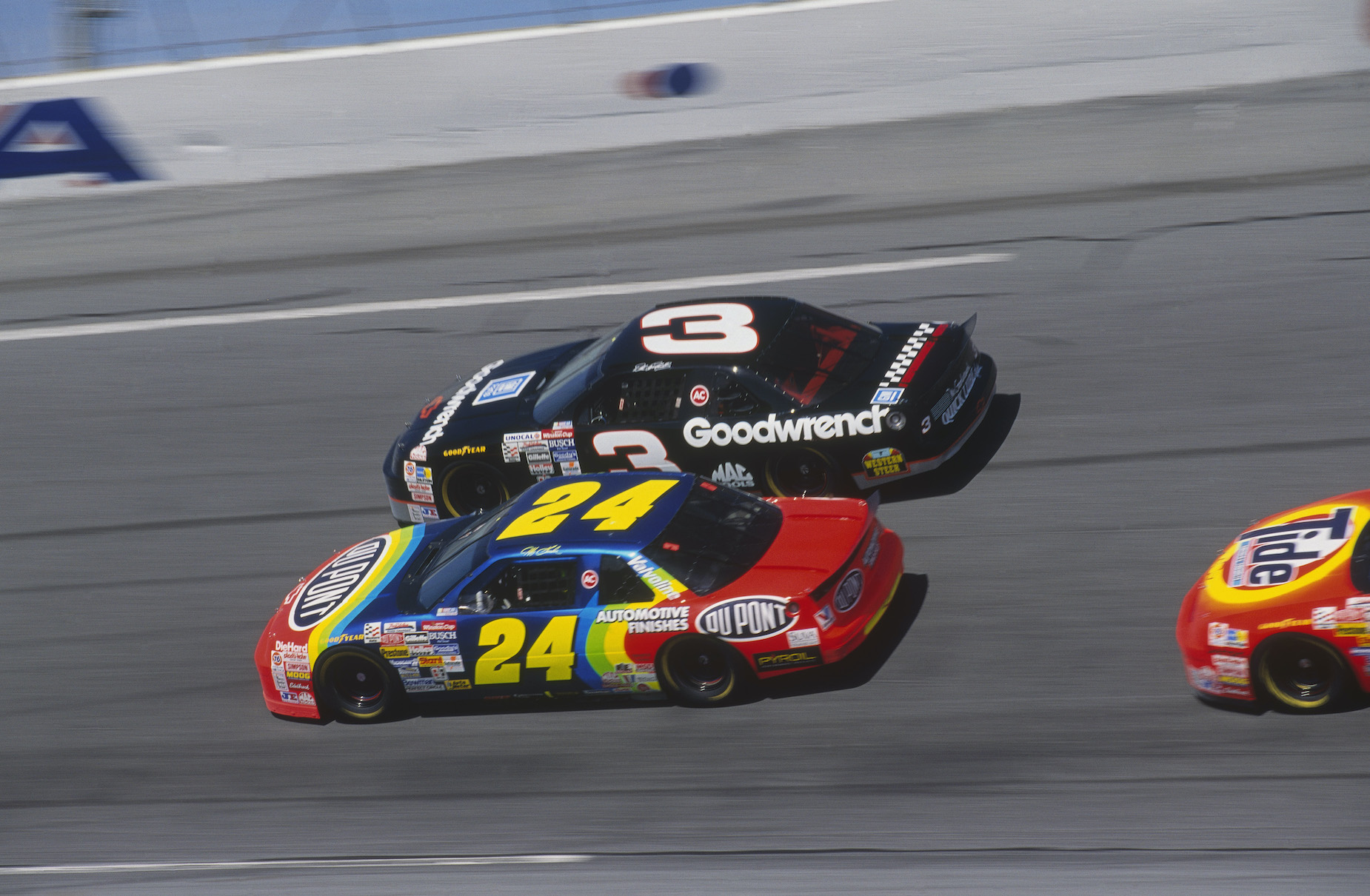 During his time on the track, Dale Earnhardt was an equal-opportunity intimidator; he even tangled with Richard Petty on occasion. Jeff Gordon experienced that reality first hand.
When Gordon burst onto the circuit, he and Earnhardt developed a rivalry. One day, the Intimidator decided to remind his young competitor who was boss.
"Yeah, even in practice, he'd mess with you just to mess with you," Gordon told Joe Posnanski in an NBC Sports feature. "It was something of a test. I remember one practice in Michigan, I got underneath him — I did exactly what I wasn't supposed to do. I thought I had a much faster car than he did. Which I did."
Speed, however, is only part of the equation when you're dealing with Dale Earnhardt.
"I thought, 'I'm going to get by him fairly easy here.' I got underneath him, and we went into [turn] three, and he stuck it right down my right shot, and around I went," Gordon continued. "My head was ringing man, I tell you. You don't want to hit the wall at Michigan. Destroyed the car."
Jeff Gordon passed the test, though, and still holds Dale Earnhardt in high regard
As his nickname would lead you to believe, Dale Earnhardt certainly made an impression on plenty of drivers over the years. While he managed to pass that practice test, Jeff Gordon is no exception to that rule.
Despite being wrecked in practice, Gordon didn't back down. He'd end up spending 25 years on the Cup Series circuit, winning 93 races; he also claimed four series championships which is impressive in its own right, even if it's three titles short of Earnhardt's record.
In retrospect, Jeff Gordon still holds his late rival in high regard. While racing against Dale Earnhardt could be a battle, there's something special about competing against a legend.
"Did I respect the heck out of him?" Gordon told Posnanski. "Yes, absolutely. Did I have moments where we got the best of him? Yes. Did he get the best of me at times? Yes."
But you asked me what it was like racing with him. At Daytona or Talladega, where he was a master, I loved watching him and learning from him. Other than that, though, I didn't want to race him unless I had to. Most of the time, I just gave in to him.

Jeff Gordon, via NBC Sports' Joe Posnanski