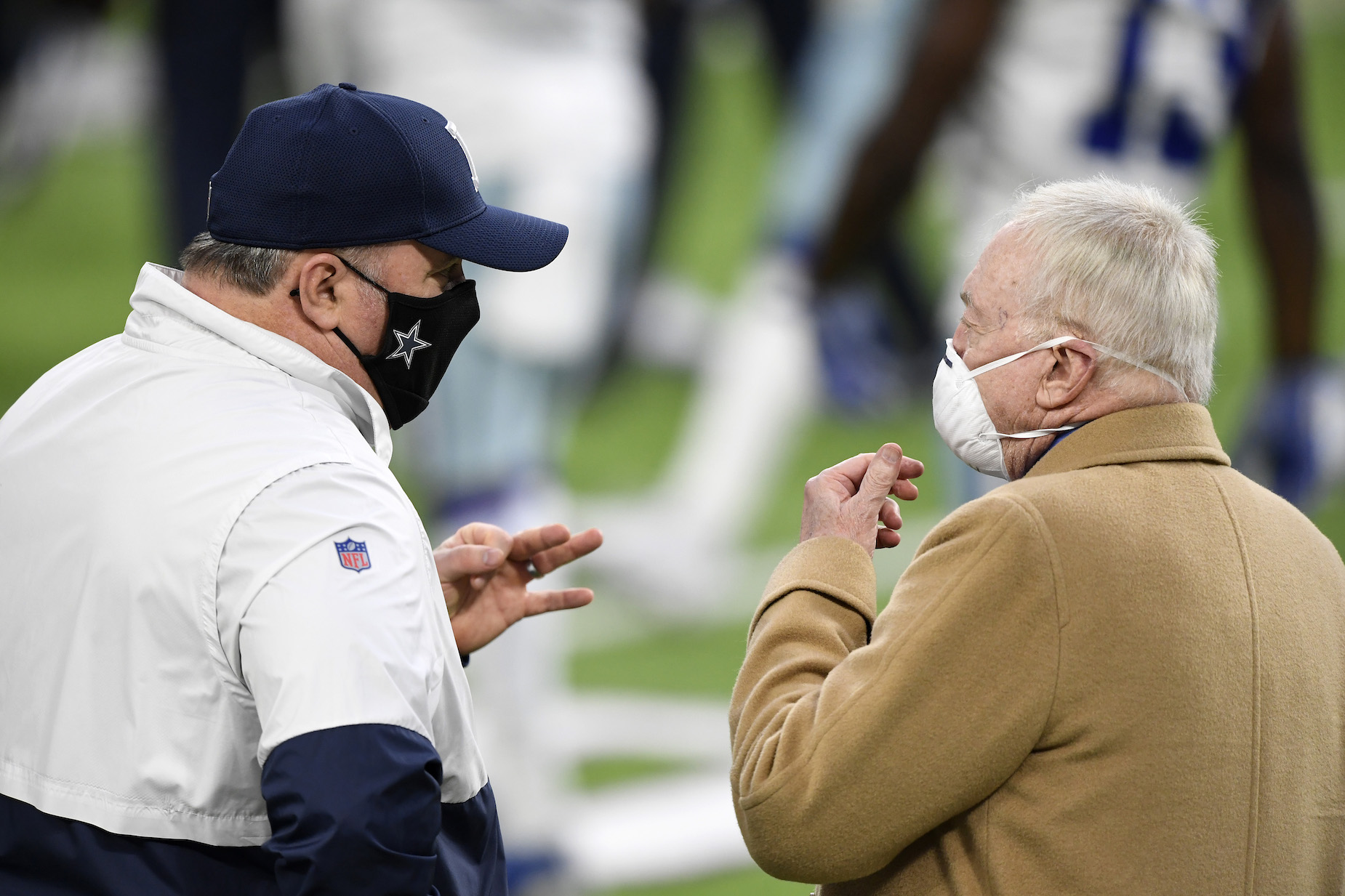 Jerry Jones Keeps Telling Dallas Cowboys Fans Exactly What They Don't Want to Hear About Mike McCarthy
While the Dallas Cowboys have struggled in 2020, Jerry Jones hasn't even dreamed about firing Mike McCarthy during the offseason.
For better or worse, Jerry Jones is never shy about sharing his opinion. While most NFL owners are content to sit in a luxury box and watch their investment from afar, the Cowboys boss does things differently and tells you exactly what's on his mind. Unfortunately for Dallas fans, though, they probably won't like what Jones is thinking about head coach Mike McCarthy.
Although the Dallas Cowboys have been a disaster this season, Jerry Jones keeps insisting that he isn't ready to make a coaching change. If you take the owner and general manager at his word, Mike McCarthy won't be going anywhere anytime soon.
Jerry Jones and Mike McCarthy's first season together has been a disaster
When he spoke about Mike McCarthy at the coach's introductory press conference, Jerry Jones told the media that he "heard bells." The 2020 Dallas Cowboy campaign, however, hasn't exactly been full of wedded bliss.
During the first few weeks of the season, the Cowboys' defense looked like a disaster; they simply couldn't get a stop, forcing Dak Prescott and his offense to perform heroics to simply stay in the game. Everything, however, would change in Week 5.
During the Cowboys game against the New York Giants, Prescott suffered a season-ending ankle injury. Since then, Andy Dalton, Ben DiNucci, and Garrett Gilbert have all seen time under center. As you might assume, that's not exactly a recipe for success.
While the Cowboys are still technically capable of making the playoffs, that shouldn't overshadow the disappointing reality of the 2020 campaign. On paper, Dallas has plenty of talent; even if they're not Super Bowl ready, they shouldn't be 5-9 while playing in the worst division in football.
Mike McCarthy isn't getting fired anytime soon
When a team struggles, the easiest solution is usually firing the head coach. Mike McCarthy, however, probably won't be leaving the Dallas Cowboys anytime soon.
Throughout the season, both Jerry and Stephen Jones have insisted that they have faith in McCarthy. During a recent radio appearance, the Cowboys owner reiterated that stance.
"Not one time have I been in any discussion, had any dream, been sitting by myself, have I given a thought to anything but Mike McCarthy being our coach next year and being our coach in the future," Jerry Jones explained 105.3 The Fan, according to USA Today. "How in the hell something like that could get going with a conversation … is ridiculous."
Jones also noted that he has a history of sticking with coaches, even when they struggled. He seems prepared to do that again.
"We all understand that continuity is sticking with plan and having a long-term plan to put your team together around a particular coach, his style, and his ability to put a winning team on the field. He won't do it the same way he did it in Green Bay. But the facts are does he have the background, does he have the experience, does he have the skill set, does he have the ability to motivate, does he have the knowledge," Jones continued. "The answer's 'yes,' and that's why we hired him."
Jerry Jones keeps telling Dallas Cowboys fans what they don't want to hear
As Jerry Jones himself noted, he has a history of sticking with struggling coaches. In Mike McCarthy's case, though, Dallas Cowboys fans might not want to wait.
While McCarthy has faced some incredible challenges during 2020—he took charge of a new team during a pandemic and lost his star quarterback, among others—he hasn't done himself any favors. The head coach brought in Mike Nolan, whose defense hasn't impressed; earlier in the season, reports also emerged that some Cowboys players weren't impressed with McCarthy and his staff.
In isolation, there's nothing wrong with sticking with a struggling coach; you can't simply fire everyone the second they struggle. With that being said, though, there has to be a breaking point, and, in the past, Jerry Jones hasn't been able to cut the cord at the right time.
Under Jason Garrett, the Cowboys were trapped in limbo; they were too good to truly rebuild but weren't able to make it over the hump and make a legitimate run at the title. Despite that painful reality, Jerry Jones refused to fire his head coach, preferring to wait for his contract to expire. That sort of indecision doesn't serve anyone.
Having a losing season, in isolation, isn't the end of the world; failing to react and letting things compound, however, is much worse. By failing to move on from Mike McCarthy, though, Jerry Jones could be putting his Dallas Cowboys into the latter category.