Jerry Jones Thinks Michael Irvin's Vision for the 2021 Cowboys Is Spot-On
Michael Irvin has some experience what it comes to going about business in the wrong way. But helping your team win three Super Bowls in four years buys a guy an awful lot of goodwill, making for shorter stays in the doghouse when trouble does arise. Should Dallas Cowboys owner Jerry Jones' patience wear thin with him from time to time, the Hall of Fame wide receiver can get back in his good graces with a well-timed observation like the one this week.
Irvin's 'the wrong thing the right way' explanation was classic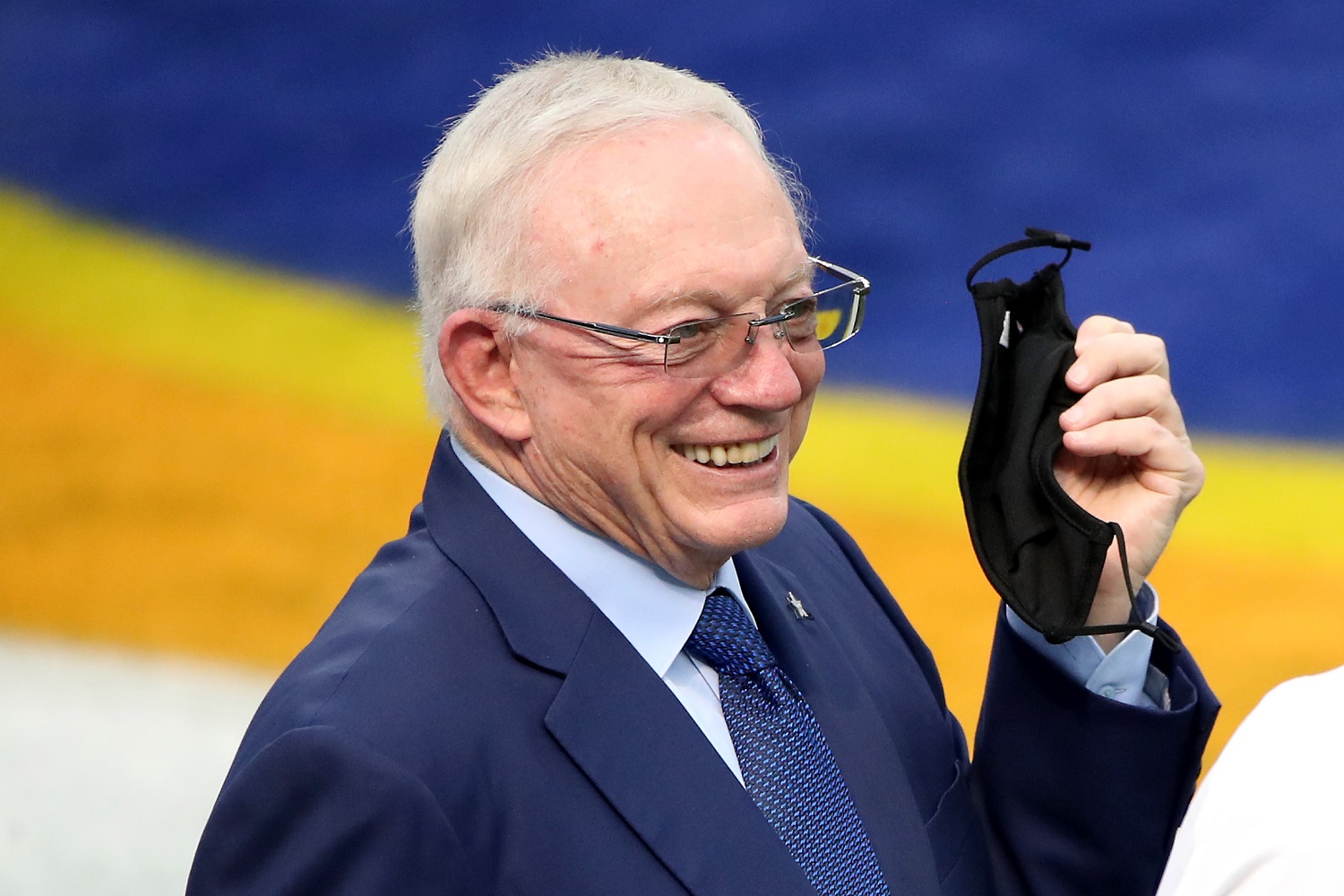 Not long after the Cowboys defeated the Pittsburgh Steelers in Super Bowl 30 for their third NFL championship in four seasons, police arrested Irvin and teammate Alfredo Roberts with two women in a hotel room where they found cocaine, marijuana, and drug paraphernalia. Obviously, that constituted a problem for Irvin, but a more widespread issue emerged shortly afterward.
A local news station broke the story of "The White House," a five-bedroom home on a cul-de-sac just a few Troy Aikman-to-Michael Irvin go routes from the Cowboys' Valley Ranch practice facility. Irvin and several teammates bought it to use as an after-hours club, and sex, drugs, and alcohol were pervasive. The players rationalized that they were going to partake in the activities anyway, so doing it at the house was more discreet than partying in nightclubs or hotel rooms.
Of course, it turned into a PR nightmare for the Cowboys. As he dealt with the mess, Jones sought out Irvin and asked him what happened at the house.
 "I was like, 'Wow. Man, they done found out about The White House,'" Irvin said. "And I said to him, I said, 'Boss, I was trying to do the wrong thing the right way.'"
Jones confirmed Irvin's recollection of the conversation to The Dallas Morning News in 2016.
"How do you stay mad at someone who gives you a comment like that?" Jones said.
The ex-NFL great questions the commitment of unvaccinated players
With NFL training camps opening next week, the Cowboys are among the 19 teams that have not met the 85% vaccine threshold, meaning that the team cannot operate under the less-rigorous health and safety measures.
Unvaccinated players will be tested daily for COVID-19 and will be under heavy restrictions inside training facilities and on the road. They'll need to wear masks and maintain six-foot distancing around the team. They'll also have to eat meals away from vaccinated players.
Their presence will create inconveniences during meetings, on the practice field, and in the weight room, and Irvin sees it as an unnecessary disruption.
"It should upset them," Irvin told ESPN. "Dude, you're not thinking right. You're not thinking right. Whatever you got, I don't give a damn. Nothing else can be more important."
Irvin sees it as a case of misplaced priorities for highly paid athletes.
"Nothing else is more important," he said. "And not being one of the (teams at 85%) says there's other things to a great number of people on this team that are more important than winning championships, and that makes me worried."
He added: "If you're not one of the (complying) teams are you really thinking about winning a championship?"
Jerry Jones thinks Michael Irvin's vision for the Cowboys is spot-on
Irvin left no doubt that he would take a leadership role in the locker room on the COVID-19 vaccinations if he were still active.
"Somebody in that damn locker room needs to say, 'Hey man, we're going to have a chance, are you vaccinated? Let's go through this because this could be two weeks, a healthy dude missing games. In this league that could be it for you. The person misses two weeks, and that's it. Your (butt) is out. I'll fight a (expletive)."
Jones loved what he heard. "I thought it was an outstanding message," he said, according to Yahoo! Sports.
The Cowboys' owner extended his remarks to say that the feedback he has from unvaccinated players is that most have committed to getting shots by the time they arrive for the start of practice.
"We have just a handful of players who have yet to (do so)," he said. "And a handful means five."
If that's the case, then the Cowboys will easily meet the 85% standard and avoid disruptions or delays at training camp.
Like Sportscasting on Facebook. Follow us on Twitter @sportscasting19.