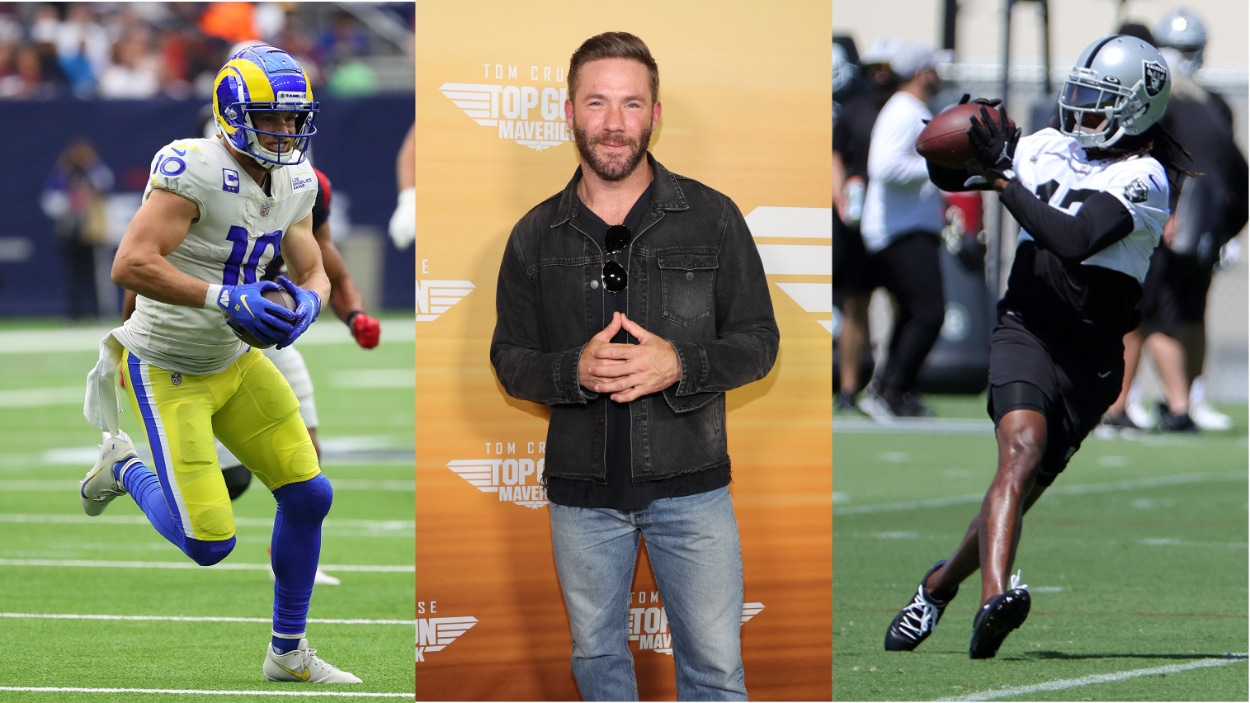 Julian Edelman Offers Controversial Pick While Ranking Top 3 Best NFL Wide Receivers
Former NFL WR Julian Edelman ranked his three best NFL wide receivers in 2022, and the No. 2 pass-catcher on his list was a strange choice.
Former New England Patriots player Julian Edelman was an excellent wide receiver in his day. However, he was never among the top three pass-catchers in the NFL during a given season. Now, asked to rank the best three best NFL wide receivers in 2022, Edelman chose the no-brainers, Davante Adams of the Las Vegas Raiders, and Cooper Kupp of the Los Angeles Rams. But in his No. 2 slot was a head-scratching selection from the Los Angeles Chargers.
Julian Edelman picked Davante Adams and Cooper Kupp as two of the best NFL wide receivers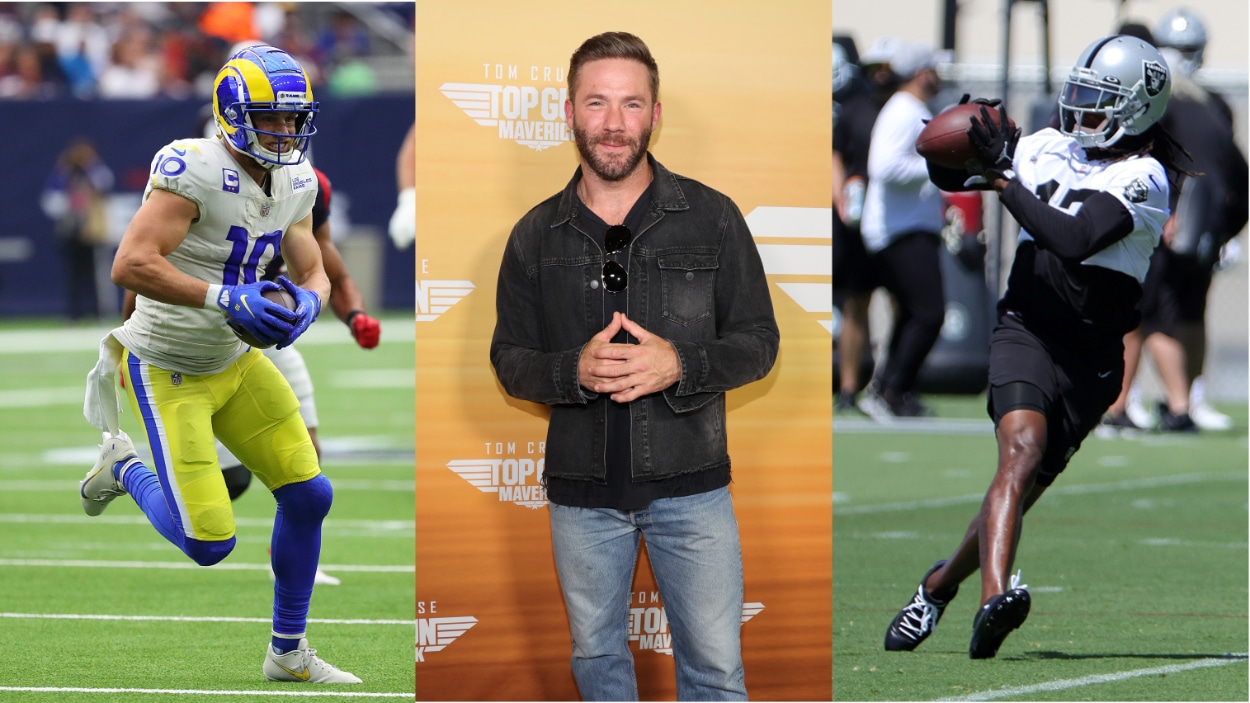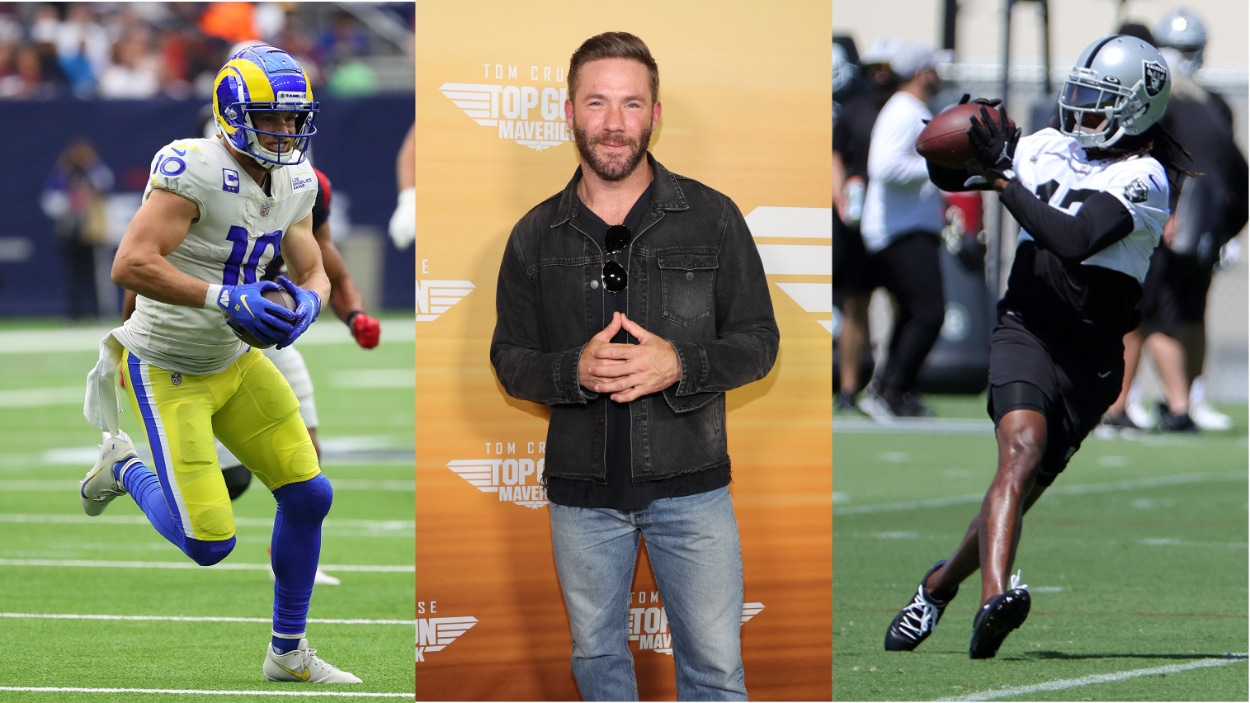 If you ask any NFL fan, former or current players, or media member during the 2022 offseason who the best NFL wide receivers in the league are, you'll almost certainly hear the names Davante Adams and Cooper Kupp.
Kupp dominated in 2021 on his way to the Offensive Player of the Year Award and a Super Bowl title. The LA Rams wideout won the triple crown by leading the league (by a wide margin) in receptions (145), yards (1,947), and touchdowns (16).
Adams was second in receptions (23), third in yards (1,553), and fifth in TDs (11).
Edelman, on the I Am Athlete podcast, chose Adams No. 1. The retired star praised the newly-acquired Las Vegas Raiders pass-catcher for his sneaky speed, catch radius, and versatility. Kupp was No. 3. Edelman called him a "tweener" but said, "he does a lot of everything."
The former Kent State quarterback admitted he's biased toward guys like Kupp because he played a similar style in the league.
While these picks for his top three receivers were chalky, his choice for the No. 2 best NFL wide receiver was controversial.
Edelman ranked LA Chargers WR Keenan Allen No. 2 in the NFL
Julian Edelman went way off the board for his No. 2 best NFL wide receiver. He chose LA Chargers WR Keenan Allen. Edelman told I Am Athlete hosts Pacman Jones, Nick Young, and Brandon Marshall:
I love Keenan Allen because [of] his release game. I would always watch his releases. He has that crossover release, and at the top of routes, he does the same type of s***. It's a lot of basketball-type s***. It's like a crossover at the line of scrimmage.
While you have to appreciate Edelman's wide receiver nerd explanation, Allen isn't the second-best NFL wide receiver, no matter how good his release is. In 2021, Allen was seventh in catches (106), 13th in yards (1,138), and T-25 in TDs (6).
These are all solid numbers, and he made the Pro Bowl because of them last season. They probably even place him as a top 10 wideout in the league. They definitely don't make him No. 2, though.
So, that begs the question, who is the third-best NFL wide receiver right now, along with Davante Adams and Cooper Kupp?  
Who is the third-best NFL wide receiver?  
While Davante Adams and Cooper Kupp are absolutely two of the best NFL wide receivers right now, No. 3 likely comes down to a matter of taste.
Julian Edelman listed one candidate as his fourth-best WR, Tyreek Hill. The speedy "Cheetah" can blow by defenses like no other, making him the biggest game-breaker in the league. The issue with Hill is that if he loses even a fraction of a step in 2022, that could be his demise (see Tennessee Titans RB Chris Johnson circa 2014).
Minnesota Vikings WR Justin Jefferson is my pick for No. 3. The lanky second-year pass-catcher did it all in 2021, finishing fourth in receptions (108), second in yards (1,616), and adding 10 TDs. He also did that with Kirk Cousins, an inferior QB to the likes of Aaron Rodgers, Matthew Stafford, Justin Herbert, and Patrick Mahomes.
Also on the list could be the Buffalo Bills' Stefon Diggs, San Francisco 49ers' Deebo Samuel, or Cincinnati Bengals rookie sensation Ja'Marr Chase.
With all due respect to Julian Edelman, all five of those WRs (plus Adams and Kupp) are better than Keenan Allen.
All stats courtesy of Pro Football Reference
Like Sportscasting on Facebook. Follow us on Twitter @sportscasting19 and subscribe to our YouTube channel.