Kobe Bryant Inspired Dwyane Wade to Transform His Game With 1 Brilliant Piece of Advice
Every current and former NBA player who was lucky enough to spend time with Kobe Bryant remembers a touching lesson the Los Angeles Lakers legend may have taught them. Bryant was a fountain of wisdom throughout his entire NBA career, so whenever he talked, others listened.
Dwyane Wade, who became good friends with Bryant over the years, could probably write a book with all the lessons he learned from the Hall of Famer. He recently recalled one simple, yet brilliant piece of advice he received from Bryant that inspired him to change his entire approach to the game of basketball.
Kobe Bryant and Dwyane Wade had a special relationship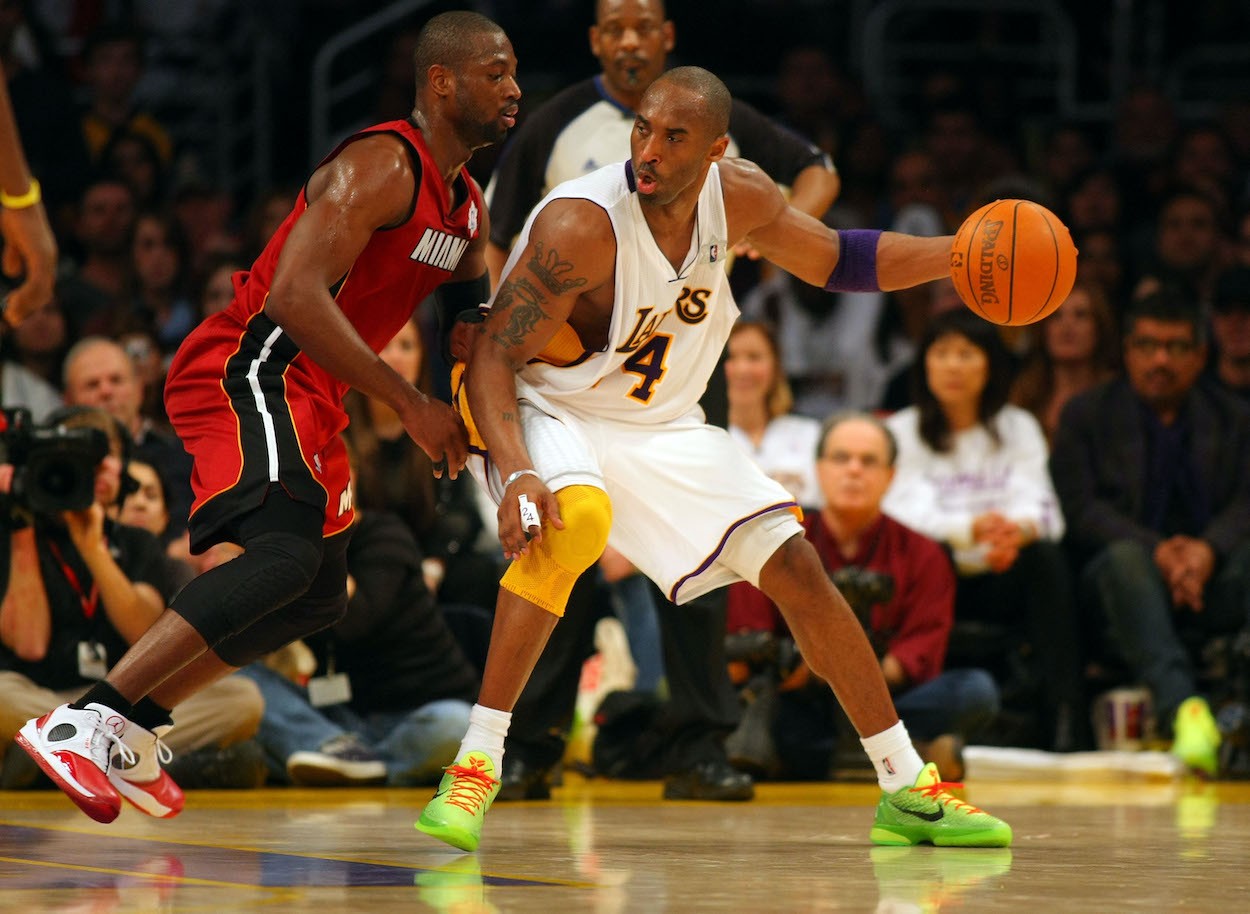 It wasn't easy to squeeze your way into Bryant's inner circle during his 20-year NBA career. You had to earn his respect by showing a relentless fire on and off the court, and that's exactly what Wade did to start and maintain a close relationship with Bryant.
"Early on Kobe didn't have a lot of relationships. I got a chance to build one with the respect of Kobe," Wade answered during a live AMA session for Bleacher Report last year. "I could call him anytime and vice versa. That's one of the relationships that I'm proud of. To be able to have one with one of my fave players of all time was special."
Bryant and Wade engaged in a few memorable battles throughout their careers, but they unfortunately never squared off in the NBA Finals.
Bryant inspired Wade to transform his game with one piece of advice
Did you ever wonder why Wade's offensive game started to look more and more like Bryant's as he got older? The incredible patience with the ball in his hands, the smooth pull-up jumpers from the elbow, and the calculating back-downs on the baseline were all Kobe-esque.
Well, there's a reason for that.
During a recent episode of Golf Digest's A Round with Tiger: Celebrity Playing Lessons, Wade explained to Tiger Woods a brilliant piece of advice Bryant gave him that has stuck with him ever since.
I learned this from Kobe. Kobe played spots. So he would know, OK, like the elbow. You need to get there, right? He knew, 'If I get to that spot right there that's a money spot for me, so I need to get there.' And he wasn't looking at the rim. He was looking at the spot, he just gets to the spot. And he knew if he gets to the spot, that it was cash. It's crazy. So I learned that from him. I was like, OK, so he played angles, he played spots. Now I started playing angles and spots.

Dwyane Wade
Now that explains a lot.
D-Wade trying to bring Kobe's advice to the golf course
Now that he's retired from the NBA, Wade has to keep his competitive fire burning somehow. So far, he's been doing so on the golf course.
During his lesson with Woods back in February, Wade asked the golf legend how Bryant's strategy of finding spots on the basketball court can translate to the golf course, and Woods said he's similarly looking for spots and angles on the green every time he lines up a putt.
Wade's golf game still needs a bit of work, but with advice from Kobe and lessons from Tiger at his disposal, the sky's the limit.