Kyrie Irving Only Played in 11 Games at Duke, but His Former College Teammate Seth Curry Says He Was 'a Monster' as Soon as He Got to Campus
Before Kyrie Irving became a star NBA point guard, he was a big-time prospect for the Duke Blue Devils. He entered college as a 5-star recruit and a McDonald's All American.
However, a toe injury held the future No. 1 pick to only 11 total games at the collegiate level as he missed 26 in his lone season at Duke.
But that didn't keep him from showing his potential. In fact, Irving's former college teammate, Seth Curry, recently said he was "a monster" as soon as he stepped onto campus.
Kyrie Irving played in just 11 games for the Duke Blue Devils
Kyrie Irving made his way to Duke out of New Jersey in 2010, and every college basketball fanatic on the planet knew he had a ton of potential. Irving was the New Jersey Gatorade Player of the Year during his senior season in high school and recorded a ridiculous 24.5 points, 6.5 assists, and 5.0 rebounds per game that year.
He made an immediate impact on the Blue Devils, recording 17 points and nine assists in his first-ever college game against Princeton before later averaging 17.4 points and 5.1 assists through his first eight contests. Irving even had a 31-point performance against No. 6 Michigan State during that run.
However, the star guard later suffered a toe injury and missed most of the season. He didn't return until the NCAA Tournament, where he continued putting the basketball world on notice by averaging 17.7 points in three games. He also dropped 28 points on 9-of-15 shooting in the team's Sweet 16 loss to Arizona.
Overall, Irving averaged 17.5 points and 4.3 assists in his 11 games. He may not have played very much, but he showed enough to become the No. 1 overall pick in the 2011 NBA Draft with the Cleveland Cavaliers.
He has since turned into one of the league's best guards with seven All-Star selections and an NBA championship.
Seth Curry said Kyrie was 'a monster' as soon as he got to Duke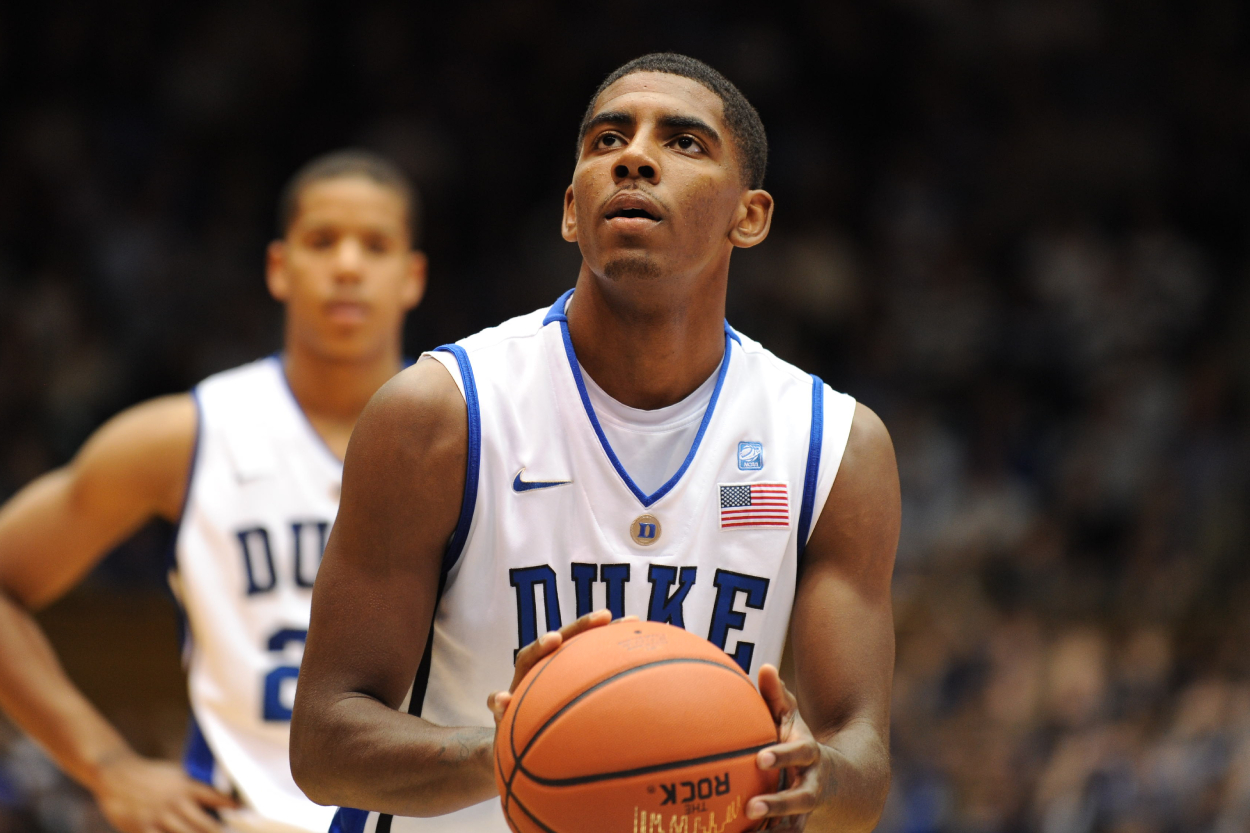 Seth Curry, the current Philadelphia 76ers guard who is averaging 16.3 points this season and the brother of two-time MVP Stephen Curry, played on the Blue Devils for three seasons after transferring from Liberty in 2009.
His first year on the court just so happened to be Kyrie Irving's lone season at Duke. And despite Irving only appearing in 11 games, Curry said he immediately knew the future Brooklyn Nets guard was a first overall pick.
"He was a monster from day one," Seth recently said on the Jan. 6 episode of All The Smoke. "He stepped on campus and it was like, 'Kyrie, he's nice. He's gonna be the No. 1 pick.' We had those preseason scrimmages and pickup games, and from the first pickup game, I was like, 'Yeah, he's a No. 1 pick. He's got a different level from everybody else that was there at the time.'"
Despite losing his next-level talent to injury, Duke still had a great year, going 34-5 and winning the ACC Tournament. His absence also helped Seth blossom into a big-time college guard himself.
Kyrie Irving's Duke injury played a role in Seth Curry becoming a star
Prior to Kyrie Irving's injury at Duke, Seth Curry hadn't started one game for the Blue Devils. He averaged 7.4 points in his first 10 games off the bench. However, shortly after seeing Irving go down, Curry entered the starting lineup and rarely found himself out of it for the rest of his college career.
He played a significant role in the team still winning over 30 games that season, averaging 9.6 points the rest of the way and shooting 42.2% from 3-point range.
Curry built on that success over the next two seasons. The 6-foot-2 shooter recorded 13.2 points per game in 2011-12 and led Duke to a 27-7 record. In 2012-13, he scored 17.5 points per game, shot 43.8% from 3-point range, and helped the Blue Devils go 30-6 and reach the Elite Eight.
Kyrie Irving's college career may have been underwhelming given the time he lost to injury. But his absence allowed Curry to show what he could do before later turning into a successful pro player himself. And Kyrie still went No. 1 overall in the draft, becoming "a monster" in the NBA as well.
Stats courtesy of Sports Reference and Duke Basketball