Larry Bird Predicted Michael Jordan's Stardom After Their First NBA Meeting: 'That Guy Is Gonna Be the Greatest Player Ever, You Watch'
These days, Larry Bird and Michael Jordan loom large in basketball consciousness. Even though it's been quite a few years since either star hit the hardwood, both men are remembered as all-time greats. There was a time, however, when His Airness was only a promising rookie, not the GOAT.
During the fall of 1984, Jordan and Bird crossed paths for the first time. While Larry Legend wasn't always quick with his praise — on the contrary, he could unleash some scathing trash talk — the Boston Celtics star was rather impressed by MJ and even predicted his future greatness.
Larry Bird could trash-talk with the best of them
When basketball fans remember Larry Legend, they probably think of his silky shooting stroke and three NBA titles. The star forward had another skill in his repertoire, though: trash-talking.
Like most elite talents, Bird had a signature move. After sizing up his defender, he'd explain exactly how he planned on scoring, then do exactly that. While there were a few variations on a theme — sometimes the forward would speak to the opposing bench or rub a little extra salt in the wound — he generally relied on his own confidence to break down the opposition.
That's not to say that the Celtic star couldn't needle an individual rival, though. During Dominique Wilkins' rookie year, for example, Bird refused to shake the young Hawk's hand ahead of tip-off. Larry Legend also told the youngster that he didn't belong in the league and proceeded to score over him.
Even when Wilkins dunked on the veteran, Bird couldn't admit defeat. "He got up and said, 'I like you, rookie. You've got (guts),'" Wilkins explained. "I was happy for a second, and then he said, 'But I'm still going for 40 on you tonight.'"
Larry Legend did recognize Michael Jordan's greatness, though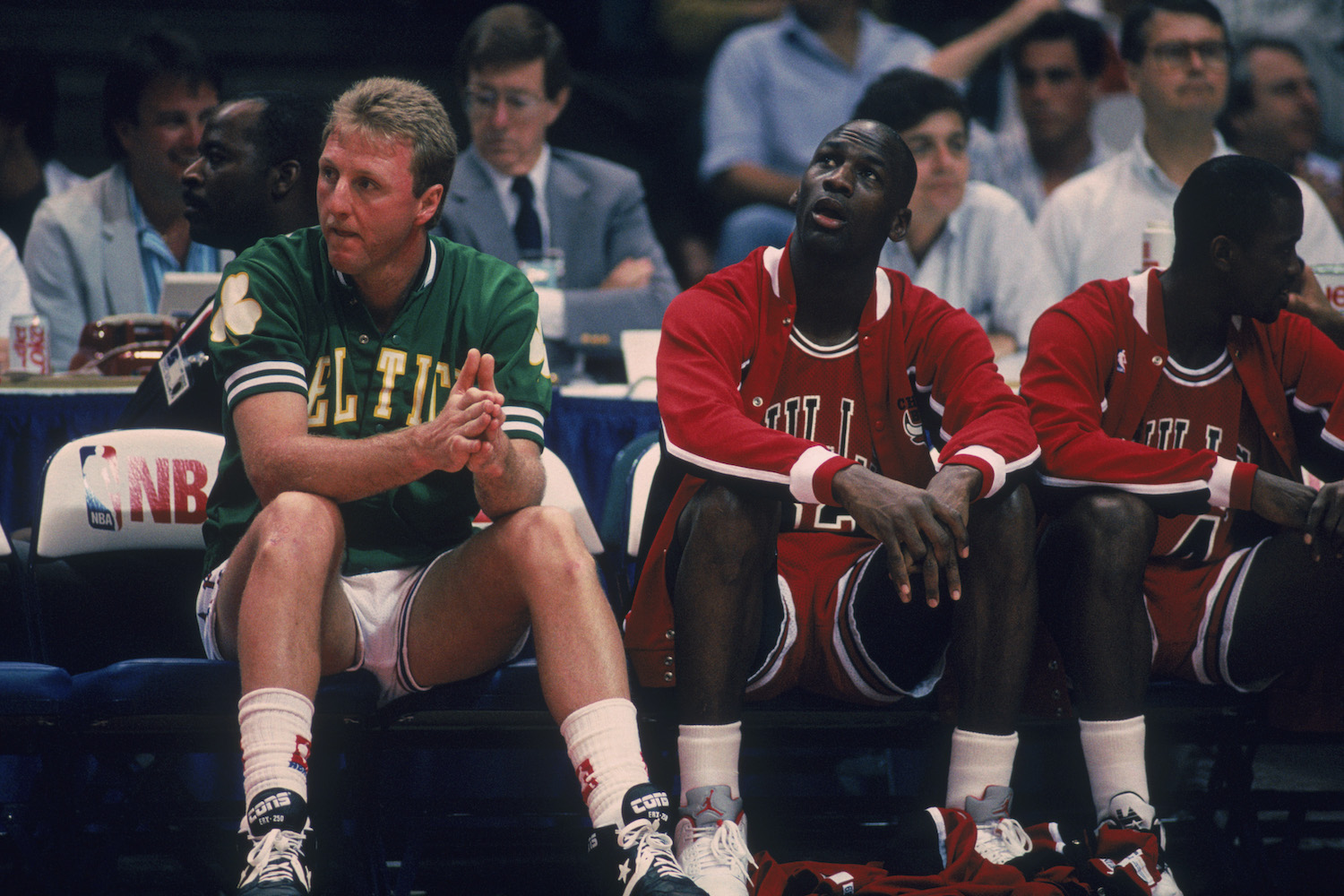 Even though he gave Dominique a rough ride as a rookie, Bird didn't unilaterally destroy every newcomer he came across. Michael Jordan, for instance, impressed the Celtics' star.
"Jordan came into the league in '85, and the first night Larry played against him — I knew he (Jordan) was good — but Larry said, he said to me, he said, 'That guy is gonna be the greatest player ever, you watch,'" Boston Globe beat reporter Dan Shaughnessy told Damon Amendolara on The DA Show (H/T NBC Sports).
While the scribe wasn't sure that MJ's game would translate to the professional level, Bird was sure. As an NBA talent, he knew greatness when he saw it.
"I didn't see it. He [Bird] saw it, he was out there on the floor. I didn't think it was that remarkable, [Jordan] was a good rookie," Shaughnessy continued. "And he [Bird] said after the game, he just said, 'You watch.' And I said, 'You're just blowing smoke' — which he never did. But he knew. First night."
Larry Bird, of course, was right about Michael Jordan
Assuming Bird made that statement after the first time he faced Jordan in a professional game, he would have spoken to Shaughnessy on November 15, 1984. While the Bulls lost by 20 points that night, MJ paced his team with a 27-points effort. That, it seems, was enough to impress Larry Legend.
It goes without saying that Bird's prediction came true. Even if you think another player is more deserving of the GOAT title, His Airness sits firmly in the pantheon of all-time NBA talents. He averaged 30.1 points per contest for his career, claimed six NBA championships, and took home virtually every individual award imaginable. MJ also proved to be a mammoth pop-cultural presence, making an impact on the world beyond basketball.
From a sporting perspective, Larry Bird probably wished that Michael Jordan was little more than a mediocre player; if nothing else, that would have made life in the Eastern Conference easier. As the cliche says, though, game recognizes game. When you saw His Airness, there was simply no mistaking his greatness.
Stats courtesy of Basketball-Reference