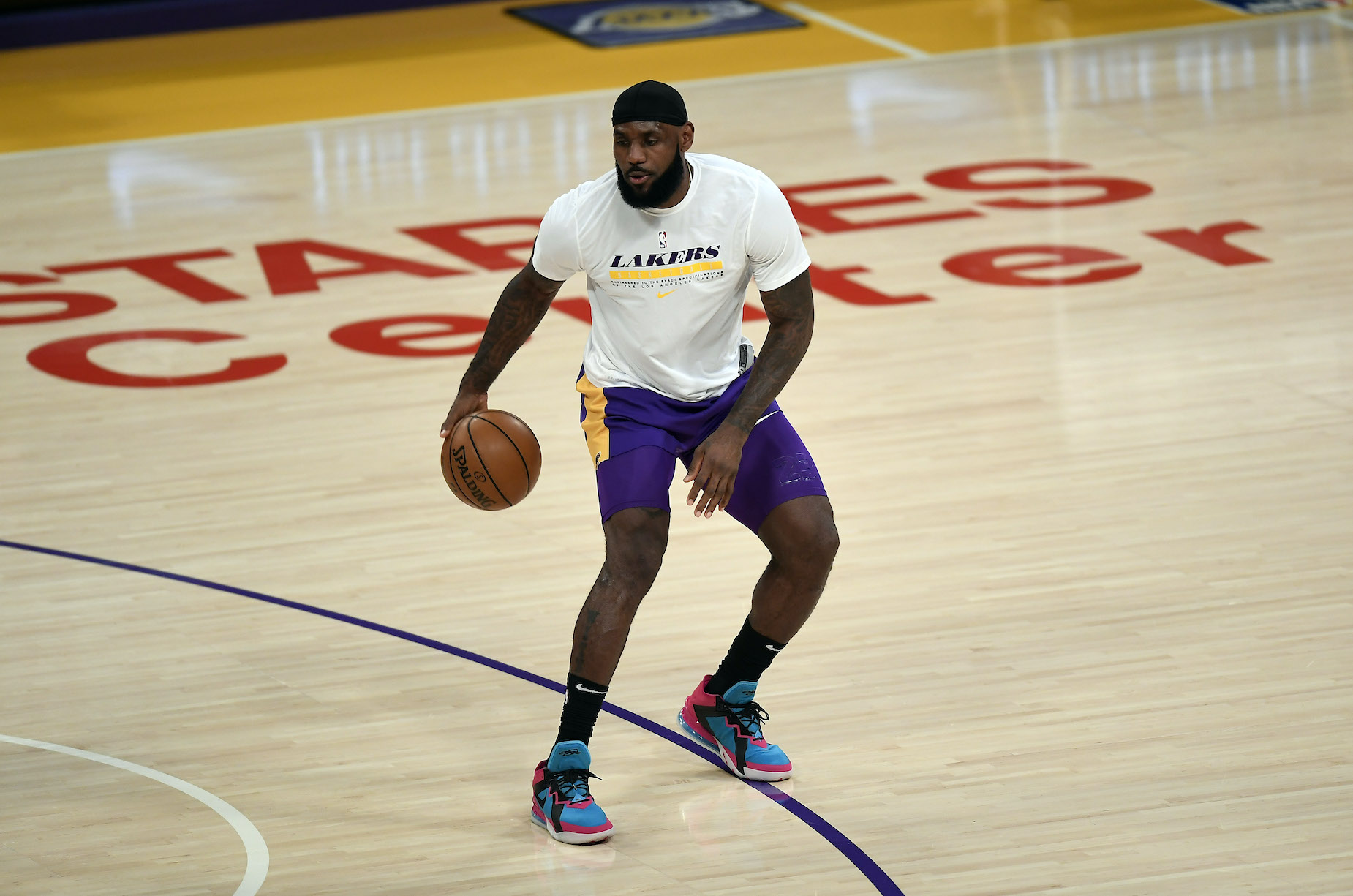 LeBron James' Ankle Could Still Be a Problem, Even as He Eyes a Return to the Lakers' Lineup
LeBron James' ankle problem could loom large over the LA Lakers' championship dreams.
For most of his NBA career, LeBron James has been incredibly durable. 2021, however, has been a bit different for the LA Lakers star. Father Time seems to have finally caught up to King James, and he's missed more than 20 games with a nagging ankle injury.
Although LeBron could to return to the lineup on Tuesday night against the New York Knicks, the Lakers' problems are far from over. James, it seems, could be dealing with pain through the upcoming NBA playoffs.
LeBron James return theoretically brings the Lakers' injury woes to an end
As any longtime sports fan can confirm, an injury can staple any player to the bench, regardless of his talent; no amount of raw speed, for example, can overcome a tweaked hamstring. That unfortunate reality has been the story of the Lakers' 2020-21 season.
During an unconventional 2019-20 campaign, the Lakers rode the combined star power of James and Anthony Davis to the NBA championship. Outside of the bubble, though, things proved to be a bit more complicated. Davis missed time with calf and ankle issues, while LeBron found himself out of the action after spraining his ankle.
As the cliche says, though, time heals all wounds. Davis returned to action in late April. James appeared in two games around the beginning of May but returned to the sidelines after reaggravating the injury. He's expected to rejoin the lineup shortly, though, which would theoretically get the Lakers back to full strength ahead of the playoffs.
King James' ankle could still be a problem heading into the playoffs
On paper, James' return to the lineup is a positive development; it goes without saying that you always want your best players to be available to make a difference on the court. It's important, however, to keep things in perspective.
"The concern for the Lakers right now, that right ankle of LeBron James that kept him out for six weeks, has put him out again," Adrian Wojnarowski explained during a May 9 ESPN appearance. "This is not going to get a lot better. He's going to have to play with discomfort in the postseason. It's not going to be until the summer. So there's an even greater load on Anthony Davis here. But the question still remains of how effective LeBron James can be. When he was back those two games last week, he had difficulty exploding off that ankle and making hard cuts."
As Woj noted, there's a decent amount of uncertainty here; at this point, no one other than LeBron really knows how his ankle feels. Playing through pain, however, is never an ideal scenario. While James can do it, no team wants to enter the playoffs with their star being less than his best.
How optimistic can Lakers fans be about LeBron James' health?
Since Wojnarowski shared that initial report, though, it seems like there has been a change for the better. On May 10, the insider tweeted that James was able to make cuts without feeling any pain, increasing the Lakers' optimism and putting the star on track for a return to the lineup on Tuesday night.
While it's tough to get an exact read of the situation—within a day, things seemed to swing from rather negative to rather positive—it's probably safer to air on the side of caution. Lower body injuries are notorious for their recovery process. Since basketball is based around quick movements like cutting and jumping, even a tiny issue can still cause a big problem.
That reality, combined with LeBron's own admission that he'll never return to 100%, paints somewhat of a dimmer picture ahead of the NBA playoffs. Will James be ready for action? At this point, it seems like he will. How his ankle responds, however, will be the real question. There's a major difference between being able to play and feeling completely healthy.
At this point, though, all Lakers fans can do is wait and hope for the best. If LeBron's ankle holds up, it's still tough to bet against him and Anthony Davis in a must-win game.