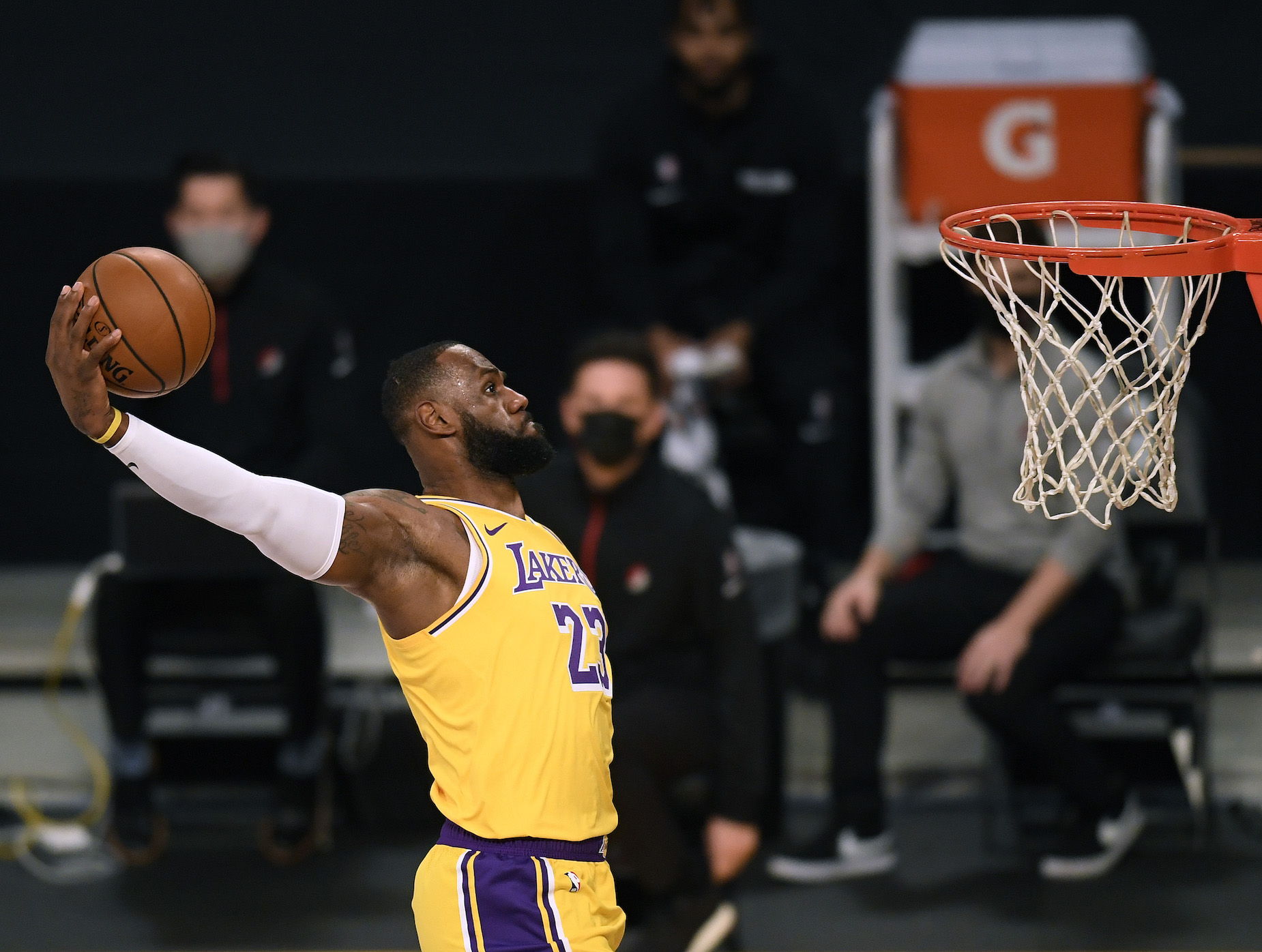 LeBron James Is Celebrating His 36th Birthday In the Best Way Possible
While LeBron James' 36th birthday will be a bit different due to COVID-19, he'll still be celebrating his big day in an incredibly fitting way.
While LeBron James might seem like an ageless wonder whenever he steps on the basketball court, he's still a human being slowly getting older and older. In King James' case, he's about to celebrate his 36th birthday on Wednesday, December 30.
Under ordinary circumstances, LeBron James would probably be hitting the town to celebrate the milestone; due to COVID-19, however, this birthday will be a bit different. Even with those restrictions in place, though, the LA Lakers star will still be able to commemorate his birthday in the best way possible.
LeBron James burst onto the basketball scene almost 20 years ago
To some extent, it's almost impossible to imagine the NBA existing without LeBron James. While that's obviously a bit hyperbolic—basketball existed before LeBron and will continue after he retires—it makes sense; King James has been in the public eye for almost two decades.
While James had a tough childhood, his athletic talent shone from an early age. LeBron started out on the gridiron but, thanks to his football coach, tried his hand at basketball; that decision, of course, changed the course of sporting history.
When it came time to step up to the next level, James headed to St. Vincent-St. Mary High School. Unsurprisingly, he made the varsity basketball squad as a freshman; by the end of his sophomore campaign, the teenager took home the Ohio Mr. Basketball title and earned a place on the USA Today All-USA First Team.
Before long, LeBron had become a household name; scouting reports started pouring in, and ESPN began broadcasting his games. While he was still a high school student, James was already a star.
Still going strong at age 36
While he burst onto the national scene as a teenager, LeBron James turns 36 on Wednesday, December 30. Despite that advanced age (at least by professional sports standards), the LA Lakers star is still going strong.
James, of course, has moved around quite a bit during his career. He started out with the Cleveland Cavaliers before burning some bridges and taking his talents to South Beach; after winning two titles with the Heat, LeBron returned to Ohio and won his third ring with the Cavs. He then hit free agency and joined the LA Lakers where, after a tough 2018-19, he earned his fourth NBA championship in the Orlando bubble.
While LeBron's scoring numbers have dropped a bit—his 25.3 points per game in 2019-20 was tied for the second-lowest season average for his entire career—he's still playing some high-quality basketball. Last year, for example, he dished out a career-high 10.2 assists per game.
No one, not even LeBron James, can stay young forever. Still averaging more than 20 points per outing after spending 17 full seasons in the NBA, though, is still pretty impressive.
LeBron James will be celebrating his 36th birthday in an incredibly fitting way
Over the years, we've seen LeBron James grow from a young superstar to the elder statesman on the NBA scene. In a way, that makes the way he's spending his 36th birthday pretty fitting.
James turns 36 on Wednesday, December 30; that same night, he and his Lakers will be hitting the court to square off against the San Antonio Spurs. LeBron, however, wouldn't have it any other way.
"I've been very fortunate to play some games on my birthday and, you know, this will be another opportunity for me to play the game that I love and also just celebrate another year of existence," James explained in a video shared by Ryan Ward. "Coming from where I come from, you know, a lot of people don't even make it, you know, past 21. For me to be, you know, rounding the bases at 36, and playing the game that I love to play, and being with a great team and a great organization, with a great family and great friends and support system, it makes this a lot greater than the alternatives. I'm just very blessed and very honored and I'm happy to be, like I said, doing what I love to do."
Due to COVID-19, the celebration options are limited; they'll probably just play their game against the Spurs and then head back to their hotel. While that might not be the most festive birthday LeBron James has ever had, it's pretty fitting for a man who's still going strong in the NBA at age 36.
Stats courtesy of Basketball-Reference