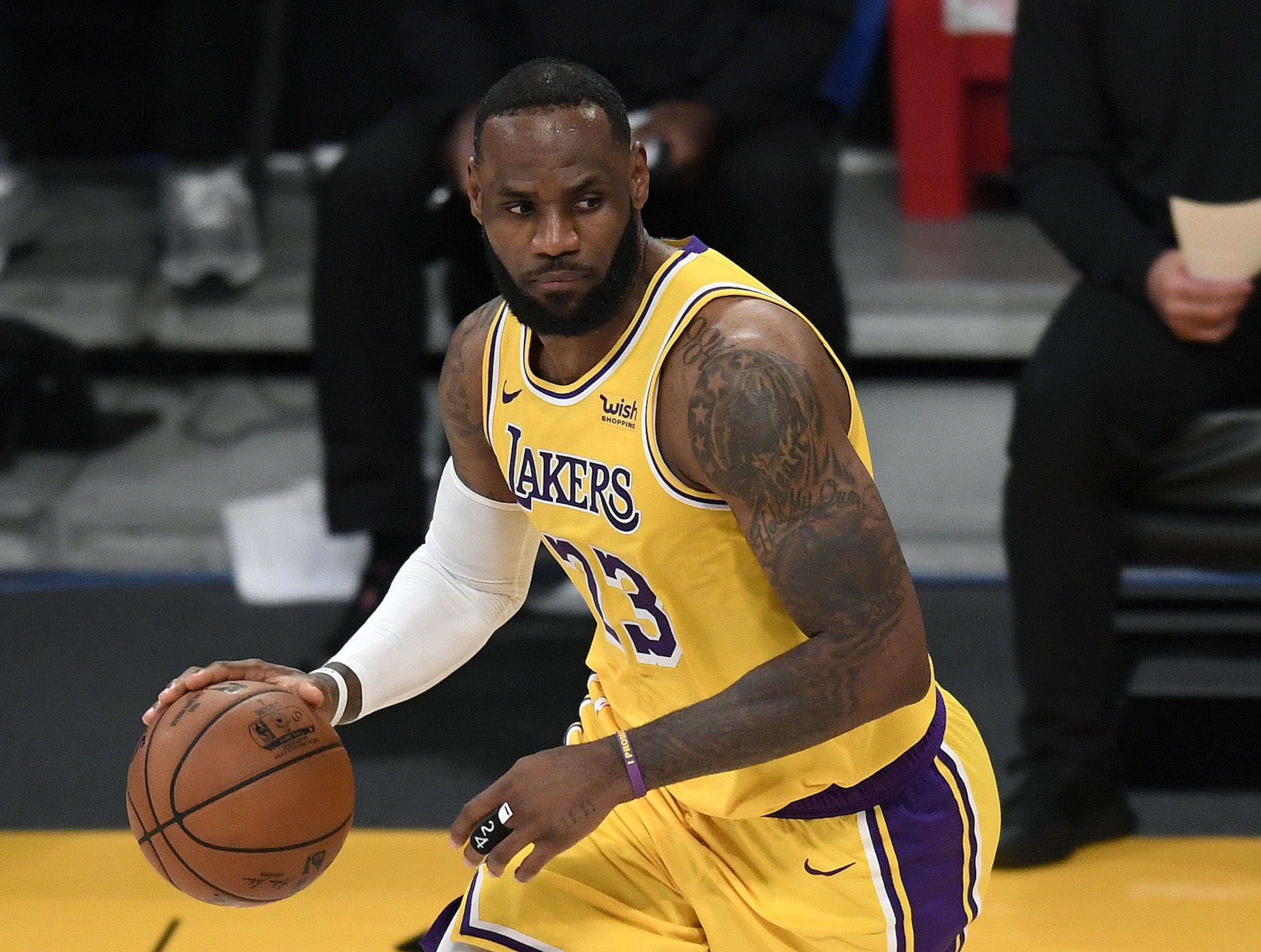 How Old Is LeBron James and How Long Has He Been in the NBA?
Despite his age and lengthy NBA career, LA Lakers star LeBron James is still posting impressive stats every time he hits the floor.
Whether you're a die-hard NBA fan or rarely watch a game, just about everyone knows LeBron James. During his time on the national stage, King James has grown from a teenager into an adult man before our eyes; he's made mistakes, won championships, and earned plenty of money, all in the public eye.
Although it may seem like it was just yesterday that LeBron James burst onto the global sports scene, he's actually been playing in the NBA for quite a few seasons. Despite that and his relatively advanced age (at least by basketball standards), though, the LA Lakers star is still going strong.
LeBron James became a star at an early age
In some cases, athletes are so talented that it's clear they'll be a star long before ever turning pro. LeBron James, as you might assume, was one of those prodigies.
James grew up in Akron, Ohio, and, by his own accounts, had a pretty tough childhood. Everything changed, however, when LeBron's football coach, Frank Walker stepped up to give the boy a stable home; Walker also introduced him to basketball, changing the course of sports history.
LeBron proved to be a natural and, during his freshman year at St. Vincent-St. Mary High School, he made the varsity basketball team. At the end of his sophomore season, LeBron took home the Ohio Mr. Basketball title and earned a place on the USA Today All-USA First Team.
Before long, James was a nationally-known talent. Rave reviews from scouts started pouring in; ESPN broadcast his high school games to national audiences. The teenager was already a legitimate star before ever stepping onto the NBA hardwood.
How long has LeBron James been playing in the NBA?
Thanks to his incredible talent, LeBron James jumped directly from high school to the NBA. He entered into the 2003 NBA draft and joined the Cleveland Cavaliers as the first-overall pick.
James spent the first seven years of his professional career in Ohio, establishing himself as a star and becoming the face of both the franchise; everything changed, though, in July 2010. In a moment that went down in history for all the wrong reasons, LeBron went on ESPN and infamously announced that he was joining the Miami Heat.
After four seasons in South Beach, however, James was on the move again. This time, his journey went in the opposite direction, and he rejoined the Cavs. His four-year stint in Ohio was highlighted by winning the 2016 NBA title, ending Cleveland's championship drought.
In June 2018, King James opted-out of his contract with the Cavaliers, deciding to leave Cleveland for a second time. He, of course, signed with the LA Lakers, where he's still playing going strong.
In total, the 2020-21 campaign will be LeBron James' 18th season of professional basketball.
How old is King James these days?
No one, no matter how athletic they are, can beat back Father Time forever. LeBron James, however, is doing a pretty good job at keeping him at bay.
Heading into the 2020-21 season, James is 35-years old; he'll turn 36 on December 30, 2020. While that may not sound impressive by real-world standards, it's pretty old for a basketball player. LeBron is currently the fifth-oldest active player in the NBA, trailing only Udonis Haslem, Andre Iguodala, Carmelo Anthony, and JJ Redick.
It's also worth noting that James isn't just coasting off his reputation, either. During the 2019-20 season, he averaged 25.3 points, 10.2 assists, and 7.8 rebounds per game; while that was a low-scoring campaign by his standards, it's still a stat line that anyone would love to post.
After winning his fourth championship, LeBron James addressed the topic of retirement. "I don't know, I have not put a cap on it," he said. "I know I got a lot of years left, and what that looks like, how many years that looks like, I'm not sure. I know I can continue to play at a high level."
Whenever he decides to call it quits, though, King James has had quite the career.
Stats courtesy of Basketball-Reference