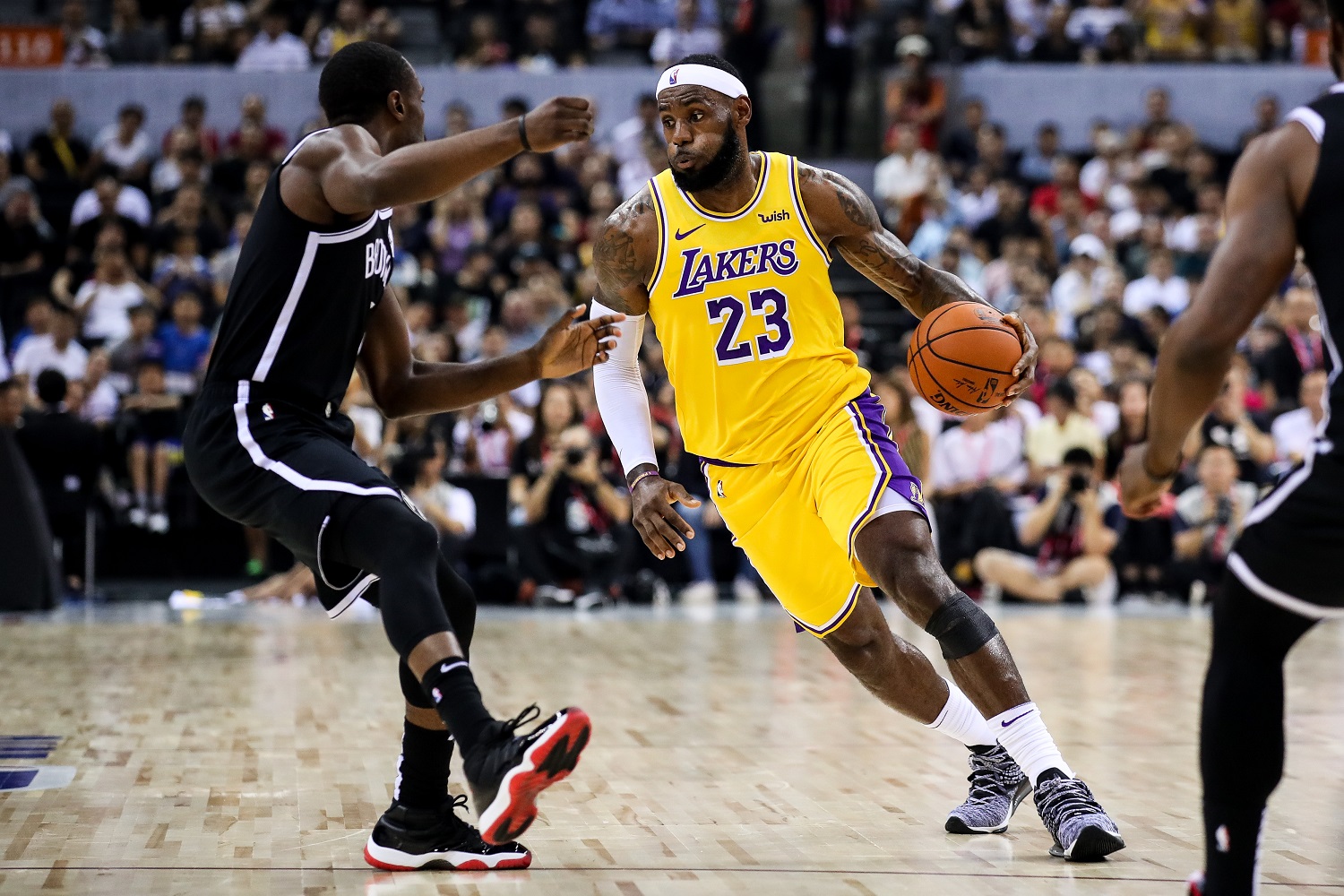 LeBron James Should Have Seen a UFC Star's Body Slam Coming
LeBron James rejected criticism from soccer star Zlatan Ibrahimovic. In the process, he left himself open to a shot from UFC contender Colby Covington.
LeBron James clapped back at criticism by a guy from the sport where a push in the back leaves the "victim" writhing in pain, rolling on the ground. He never saw the subsequent rear-naked choke coming from UFC star Colby Covington.
James opened the octagon door to one of the few legitimate criticisms of him, and Covington called him out for it to register a strong takedown.
LeBron James has been vocal on some important issues
Fox News host Laura Ingraham famously admonished LeBron James to "shut up and dribble" in February 2018 after the NBA superstar criticized then-president Donald Trump as someone who "doesn't understand the people." He added that some of Trump's comments were "laughable and scary."
The episode proved less damaging to James than to Ingraham, who called the player "barely intelligible." It was also the start of a new phase in James' public profile. Widely acknowledged as one of the greatest basketball players ever, he became increasingly vocal on issues of public policy, racism, and social justice.
His activism reached a new peak in the spring and summer of 2020 in the aftermath of the deaths of highly publicized Black citizens, including George Floyd in Minneapolis and Breonna Taylor in Louisville, at the hands of police. His notoriety as a public figure meant that James' thoughts were of interest to the public, and his words carried weight.
LeBron James fights off fresh criticism
International soccer star Zlatan Ibrahimovic, who returned to AC Milan last year after two seasons with the LA Galaxy, took a swipe at LeBron James last week. The gist of his criticism was that James should talk less about politics and focus more on playing basketball.
"(LeBron) is phenomenal at what he's doing, but I don't like when people have some kind of status, they go and do politics at the same time," Ibrahimovic said. "Do what you're good at. Do the category you do."
That was eerily similar to the remarks made by Fox News host Laura Ingraham three years earlier. James' response to Ibrahimovic was as forceful now as it was to Ingraham then.
"I speak from a very educated mind, so I'm kind of the wrong guy to actually go at because I do my homework," James said. "I would never shut up about things that are wrong."
If only James hadn't zipped his lips on the eve of the 2019-20 season when another respected basketball figure spoke up on an important issue.
Daryl Morey was left dangling over the Hong Kong protests
Five months before the coronavirus pandemic shut down the NBA for 20 weeks, then-Houston Rockets GM Daryl Morey created an international crisis for the NBA with a simple, seven-word Twitter message: "Fight for Freedom. Stand with Hong Kong."
LeBron James and the Los Angeles Lakers were touring with the Brooklyn Nets in China, where the government reacted angrily to Morey's tweet. They shut down promotion of NBA exhibition games there and put lucrative business deals with the league on pause. Although the Rockets did not give Morey unqualified support, they also resisted the temptation to dump the veteran league executive in some sort of conciliatory move toward China.
Following his return to the United States, James criticized Morey's support for the anti-government protests in Hong Kong as "misinformed or not really educated on the situation."
James came off looking like someone protecting his own self-interest – his endorsements related to China and/or revenue derived there by the NBA.
"There are ramifications for the negative that can happen when you're not thinking about others and you're only thinking about yourself," James said of Morey.
Later, James backpedaled by tweeting that he only meant to suggest that Morey could have waited until the NBA tour of China had ended.
It's an episode that Colby Covington did not forget. Covington, the top-ranked contender in the UFC welterweight division, has blasted James before. He unloaded again when he saw that James fired back at soccer star Zlatan Ibrahimovic over the weekend.
"When are you gonna speak up about Hong Kong @KingJames?" Covington wrote on Twitter. "Oh that's right, you can't. You're a Chinese finger puppet! You make millions playing a kids game & talk about 'social justice' but have no problem paying Chinese women in sweatshops pennies to make your products. Slimeball."
The man clearly fights every bit as rough outside the octagon as he does in it.
Like Sportscasting on Facebook. Follow us on Twitter @sportscasting19.