The Masters' Merchandise Sales Rake In $1 Million an Hour Thanks to a Flawless Strategy
The people behind the Masters work strenuously to keep the event private enough to keep the common golf fan out but alluring enough to still tune in every year.
Even as major sports leagues become increasingly controlled by billionaire capitalists, no tournament matches the high-class mystique of the Masters. The biggest event of the PGA Tour is a masterclass in brand management. It exudes an air of luxury and mystique that heightens the experience of the event for viewers, attendees, and players.
This vibe doesn't happen by accident. The people behind the Masters work strenuously to keep the event private enough to keep the common golf fan out but alluring enough to still tune in every year. 
The Masters cultivates exclusivity as a virtue
The unique financial situation behind the Masters was explored in Joe Pompliano's weekly newsletter Huddle Up. The Augusta National Golf Club has hosted the tournament since it began in 1934. 
Most golf courses operate as non-profit enterprises. But Augusta National is registered as a for-profit organization. On one hand, this means they can't claim tax-exempt status on their earnings. However, it also means the club has total control over what the public knows about any part of its business. They are not required to disclose any information about club income, holdings, membership lists, renovation plans, or ticket sales. 
During the week of the Masters, Augusta National makes about $150 million on average. About 75% of that sum comes from merchandise and ticket sales rather than from TV deals or commercial sponsors. 
Augusta only has six sponsors: AT&T, Delta, IBM, Mercedes Benz, Rolex, and UPS. They all agree to split a measly four minutes of airtime per hour of coverage. Commercial money is used to fund CBS and ESPN's production of the tournament (in exchange, Augusta gets total control of the broadcast). Any cash left over covers hospitality events for VIP patrons. The course is also kept completely free of any sponsor signage.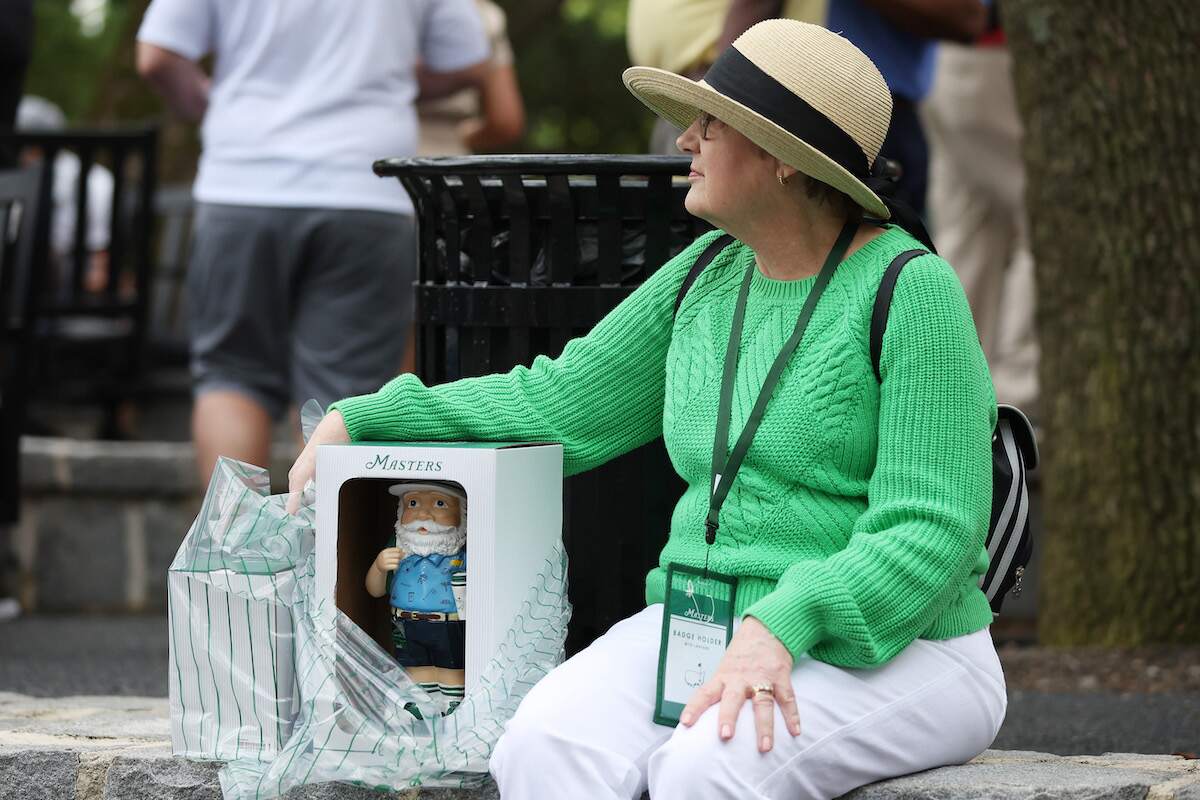 Merch sales are purposely kept lower to sustain the Masters' premier status
Augusta's strategy around Masters merch is also in line with the desire to feel distinct from the rest of the golf world. It is one of the few events in any sport that limits the sales of merchandise to in-person attendees only. 
Augusta is leaving an unknowable amount of millions on the table using this approach. For example, the club started selling garden gnomes in 2016 for $50 a pop. (The designs for these gnomes change every year because, of course, they do.) But customers can only buy one gnome themselves, a rule that plays some part in the 850% price markups for these upper-crust tchotchkes on eBay.
But don't get it twisted. No one at Augusta is struggling to pay bills. The Masters generates over $70 million in merch sales each year. To break down how quickly that money is accrued, let's imagine that the store is open 10 hours a day. This means Augusta sells:
$10 million a day
$1 million an hour
$16,000 per minute 
$277 per second
They're doing just fine working this way. 
Tickets and concessions are left surprisingly affordable
Gaining entry into Augusta National isn't as simple as buying a ticket for the Masters. First off, they're called badges, not tickets. Secondly, aspirational attendees must enter a lottery system before being allowed to purchase a single-day or weeklong pass. 
If you do have the luck of the draw, the badges are not expensive ($100 for the practice round, $140 for a one-day badge, and $450 for a four-day pass) until they hit the secondary market. 
Concessions are also famously affordable. Beer ($5 a glass), sandwiches ($1.50 to $3), breakfast ($1.50 to $3), and other snacks (all $1.50) can be had at bargain prices. The most expensive item is a $6 glass of chardonnay. You can buy the entire menu for $66. The goal of these low prices is to help visitors have a great time while at Augusta. Sports economist Steve Salaga told Fox Business:
"We have to remember, the total cost of event attendance includes travel and transaction costs, the cost of the ticket itself, as well as any parking, concessions, and souvenirs purchased.

So one way to make the overall experience more appealing to the consumer is to keep the price of these complementary products like concessions low. Not that Augusta has an issue with this, but I think the affordable concession pricing is an appealing aspect of the consumer experience."
According to Forbes, the Masters is leaving $269 million on the table with this methodology. But feeling special pays off in other ways.