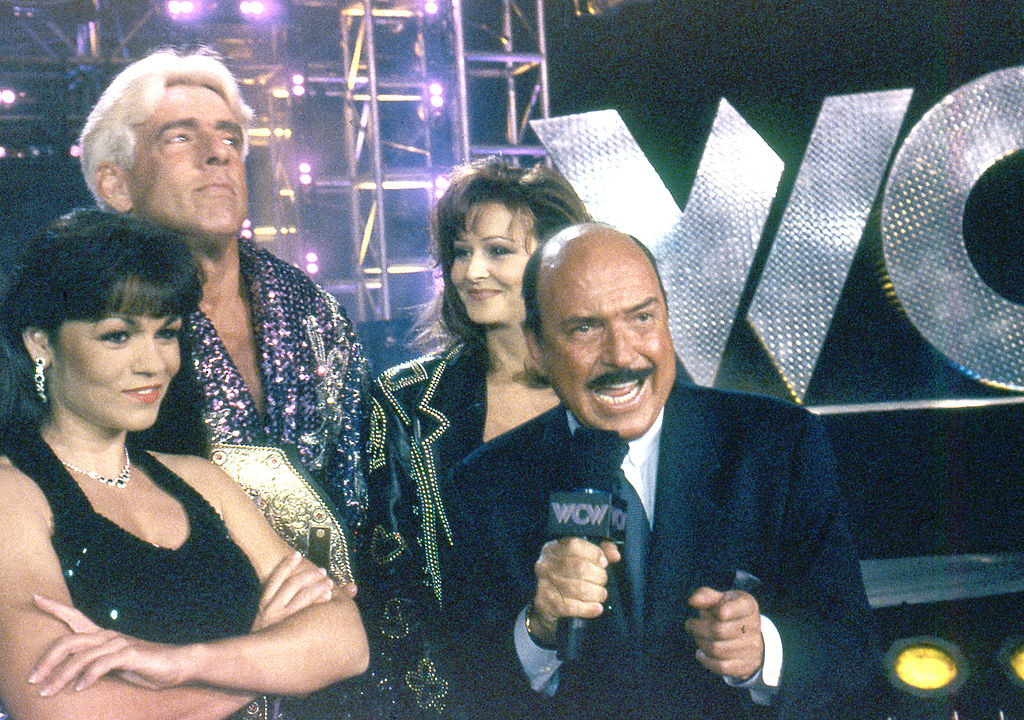 Mean Gene Okerlund Turned His Iconic Wrestling Interviews Into a $9 Million Net Worth
Thanks to his iconic career as a pro wrestling interviewer, Mean Gene Okerlund had a net worth of $9 million when he died in 2019.
In the world of pro wrestling, larger-than-life characters are part of the fun. That reality isn't just apparent inside the ring, though. During his with the WWF, WCW, and WWE, Gene Okerlund and his interviews became a major element of the pageantry. Whenever a heel needed to issue a threat or make a bold prediction, Mean Gene was on the scene
Mean Gene wasn't just a beloved fan-favorite, however. Thanks to his iconic interviews, Okerlund built up a reported net worth of $9 million.
Mean Gene Okerlund's pro wrestling career
In retrospect, Gene Okerlund seemed destined to become an iconic part of the pro wrestling scene. His career, however, started out in much more ordinary circumstances.
Okerlund began his professional life as a radioman before making the jump to television at Minneapolis, Minnesota's Channel 11. As noted by the Star Tribune, the  American Wrestling Association also called the station home. One day, the regular interviewer, Marty O'Neill, couldn't make it; Okerlund didn't know anything about wrestling, but he owned a suit and could conduct an interview. From there, the rest is history.
Okerlund stuck with the AWA, picked up the nickname Mean Gene from Jesse Ventura, and became a part of the pro wrestling scene. He joined the WWF in 1984; he jumped ship to WCW in the 1990s, but eventually returned to WWE. He retired in 2018 and died in January 2019.
While an announcer and commentator might seem insignificant amid the spectacle of pro wrestling, Mean Gene was an invaluable part of the show. "Following more than 30 years in sports-entertainment, Gene Okerlund became one of, if not the most recognizable announcers in the history of the squared circle," his official WWE bio explains.
His iconic interviews helped make pro wrestling what it is today
To the uninformed observer, Mean Gene's interviews may seem insignificant and boring compared to the action in the ring. As any pro wrestling fan can tell you, however, those conversations were a key part of the show.
While Okerlund was never afraid of having fun or cracking a joke, he was also capable of playing the straight man. Whether Macho Man Randy Savage was balancing coffee creamer on his head or Hulk Hogan was flexing his 24-inch pythons, Mean Gene always made his interview the height of seriousness. Not only did that help build the drama, but it allowed the wrestler to speak directly to the viewers, creating the colorful WWF universe fans came to love.
"Okerlund played the role of The Serious Adult in the Room on WWE and WCW's biggest shows. He was the one who asked the questions, demanded answers, and served as the pivot for every beef, rivalry, feud, and outright war between the giants and bit players of wrestling. He hectored wrestlers like an investigative reporter. He was pushy, ornery, sometimes outright hostile to his subjects, playing up the drama while never forgetting to mention that the show was at the National Guard Armory in Nashville this coming Saturday, and that tickets were still available — but selling fast," Spencer Hall wrote on SBNation after Mean Gene died. "That was his job: giving the impression that this was serious, serious business."
Mean Gene Okerlund used wrestling to build a $9 million net worth
During a career as an announcer and interviewer, Mean Gene Okerlund grew into a pro wrestling icon. That reality also brought a nice payday.
According to CelebrityNetWorth, Okerlund was worth approximately $9 million at the time of his death. While that might not seem like a great deal when compared to the likes of Hulk Hogan, the Undertaker, or Vince McMahon himself, it's still a nice upgrade over working for a local TV station.
By the time he died, Mean Gene Okerlund had become a fan favorite, a pro wrestling icon, and a WWE Hall of Famer. Having $9 million in the bank wasn't bad either.