Michael Jordan Gave Charles Barkley a Rare and Expensive Gift Then Yelled At Him for Wasting It
Michael Jordan and Charles Barkley might've been heated rivals during their legendary NBA careers, but they were also good friends off the basketball court. The two Hall of Famers regularly played rounds of golf together during the summer and on off days throughout the season.
As their golf friendship started developing back in the 1980s, Jordan turned Barkley on to a hobby of his on the course: cigars. But the first time he gifted Sir Charles a rare Cuban to smoke, Barkley broke the cardinal rule of cigars, and Jordan wasn't too pleased.
Michael Jordan and Charles Barkley were golf buddies off the court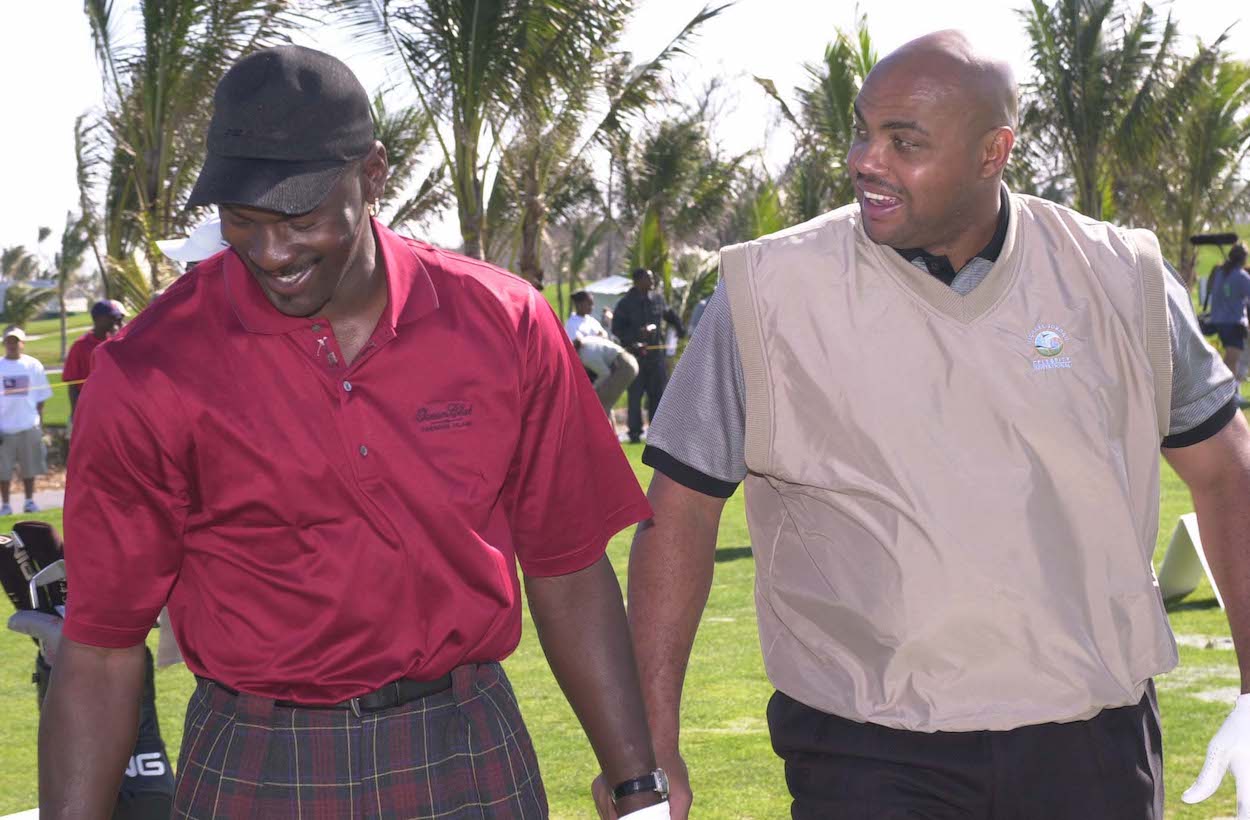 Jordan and Barkley proved throughout their careers that enemies on the basketball court can still get along after the buzzer sounds. Whether it was just a regular season matchup or a game in the 1993 NBA Finals between Jordan's Chicago Bulls and Barkley's Phoenix Suns, the two could always squash their beef for a round of golf the next day.
The stories of Jordan and Barkley on the golf course are the stuff of legend. From betting $1,000 per hole to playing 48 holes the day before Game 4 of the '93 Finals, the two NBA greats never missed an opportunity to take their rivalry to the links.
It wasn't just for the love of competition, though. The duo genuinely enjoyed each other's company on the golf course, and Jordan once gave Barkley an expensive gift during a round that eventually went to waste.
Michael Jordan gifted Charles Barkley a Cuban cigar and yelled at him for wasting it
Jordan didn't just teach Barkley his secrets about golf. He also taught him how to enjoy a tasty cigar on the course.
Back in the 1980s, Jordan and his good friend, Ahmad Rashad, used to always puff on a few cigars every time they hit the links. At one point, Barkley decided to join in.
"I watched them smoke for a couple of years, and I was like, 'Maybe I should try this.' And I liked it," Barkley told Cigar Aficionado in 2020.
MJ taught Barkley a valuable lesson about cigars when he first started picking up the hobby.
"(Jordan) smokes the good stuff, and he gave me the most valuable lesson ever with cigars: have two humidors," Barkley explained. "One for people who know what they're doing, and one for people who don't know what the f*** they're doing. I've got some good cigars, and I hate it when I give someone a good cigar, they don't enjoy it, and they leave half of it."
Barkley probably feels that way because he did the exact same thing to Jordan the first time he was gifted a "top-tier" Cuban cigar, and MJ let him have it.
"It was from the good humidor. And I got yelled at," he said. "I took a couple of hits and then I was done with it. He was like, 'Yo man, that was a really good cigar!'"
Never waste another man's cigar, especially if it's a Cuban. Barkley learned that the hard way, and he won't make that mistake again.
Sir Charles is now an cigar aficianado himself
Thanks to Jordan's guidance, Barkley quickly became an avid cigar smoker himself. Now, he can't play a round of golf without one… or four.
"Ninety-nine percent of the time when I smoke cigars, I'm playing golf, and I play golf a lot," Barkley explained. "I smoke four when I play golf, two per nine." 
And ever since getting yelled at by Jordan for breaking a sacred rule, Barkley makes sure to treat his cigars with respect. Maybe a little too much respect, if we're being honest.
"I treat my cigars better than people," he said. "You gotta treat 'em good."