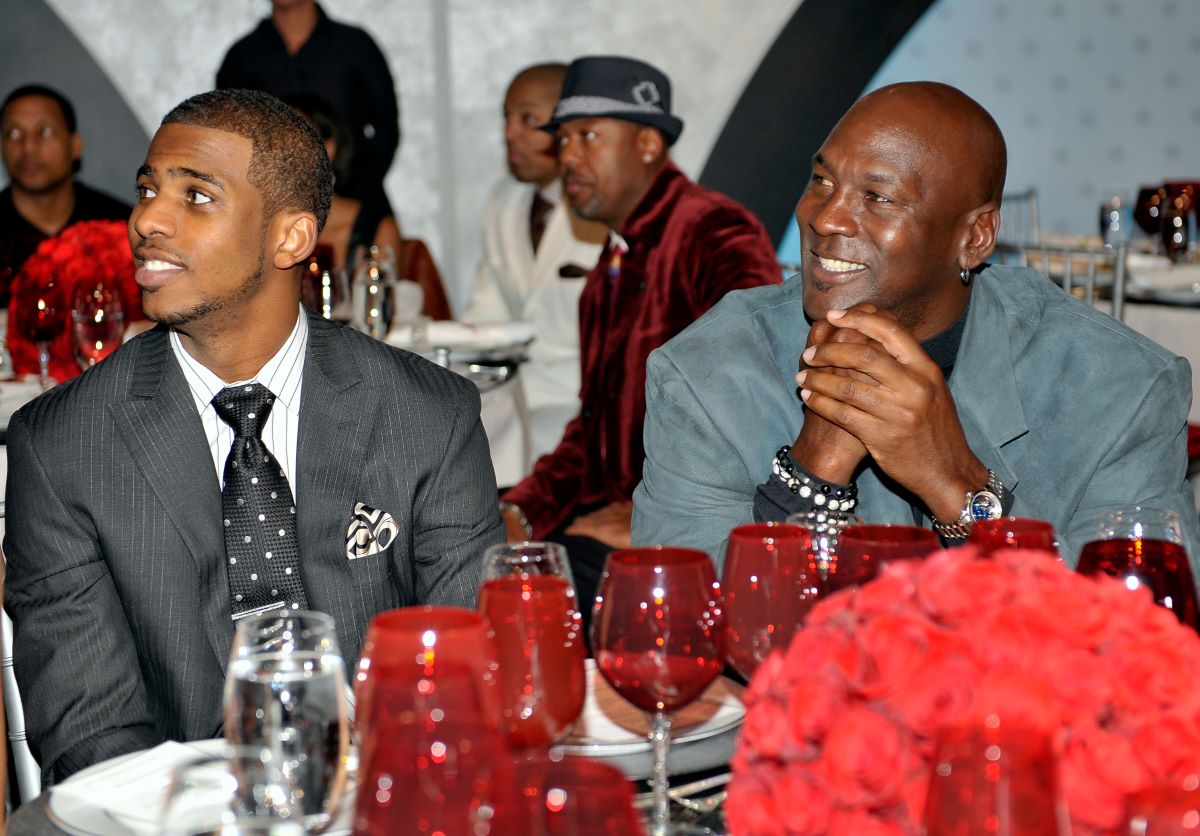 Michael Jordan Was Issued a Major Challenge by Chris Paul in a Room Full of Kids and Prevented Them From Getting Free Shoes
Michael Jordan is so competitive that he didn't even let kids get free shoes with Chris Paul present.
As the sports world learned in The Last Dance docuseries, Michael Jordan takes every basketball challenge personally. Phoenix Suns point guard Chris Paul knew that long before the popular Jordan documentary came out in 2020.
Paul and Jordan have a close relationship since the former is part of the Jordan Brand. When the Chicago Bulls legend conducted his annual Flight School basketball camp for kids, Paul would sometimes assist the campers in drills.
During the summer of 2016 at the camp, Paul issued a major challenge to Jordan with the campers present. As expected, the Bulls icon took it personally and prevented all of the kids from getting free Air Jordans.
Chris Paul challenged Michael Jordan to a shooting drill
During the Flight School camp in 2016, Paul challenged Jordan to a shooting drill. If the six-time champion missed three shots, all the campers would receive free Air Jordans.
Jordan made every shot during the challenge, must to the chagrin of the campers. Even though he presumably loved all the kids at his camp, the NBA great likely wasn't ready to give a ton of Air Jordans away for free and lose profit.
While he played for the Bulls and Washington Wizards, Jordan was one of the best — if not the best — mid-range shooters in the NBA. The 10-time scoring champion did most of his damage on two-pointers, hitting 11,611 two-pointers during his Hall of Famer career compared to only 581 3-pointers.
Despite being 53 years old during the 2016 Flight School, Jordan showed Paul and his campers he still possessed his electric shooting touch. MJ's jumper not only helped him win six titles and six Finals MVPs with the Bulls, but it also aided him to become the NBA's all-time leader in points per game.
Michael Jordan's jumper was a thing of beauty
Jordan began to rely on his elite footwork and shooting touch heavily during the Bulls' second three-peat since he was older and wiser. Instead of driving to the hoop and dunking on everyone, the five-time MVP took more mid-range jump shots and hit them at an incredibly high rate.
From 1996-97 to 1997-98, Jordan shot 49.0% on shots 16 feet from the basket to the 3-point line. He won three consecutive scoring titles in '96, '97, and '98, thanks to his deadly jumper while leading the Bulls to three straight championships.
Jordan is the NBA's all-time leader in points per game at 30.1. He likely doesn't hold that record and win 10 scoring titles if he didn't perfect the art of the mid-range jump shot. There was nothing defenders could do to stop His Airness from getting to his spot on the floor and rising up for a jumper. All they could do was contest the shot and hope he missed.
Despite analytics telling players to shoot more 3-pointers than two-pointers, several current players have mastered the mid-range shot as Jordan did, most notably Paul, Kawhi Leonard, DeMar DeRozan, and Derrick Rose.
Chris Paul is a terrific mid-range shooter
Paul shoots 46.8% on shots 16 feet from the basket to the 3-point line for his career. The star point guard also shoots an efficient 48.4% on shots between 10 and 15 feet from the rim.
The Suns defeated the Los Angeles Clippers in the 2021 Western Conference Finals to advance to the NBA Finals. Paul poured in 41 points and eight assists in Game 6 to clinch his first Finals appearance. He's now four wins away from capturing that elusive first championship.
Even though Jordan is the majority governor of the Charlotte Hornets, he is probably happy for Paul's success since they are close friends. It will be fascinating to see if CP3 can lead the Suns to the championship in his first season with them. Several pundits believe Paul will firmly establish himself as a top-five point in NBA history if he can add a championship to his already impressive résumé.
Stats courtesy of Basketball Reference.