Michael Jordan's Embarrassing Track Record Could Be Turning Around Thanks to LaMelo Ball
Michael Jordan's legacy as an NBA player is secure. With six NBA championships, six NBA Finals MVP awards, and five NBA MVP trophies, it's even easy to forget the last two years he returned with the Washington Wizards in the early 21st century. But it's been more than a decade since Jordan purchased a majority stake of the Charlotte Hornets from Bob Johnson for $275 million. There is at least some hope for the future with the successful drafting of reigning Rookie of the Year LaMelo Ball.
But can Jordan put enough other pieces together to make the Hornets viable contenders? While the franchise's value has grown nearly sevenfold since the NBA approved the deal for the then-Charlotte Bobcats in March 2010, Jordan's legacy as the majority owner is spotty at best. Since 2010–11, Jordan's first full season in the owner's suite, Charlotte is 353–506, a dismal .411 winning percentage that ranks near the bottom of the NBA over that span.
Michael Jordan's run in Charlotte is a series of poor trades, bad signings, missed draft picks, and five head coaches in 11 seasons.
Michael Jordan and his basketball people haven't always hit the target
While the Charlotte Hornets have found some good young pieces in their last two first-round picks, the Michael Jordan ownership has missed more often than they've hit with selections, especially those at the top of the lottery.
In 2012, Charlotte took Kentucky wing Michael Kidd-Gilchrist second overall. He came with the reputation as a tough defender with a funky release on his jumper. He was out of the NBA in 2020–21 after he was among the final cuts by the New York Knicks before the season began, still with that broken jump shot the Hornets were never able to repair.
Charlotte also drafted Cody Zeller fourth overall in 2013 before taking Ball with the No. 3 overall selection in 2020. While Zeller has been with the Hornets his entire career, he's never been anything more than a passable NBA rotation big man.
In 2010, Charlotte traded Tyson Chandler to the Dallas Mavericks for Erick Dampier. That worked out well in Dallas, with an NBA title the following season. That came under Rod Higgins, the GM Jordan inherited. But Jordan's guy, Rich Cho, turned Tobias Harris, Stephen Jackson, and Shaun Livingston into Corey Maggette and Bismack Biyombo. That wasn't a compliment.
Then there was that whole worst season in NBA history thing when the 2011–12 Bobcats went 7–59. The Hornets have the fifth-worst record in the NBA since Michael Jordan bought the team, so he needs this LaMelo Ball building block to turn into something.
Jordan was unable to build a winner around Kemba Walker
The Charlotte Bobcats made an excellent pick at No. 9 overall in 2011, landing Connecticut star Kemba Walker. It took Walker a while, but he blossomed into an All-NBA player in Charlotte. However, Michael Jordan was never able to put much around him.
The selection of Tobias Harris at No. 19 in the same 2011 draft might have helped more, but he was part of the trade to get Maggette and Biyombo.
The ninth overall spot did not work out as well with Noah Vonleh and Frank Kaminsky. Malik Monk is talented but availability challenged. PJ Washington, the 12th overall pick in 2019, has looked good and could be a solid complementary piece.
However, in 11 seasons under Michael Jordan's ownership, the Hornets have made the playoffs just twice, in 2014 and 2016. Indiana blew them out of the Eastern Conference play-in tournament in 2021.
LaMelo Ball has made Michael Jordan look smart so far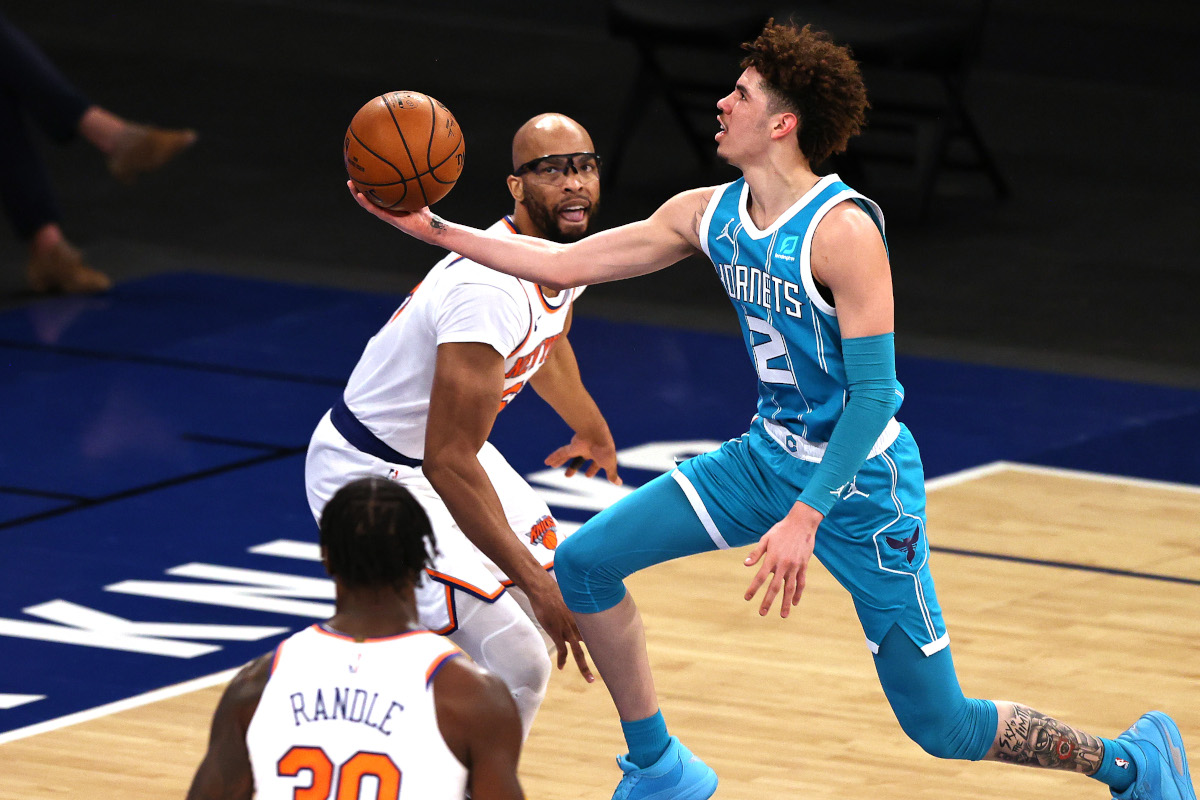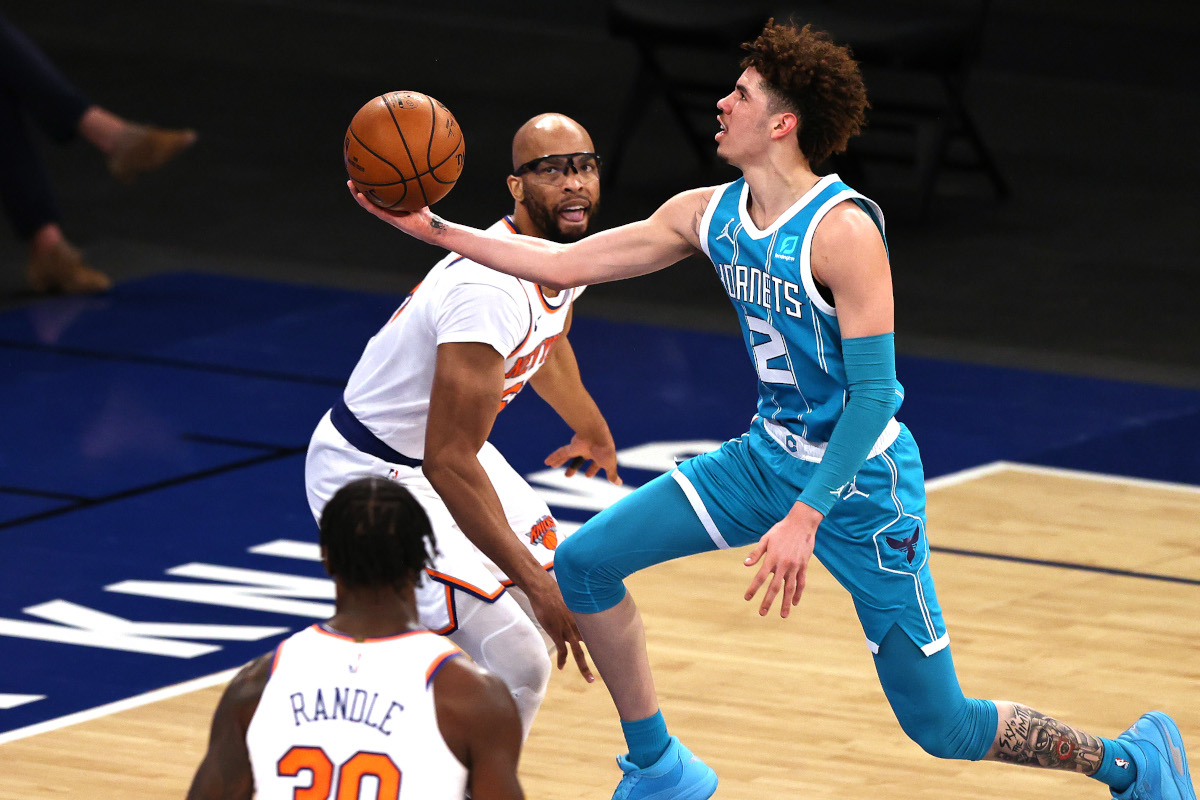 Mitch Kupchak came to the Charlotte Hornets in April 2018 after engineering the worst period in the storied history of the Los Angeles Lakers. Giving credit where it's due, the Lakers won four titles with Kupchak running the front office. But he also engineered the disastrous deals for Steve Nash and Dwight Howard.
Since coming to Charlotte, Kupchak has made the Terry Rozier sign-and-trade with the Boston Celtics for Walker look like a great move. Trading two second-round picks to the Atlanta Hawks for Devonte' Graham has also worked out well.
The jury is still out on the Gordon Haywood signing. There has yet to be a team that has won much of anything with Hayward as its No. 1 option. Charlotte can manufacture up to $34.9 million in cap space this summer as well.
The 2021 NBA Draft may be a windfall as well. The Hornets added a lot of upside with 11th overall pick James Bouknight from Connecticut. They also acquired raw but springy big man Kai Jones, the 19th overall pick, from the New York Knicks.
Michael Jordan may have been the ultimate winner as a player. But he's yet to do anything remotely similar as an owner. Can LaMelo Ball be the centerpiece for a long-awaited turnaround for the Charlotte Hornets?
Historical information courtesy of Basketball Reference and Stathead; salary cap data courtesy of Spotrac.
RELATED: Michael Jordan Had No Interest in Winning a Championship With a Team Other Than the Bulls: 'No, I'm Not Coming to LA'