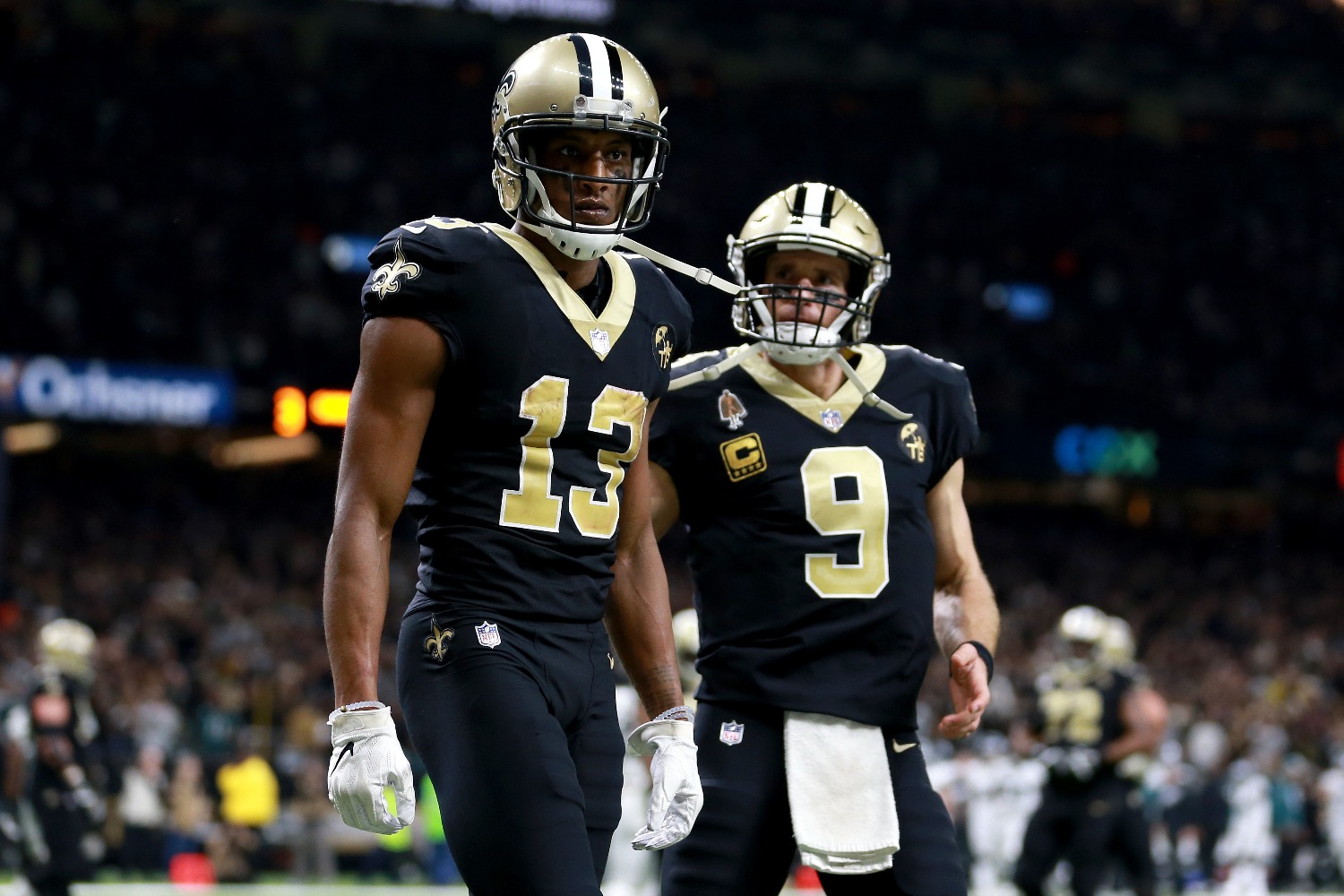 Michael Thomas Will Cost Drew Brees Super Bowl Glory By Sticking to His Word
Michael Thomas will cost Drew Brees a chance at a second Super Bowl ring with the New Orleans Saints if he sticks to his word.
You'll be hard-pressed to find a more dominant quarterback-receiver duo than Drew Brees and Michael Thomas. Since the New Orleans Saints paired the former Ohio State star with the biggest snub from the NFL All-Decade team, the two have gone on to put up prolific numbers and win a ton of games.
Of course, the tandem has yet to raise a Lombardi Trophy together. And if Michael Thomas sticks to his word, Drew Brees will retire without ever winning another Super Bowl ring.
Drew Brees and Michael Thomas form one of the NFL's best QB-WR tandems
The Saints scored a major draft-day steal by scooping up Thomas with the 47th pick in 2016. Somehow five receivers went off the board, but none have come close to matching his production. The 6-foot-3, 212-pounder quickly proved that his lack of deep speed wouldn't stop him from dominating on Sundays.
In his rookie year, Thomas shattered expectations by going off for 92 catches, 1,137 yards, and nine touchdowns in just 12 starts. Utilizing his combination of strength, size, and sticky hands, he has only continued to ascend up the receiver rankings.
Operating as Brees' clear-cut No. 1 target, Thomas has earned three consecutive Pro Bowl trips and two first-team All-Pro selections since his impressive rookie campaign. In 2018, he led the NFL with 125 catches while posting a highly-impressive 85 percent catch rate.
Last season, he took his game to another level. Thomas set the single-season record for catches (149) while also pacing the NFL with 1,725 receiving yards. Despite his prolific regular-season numbers, however, Michael Thomas has yet to taste championship glory.
And based on his comments, he will cost Drew Brees a chance at hoisting the Lombardi Trophy one more time before he retires.
Brees won't win second Super Bowl ring if his top target sticks to his word
The COVID-19 pandemic has obviously shaken up the world as we know it. Unfortunately, the sports world has had a difficult time surviving during this unprecedented time in history. As the NFL season approaches, the league has had to consider the financial implications of COVID-19. Let's just say that the NFL's proposed financial plan doesn't sit well with Michael Thomas.
On Tuesday, Tom Pelissero of NFL Network reported via Twitter that the NFLPA informed its board of representatives that the NFL proposed a plan that will put 35 percent of player salaries in escrow. This would take place to help manage costs during the upcoming season.
Ultimately, that would take money out of players' pockets. And as one of the highest-paid receivers in the league, Thomas would stand to lose quite a chunk of change. The superstar Saints receiver responded to Pelissero's tweet by saying that players will sit out and not play before the league tries to implement the proposal.
On one hand, you can understand Thomas' frustration. He worked tirelessly at his craft and produced on the field in order to earn his massive contract extension. But if he sticks to his word, he will cost Drew Brees a shot at Super Bowl glory. Without Thomas in the lineup, the Saints have zero shot at playing in February considering his role in the offense.
New Orleans may have brought in Emmanuel Sanders, but he can't come close to replicating what Thomas does on Sundays. And no defensive coordinator will lose sleep over fallback options like Tre'Quan Smith, Deonte Harris, and Austin Carr. Without Thomas, the Saints would have a tough time making the playoffs, let alone winning Super Bowl 55.
Will the Saints finally exorcise their playoff demons in 2020?
Put the Michael Thomas problem aside for a second. The Saints already have a major hurdle to overcome in 2020. For three straight years, the city of New Orleans has experienced agonizing defeat in the postseason.
In 2017, the Saints infamously lost to the Minnesota Vikings on the Minneapolis Miracle play that saw Stefon Diggs score a 61-yard touchdown at the end of regulation.
The following year, New Orleans hosted the Los Angeles Rams in the NFC Championship. Surprisingly, the game turned out to be a defensive battle that once again ended in heartbreaking fashion for Saints fans. Greg Zuerlein nailed a 57-yard field goal in overtime to send the Rams to the Super Bowl.
To rub salt in the wound, New Orleans suffered another devastating overtime loss in the Wild Card round against Kirk Cousins and the Vikings.
On paper, New Orleans clearly possesses one of the best rosters in the NFL. Sean Payton still ranks as one of the best in the business. Ditto for Drew Brees. But if Michael Thomas sticks to his word, the Saints will never overcome their playoff demons and Brees will never win his second Super Bowl ring in what should be his final NFL season.