Mike Tyson Once Admitted His 'Biggest Achievement in Life' Had Nothing to Do With Boxing
While Mike Tyson first found fame and fortune as a boxer, he once said his biggest achievement in life took place outside of the ring.
While he's grown into more of a popular culture icon than anything else, Mike Tyson made his name in the boxing ring. Iron Mike proved himself one of the most fearsome fighters to ever don the gloves. Even today, some of his knockouts remain the stuff of legend. Fighting, however, is only a part of his story.
For all the success he found in the ring, Tyson has a different perspective on his life. In fact, he once took to Reddit to admit that his "biggest achievement" has nothing to do with the sport at all, let alone the fame and fortune he found there.
Mike Tyson rose from difficult circumstances to become a legendary boxer
In the world of sports, there have been plenty of Cinderella stories. Tyson's rise to greatness has to be one of the best.
Growing up in Brooklyn, he had a tough childhood. The future heavyweight champ was bullied for his lisp and appearance. He also had multiple run-ins with the law; Tyson has claimed that he was arrested 40 times by age 12. Eventually, he found himself shipped upstate to the Tyron School for Boys.
That sentence ended up changing Tyson's life, but probably not in the way the legal system expected. The teenager linked up with Bobby Stewart, a former boxer turned counselor. Impressed by Iron Mike's raw potential, he introduced him to Cus D'Amato.
In addition to becoming Tyson's father figure, D'Amato also refined his technique, adding a defensive base to compliment his raw punching power. That plan worked, and at age 18, Tyson turned pro. From there, the rest was history.
A dramatic fall from grace
After winning his professional debut with a first-round TKO, Tyson quickly made a name for himself on the boxing scene and, before long, unified the heavyweight title. Iron Mike, however, wasn't on easy street.
In 1990, Tyson's boxing career started to unravel when he lost his belt to Buster Douglas in a shocking upset. But that paled in comparison to an arrest on rape charges the following year. As recorded in the New York Times, he was convicted and received a 10-year prison sentence but had four years of that suspended. The boxer ultimately spent three years behind bars and an additional four years on probation.
Although he returned to the ring, the former champ didn't exactly become a model citizen. During an infamous bout with Evander Holyfield, Tyson bit his opponent's ear. He also made some bizarre comments ahead of his bout with Lennox Lewis, claiming that he wanted to eat the other fighter's children. When the two men stepped into the ring, Lewis knocked Iron Mike out, essentially ending his competitive career.
Away from the ring, things didn't go much better. Despite earning massive sums of money, Tyson squandered it. At one point, he even hit what he called "rock bottom" in a hotel room full of drugs and prostitutes.
Mike Tyson's biggest achievement has nothing to do with boxing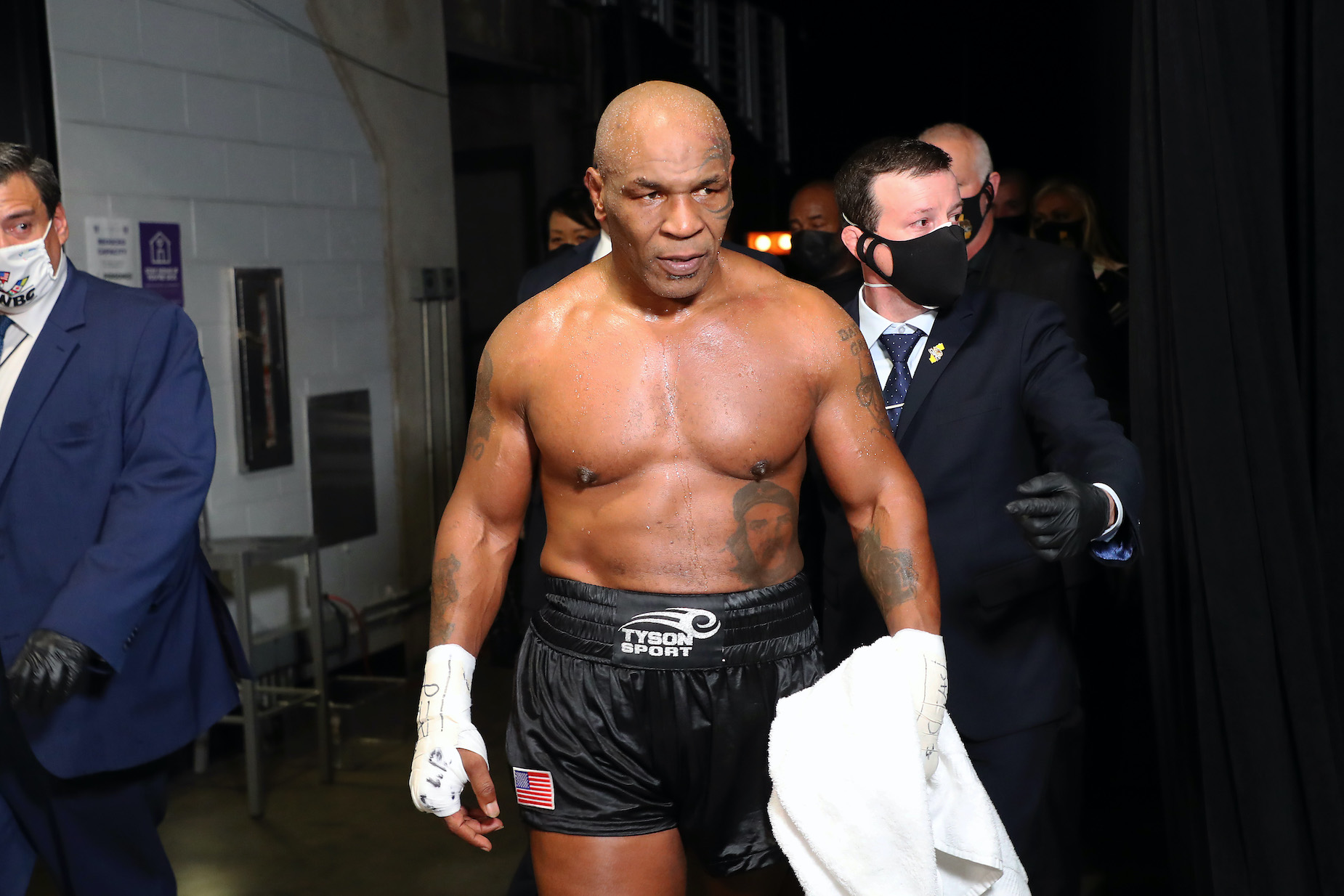 Even though his boxing career ended on a sour note, Tyson still put together an incredible resume in the ring. Despite that reality, though, he doesn't consider any of his athletic exploits — or even his later media success — the biggest achievement of his life.
During a 2014 Reddit AMA, one user asked Tyson what his "biggest achievement in life" was. "Stop drinking and using drugs," the boxer responded. He also added "being a present father" in a second comment.
It is worth noting, however, that things may have changed since Iron Mike made those comments. In 2020, for example, Tyson confessed that he was an alcoholic but didn't want to call himself one. He's also gotten into the cannabis business and, during a 2020 SiriusXM radio appearance, said, "you can imagine" how much he smokes in a given day.
If nothing else, you can always count on Tyson to speak his mind.