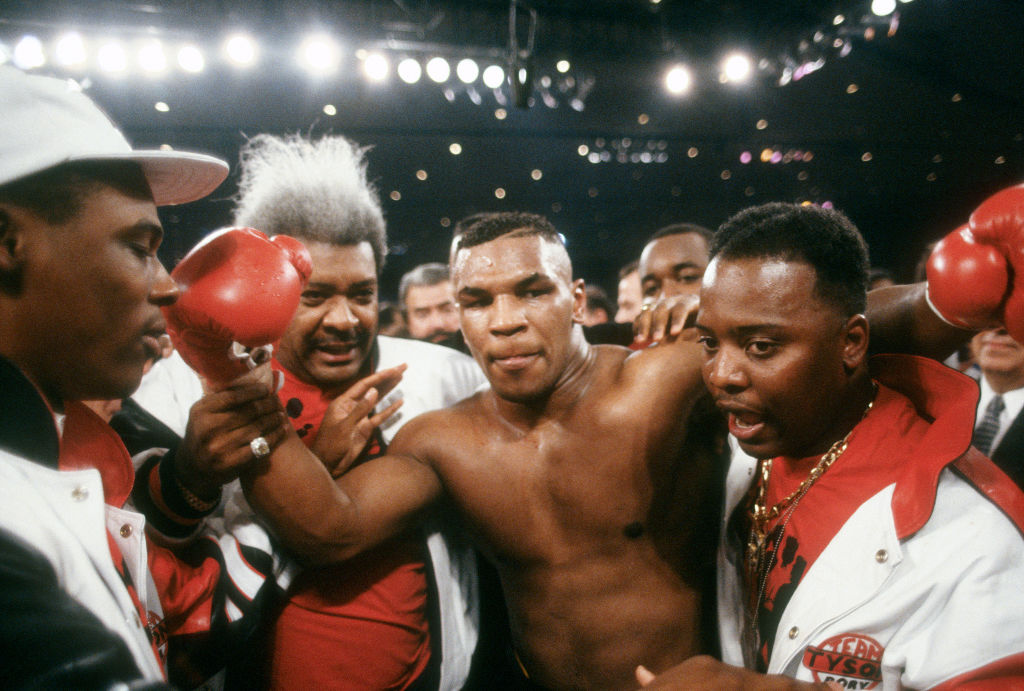 Mike Tyson Made Way Less Than You'd Think From His Appearance in Nintendo's 'Punch-Out!!'
Mike Tyson made plenty of money in his career. His appearance in Nintendo's Punch-Out!!, however, didn't pay too well.
In recent years, the worlds of sports and video games have become increasingly intertwined. John Madden has become the face of digital football; inescapable part of Bo Jackson's legacy is his dominance in Tecmo Bowl. In the 1980s, even Mike Tyson got in on the act, becoming the title star of Nintendo's "Punch-Out!!"
While that may seem like a major endorsement in retrospect, Tyson didn't receive a massive payday from the deal. Nintendo actually spent much less than you'd imagine on Iron Mike's name and likeness.
Mike Tyson's road to the ring
Growing up in Brooklyn, Mike Tyson had a difficult childhood. He fought for the first time after a bully killed one of his beloved pigeons; before long, however, he would become a global star due to his skills in the ring.
After falling into legal trouble, Tyson was sent to the Tryon School for Boys, an upstate New York reform school. Once there, he caught Bobby Stewart's eye. The former boxer saw great potential in Tyson; before long, he introduced him to Cus D'Amato. The veteran trainer would take Mike under his wing, serving as a much-needed father figure.
Under D'Amato's tutelage, Tyson started developing into the dominant boxer who exploded onto the world stage. It seemed like there was nothing that he couldn't do; while the Iron Mike was a solid defensive fighter, he also had the pure punching power to knock out any opponent.
Mike Tyson didn't make much as the face of 'Punch-Out!!'
In 1985, an 18-year old Mike Tyson made his professional boxing debut. Within a year, he was taking the ring in nationally televised bouts. Countless fans tuned in to watch the young phenom; one of those viewers was Minoru Arakawa.
At the time, Arakawa was the president of Nintendo of America. The company's boxing game, Punch-Out!!, was coming to North America; while the original version placed you in control of a young boxer trying to fight his way to the top, Arakawa was struck by Tyson's performance. When the game hit stores in America, it was known as "Mike Tyson's Punch-Out!!" and Iron Mike had replaced Super Macho Man as the final boss. The digital version of Tyson was famously tough, capable of knocking you down with a single punch.
The release turned out to be timed perfectly, as "Mike Tyson's Punch-Out!!" hit store shelves shortly after the boxer claimed the unified heavyweight title. On the back of Iron Mike's reputation, the game sold more than a million copies.
Tyson, however, didn't make a killing on the deal. Since the endorsement was worked out before he claimed the title, he only earned $50,000 from appearing Punch-Out!!
Falling out of favor with Nintendo
Between his dominance in the ring and his deal with Nintendo, Mike Tyson was on top of the pop culture world. His reign of dominance, however, wouldn't last forever.
In the late 1980s, Tyson's marriage to Robin Givens came crashing down. Divorce proceedings became ugly, and news eventually broke that the boxer had abused his wife. When the Punch-Out!! deal was up, the family-friendly Nintendo company didn't want to work Tyson anymore. His name dropped out of the title, and Mr. Dream took his place as the game's champion.
Once again, the video game company had impeccable timing. Just as they landed Tyson shortly before he hit it big, their contract expired months before he lost the title to Buster Douglas.
Throughout his career, Mike Tyson has gone through many incarnations, ranging from a ruthless boxer to an eccentric pop culture icon. Video game fans, however, will always remember him as the face of Nintendo's Punch-Out!!