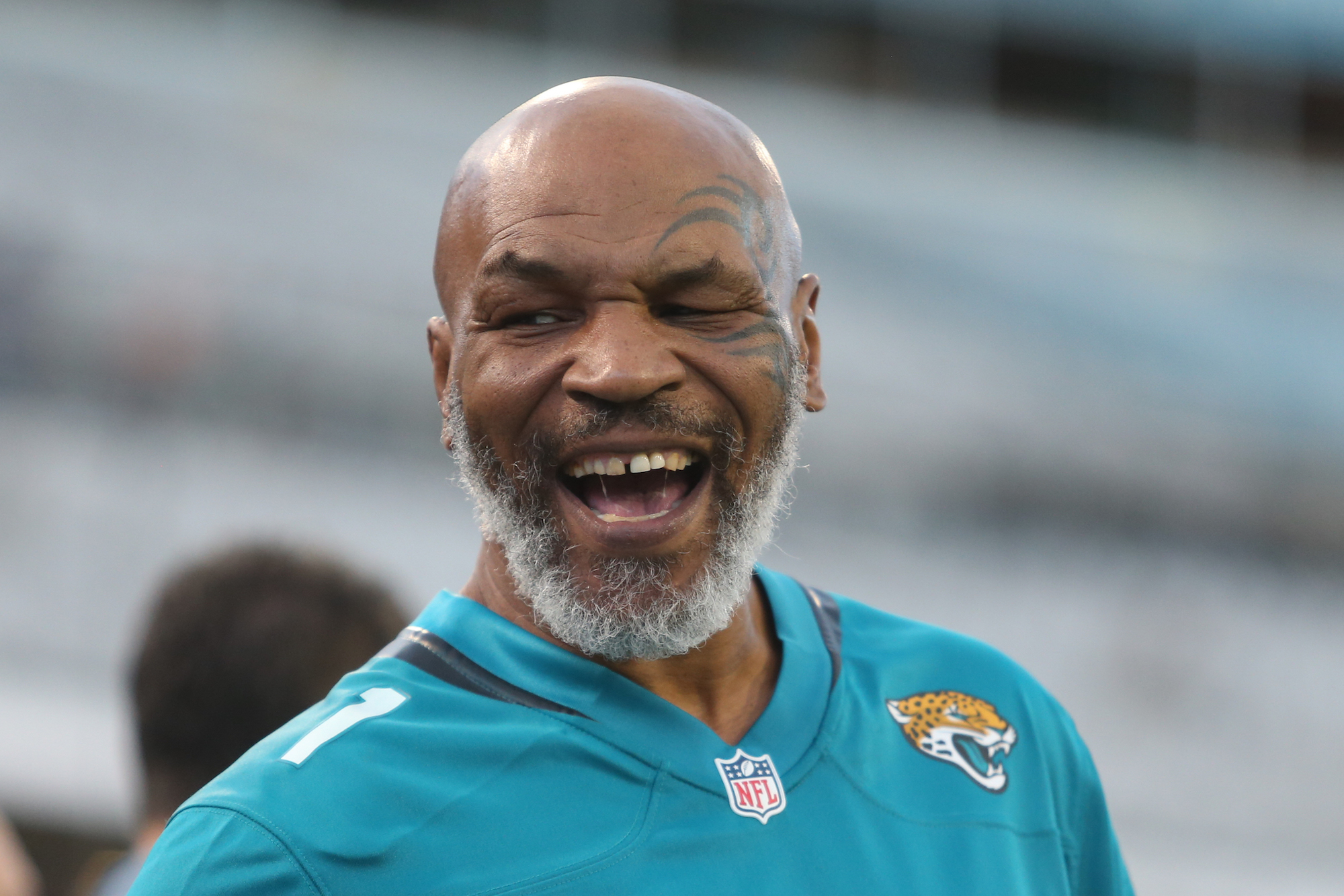 Mike Tyson Reaped an Unexpected Reward After Blowing Through His Fortune and Filing for Bankruptcy
While no one ever wants to file for bankruptcy, Mike Tyson has found a positive to having less money in his bank account.
During his prime, few sports stars shone brighter than Mike Tyson. In the ring, Iron Mike seemed capable of dispatching any opponent with incredible ease; away from the ring, that talent made him incredibly wealthy. The boxer, however, learned that money doesn't buy happiness.
In 2003, Tyson declared bankruptcy. While that could have been the lowest moment of the boxer's life, he's since reaped an unexpected reward: Iron Mike is happier now that he has less money.
Mike Tyson's dominant boxing career
In 2020, Mike Tyson has become a fixture of popular culture, appearing in everything from video games to his own one-man show. During his boxing career, however, he was a much more intimidating figure.
Tyson grew up in Brooklyn and found himself in constant trouble with the law; according to Rolling Stone, he had been arrested 38 times by age 13. He eventually found himself in upstate New York's Tyron School for Boys. There, both Tyson's life and boxing history would change forever.
At Tyron, Iron Mike sought out Irish Bobby Stewart, a boxer turned counselor, to learn how to fight. The former pro saw Tyson's potential, however, and introduced him to legendary trainer Cus D'Amato.
Working with D'Amato, Tyson learned the peek-a-boo style, giving him a formidable defense to compliment his incredible punching power. That allowed the young boxer to climb through the ranks at a meteoric pace, claiming the heavyweight title at only 20 years old.
While there were some notable missteps along the way—like losing to Buster Douglas and biting Evander Holyfield's ear—before an eventual collapse, Tyson proved to be incredibly dominant during his prime. He piled up 50 wins during his time in the ring; 44 of those came by knock out.
A reversal of financial fortunes
Thanks to his incredible talent and status as 'the baddest man on the planet,' Mike Tyson made an incredible amount of money during his time in the ring. Like his fighting career, however, his financial life also fell off a cliff.
According to Forbes, Tyson earned an estimated $685 million during his boxing career, with about $400 million of it coming from fight purses. While that sum should have been enough to last a lifetime, Iron Mike wasn't the smartest with his money.
"I didn't think I'd make it through my thirties," Tyson explained in 2017, according to CNN. "My thirties were scary, weren't they?"
Unfortunately, Tyson fell victim to the same trap as many professional athletes. After his tough childhood, the boxer earned millions of dollars in the blink of an eye. Faced with previously unimaginable wealth, he wasted money on mansions, jewelry, and tigers; he was also taken advantage of by some in his inner circle.
In 2003, Tyson was forced to declare bankruptcy. As charted by the New York Times, he owed more than $27 million to various lawyers, agents, and producers.
Mike Tyson is actually happier without money
Filing for bankruptcy is obviously a life-changing experience. For Mike Tyson, however, the experience changed his life for the better.
"When I called Mike one time, I said 'Mike, how are you doing?' – And it's this voice 'All praise to Allah, my brother I'm just happy," Jamie Foxx explained on "All the Smoke," as documented by WorldBoxingNews.net.
When Foxx asked why Tyson was so happy, the former champ apparently responded, "I'm happy I don't have money anymore, I don't have any money." Fox, understandably was skeptical, Iron Mike offered a further explanation.
"No one can take anything from me anymore," Tyson reportedly told Foxx. "There are no vultures. Nobody out there trying to take anything from me. So I'm just happy."
While there's an obvious caveat to Tyson's claim—even after declaring bankruptcy, he's not living paycheck-to-paycheck by any stretch—there is something to be said for the boxer's happiness. These days, he doesn't have to be 'the baddest man on the planet;' he just has to be Mike Tyson.