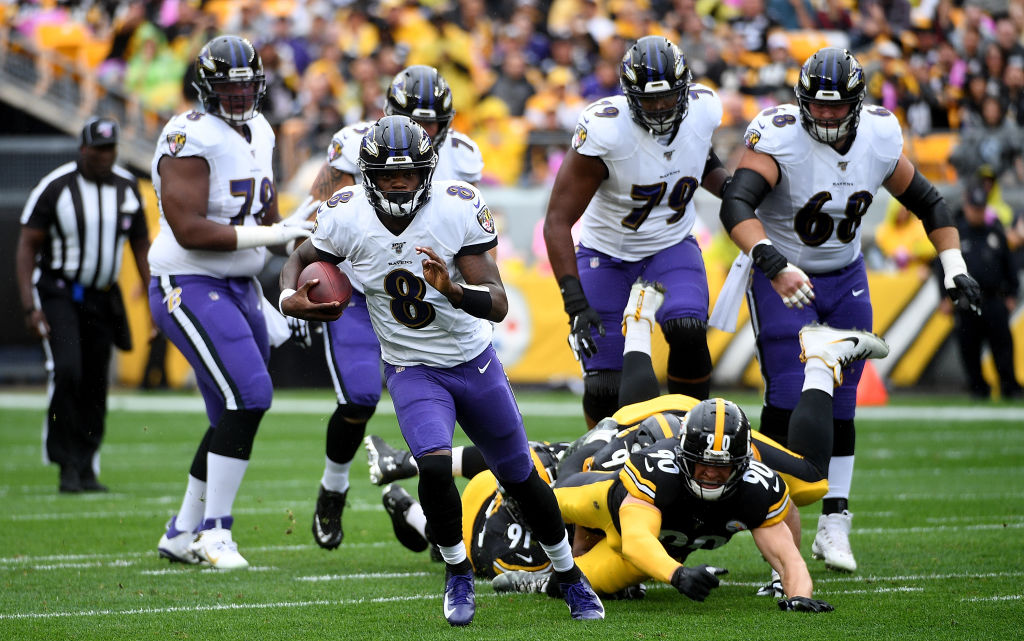 NFL: 1 Stat That Proves the Baltimore Ravens Playoff Contenders, Not Pretenders
The Baltimore Ravens have gotten off to a hot start, but one specific stat proves they're NFL contenders, not pretenders.
While it might feel like the NFL season just started, we're already entering Week 7. Teams are going on bye, injuries are beginning to mount, and true contenders are starting to separate themselves from divisional pretenders. The Baltimore Ravens are firmly establishing themselves in that former camp.
The Ravens are comfortably sitting atop a weak AFC North, but they're there on the strength of their own merits. In fact, there's one particular stat that proves the team is for real.
The Ravens' running game
While keeping the ball on the ground might not be the sexiest way to play football, it's a tried and true formula to success. If you can run the ball effectively, you control your own destiny. With each successive play, the clock keeps running, and the time of possession creeps higher; the other team simply can't score if they don't have the ball.
This season, the Ravens have run the ball with impressive efficiency. They've piled up over 1,200 yards on the ground in their first six games, putting them on pace to break the 1978 New England Patriots' record for the most rushing yards in a single season. Their success, however, goes beyond pure distance.
Baltimore's three running backs, Mark Ingram II, Gus Edwards, and Justice Hill, are all averaging over four yards per carry. While their sample sizes are different—Hill only has carried the ball 18 times so far—their consistency proves the Ravens' commitment to their ground game. If multiple running backs can keep chewing up roughly half of the first down distance with each run, it will hard to get Baltimore's offense off the field.
Lamar Jackson's dual-threat
The Ravens' offense all starts with quarterback Lamar Jackson, however. He's also off to a historic start to 2019, setting his own NFL records; he's also on pace to break Michael Vick's record for most rushing yards as a quarterback in a single season.
While Jackson has found remarkable success on the ground this season, averaging nearly seven yards per carry, his passing game has also developed. While he's still not going to sit back in the pocket like Tom Brady, Jackson has thrown for over 1,500 yards so far this season, with 11 touchdowns and five interceptions. There's definitely still room for improvement but, with his scrambling ability, Jackson just has to be solid enough to force teams to respect his passing potential.
The rest of the Baltimore Ravens season
For all of the Ravens' strengths on offense, their defense has been a potential Achilles heel this season. Baltimore struggles to generate a consistent pass rush, making life hard on their secondary. They're currently 25th in the league in passing defense, making life harder than it needs to be for Jackson and his offense.
The Ravens' schedule will also get tougher. They'll visit Russell Wilson and the Seattle Seahawks this week, before going on bye. After that break, they'll face the Patriots, Texans, Rams, and 49ers in a five-week span. Those games will prove to be a real test for Baltimore's ground game; if they can control the game clock against some of the league's most dangerous teams, it will make a real statement.
Even if the Ravens falter, however, their running game and the weakness of the AFC North should be more than enough to keep them in the playoff picture. If they keep racking up rushing yards at a historic pace, though, they could be a real threat in the postseason.