NFL Prospect Matt Corral's Injury May Have Changed College Football Bowl Games Forever
The injury to Matt Corral is already lost in the 24-hour news cycle to the heroics of Joe Burrow, the antics of Antonio Brown, and the playoff projections of Steve Kornacki. Just wait another 11 months, however, and the Ole Miss quarterback's name is sure to come up.
Corral is exactly the type of player who should have considered sitting out the college football bowl season. He had nothing to gain by playing in front of NFL draft scouts one more time but everything to lose by getting hurt.
Other pro prospects will remember that at the conclusion of the 2022 regular season, and critics will assail them for doing what Corral should have done.
Matt Corral has an NFL future in front of him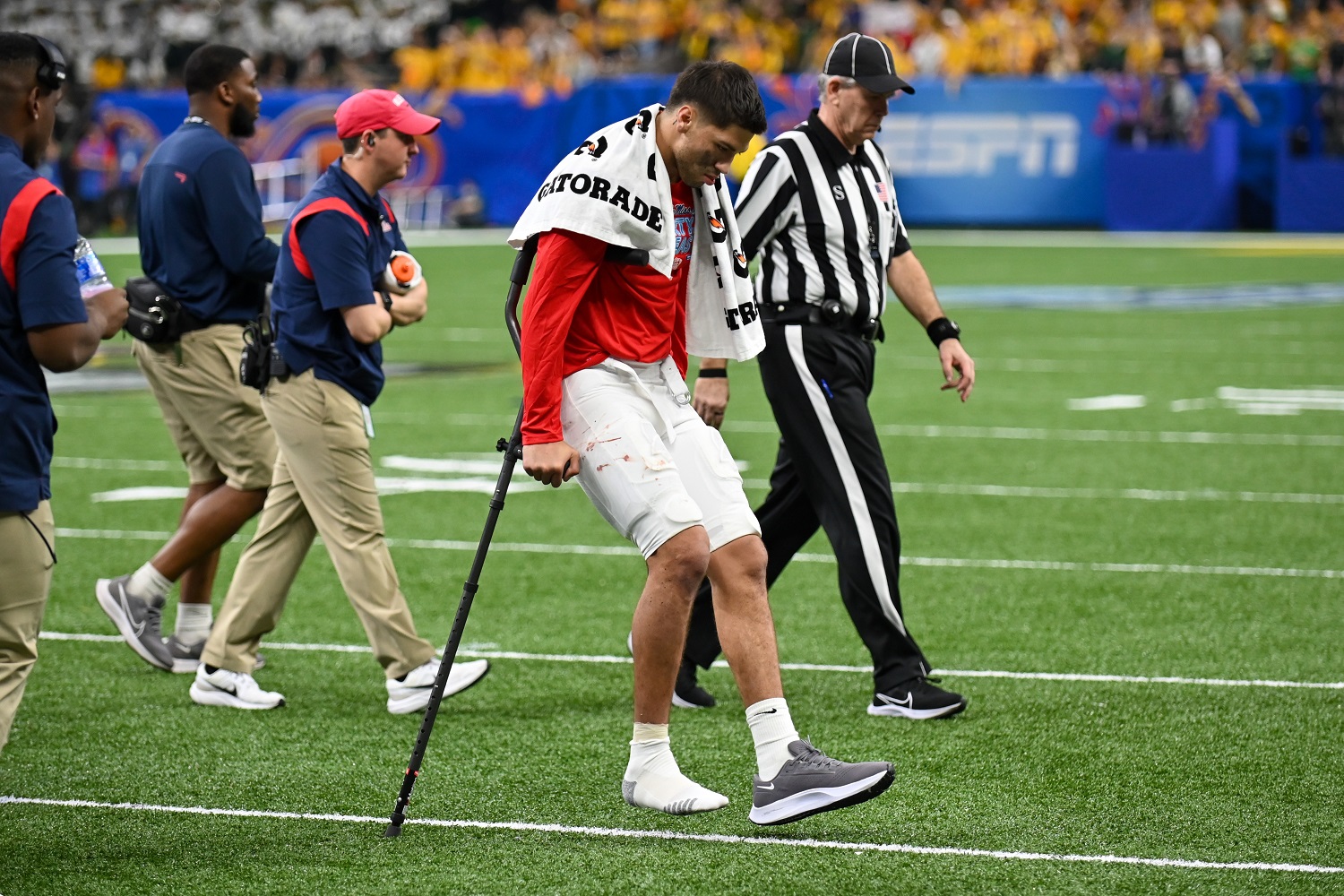 Ole Miss just completed its first 10-win season since 2015, the reward for which was a trip to the Sugar Bowl against Baylor. The Rebels' featured attraction was quarterback Matt Corral, who placed seventh in the Heisman Trophy voting.
Corral finished his junior season with 3,343 yards, 20 touchdown passes, five interceptions, and what appeared on national television to be a serious injury. Medical staff carted Corral off the field in the first quarter with an injury to his right leg. He returned to the sideline on crutches to watch Baylor earn a 21-7 victory.
The preliminary word came back Sunday that the injury was only a sprained ankle, but it was a reminder that the stakes are high when you combine NFL prospects with meaningless games. The 2022 NFL Draft isn't a great one for quarterbacks, but Corral will go into his Pro Day workout as a likely first-round pick. Had he torn an ACL instead of tweaked an ankle, the injury could have cost him several million dollars.
Opting out of bowl games has become a trend
Oregon defensive end Kayvon Thibodeaux, an almost-certain high draft pick this spring, revealed almost a month ago that he was skipping the Dec. 29 Alamo Bowl against Oklahoma, and he had plenty of company. The Sporting News counted close to 30 other pro prospects who also said they would not play in their schools' bowl games.
Nearly all the opt-outs cited their intention to prepare for the NFL draft. Realistically, all were intent on avoiding a serious injury that could have knocked them out of predraft workouts and evaluations. Such has been the case for a long time, but Michigan tight end Jake Butt's knee injury in the Orange Bowl five years ago was one of the moments that led prospects to consider whether risking seven-figure contracts for the sake of a new gaming system in the bowl game's swag bag made sense.
At least 20 of the current bowls have always been inconsequential, and 20 more have been rendered almost equally irrelevant by the four-team FBS playoff system.
So, why risk it? Current underclassmen with pro potential will look back a year from now at Matt Corral's New Year's Day near-miss and ask that question.
Kirk Herbstreit and Desmond Howard are getting roasted for their takes on bowl games and opt-outs
Awful Announcing writer Phillip Bupp did a takedown of ESPN/ABC college football commentators Kirk Herbstreit and Desmond Howard that was thorough and convincing. The pair wasn't discussing Matt Corral, but rather the trend of players skipping bowl games.
Said Herbstreit: "I think this era of player just doesn't love football."
Added Howard: "They have a sense of entitlement, and it's like if we're not going to the one that matters, then it just doesn't have as much value to them as it did us growing up."
It's not so much that players are laser-focused on the College Football Playoff. It's more a case that so many bowl games are so utterly meaningless. As Bupp points out, there were only 18 bowl games in 1992 and more than 40 of them now. Disney's ABC and ESPN show almost all the games. Bowls used to be a reward for eight- and 10-win teams. Now, win six and you're going bowling.
"No offense, but if someone actually has pro aspirations, there's no reason for them to risk tearing their ACL to try and win the 'prestigious' Boca Raton Bowl," Bupp writes.
Take ESPN out of the equation, and a lot of meaningless bowl games go belly-up. Then again, Herbstreit and Howard might go away, too. Maybe that's what scares them most about the current state of college football.
Like Sportscasting on Facebook. Follow us on Twitter @sportscasting19.