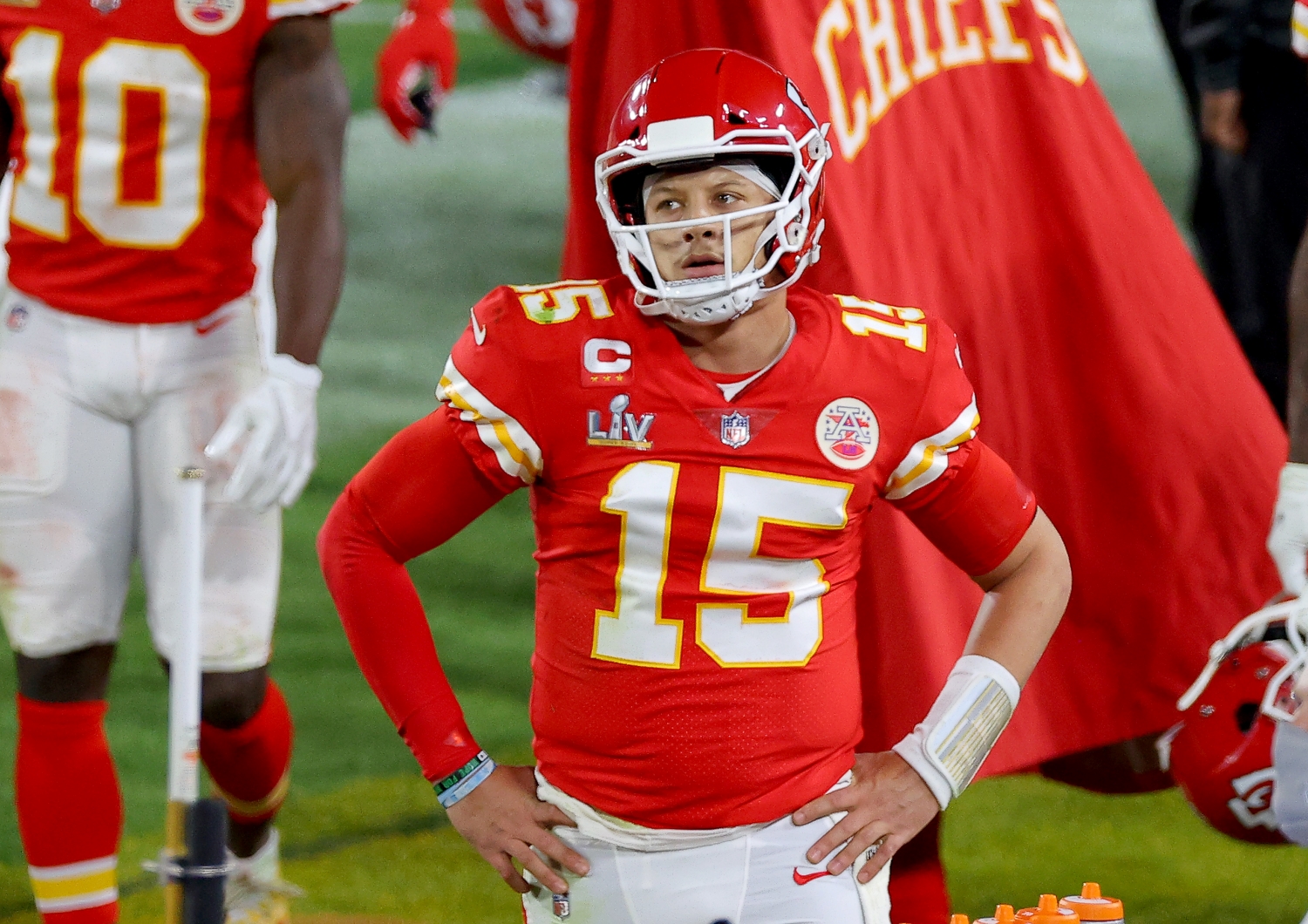 Patrick Mahomes Has Already Lost a Key Member of His New-Look Offensive Line to a Concerning Injury
Patrick Mahomes and the Kansas City Chiefs could be in trouble if veteran Kyle Long can't overcome his latest injury setback.
Patrick Mahomes can't say the Kansas City Chiefs didn't try to help him this offseason. After all, the team invested significant resources to upgrade his offensive line.
Unfortunately for the NFL's most talented quarterback, a key member of his new-look protection group already suffered a concerning injury.
The Chiefs significantly upgraded Patrick Mahomes' protection this offseason
Think Brett Veach went into the offseason with a mission in mind?
After watching Mahomes and the rest of the Chiefs' star-studded skill group get held to three field goals in Super Bowl 55, Kansas City's general manager focused on fixing an offensive line that god badly exposed by the Tampa Bay Buccaneers. In the span of a few months, the Chiefs went from having Eric Fisher and Mitchell Schwartz as their starting tackles to releasing the two veterans. They also moved on from Austin Reiter, the team's full-time starting center since 2019.
Veach didn't settle when he went shopping for upgrades. The Chiefs signed free-agent guard Joe Thuney to a five-year, $80 million contract with $32.5 million fully guaranteed in the first two years. A two-time Super Bowl champion who earned a spot on the New England Patriots' 2010s All-Decade Team, Thuney should lock down the left guard spot for years to come in Kansas City.
The Chiefs also went the expensive route to fill their gaping hole at left tackle. They traded three of their picks in the 2021 NFL draft (Nos. 31, 94, and 136) and a 2022 fifth-rounder to the Baltimore Ravens for two-time Pro Bowler Orlando Brown Jr., a 2021 second-round pick, and a 2022 sixth-rounder.
Kansas City's offensive line overhaul also included two other veteran signings. Austin Blythe joined the team on a one-year deal to compete for the starting center spot. Interestingly, though, on the same day they signed Thuney to a record-setting deal, the Chiefs also gave former Chicago Bears star Kyle Long a chance to resurrect his career on a one-year, $1.5 million contract with nearly all of it guaranteed. Unfortunately for the three-time Pro Bowl guard, he suffered a painful setback on Wednesday.
Mahomes has already lost a key member of his overhauled offensive line to a concerning injury
A first-round pick back in 2013, Long looked like a potential all-time great during his early days with the Bears. However, injuries derailed what appeared to be a highly promising career in Chicago. After missing only a single game during his first three NFL seasons, Long played a total of 30 games from 2016-19. He announced his retirement on Jan. 6, 2020, and the Bears subsequently declined his contract option, which allowed Long to become an unrestricted free agent.
By signing with the Chiefs this spring, the 32-year-old put himself in a position to compete for the vacancy at right guard. However, it doesn't look like Long will be able to showcase his skills this summer.
According to ESPN, Long sustained a knee injury on Wednesday. The Chiefs reportedly "are hopeful" he can return for the start of the regular season.
While speaking to the media on Thursday, head coach Andy Reid said he didn't think Long suffered ligament damage.
"There's a chance he has to have surgery on it, but we'll see," Reid said.
Meanwhile, the veteran offensive lineman delivered a message about his recent injury on social media.
"I did everything I could to get back for football. Zero regrets. I've been getting better every day and having so much fun with my new team. Focusing on controlling the things I can control. Yesterday was not one of those things! Thanks for the well wishes," Long tweeted.
Does Kansas City have enough depth at guard in case Kyle Long can't return in time?
With Long's availability already a concern, the Chiefs need to ensure they have enough depth at guard to keep Mahomes adequately protected. Luckily for the reigning AFC champions, they have a familiar face set to return at exactly the right time.
Laurent Duvernay-Tardif started 57 games for the Chiefs before he elected to sit out the 2020 season. Unlike other players, though, his opt-out experience didn't include much time at home with his family. Instead, the NFL's only active player to become a medical doctor helped battle COVID-19 while working at a long-term care facility in his native country of Canada.
But after spending a year away from football, Duvernay-Tardif will be back in Kansas City for the 2021 season. At his best, he gives the Chiefs a Pro Bowl-caliber guard. So as long as his layoff doesn't cause a drop-off on the field, Duvernay-Tardif should win the starting job.
In addition, the Chiefs have veteran Andrew Wylie and rookie Trey Smith as potential fallback options. Smith fell to the sixth round of the 2021 NFL draft, but he has the physical tools and natural talent to develop into a starting-caliber player down the line.
And if the Chiefs can't depend on their veterans, they might just have to call upon the first-year pro sooner than expected.
For Patrick Mahomes' sake, hopefully his toe is 100% healthy.