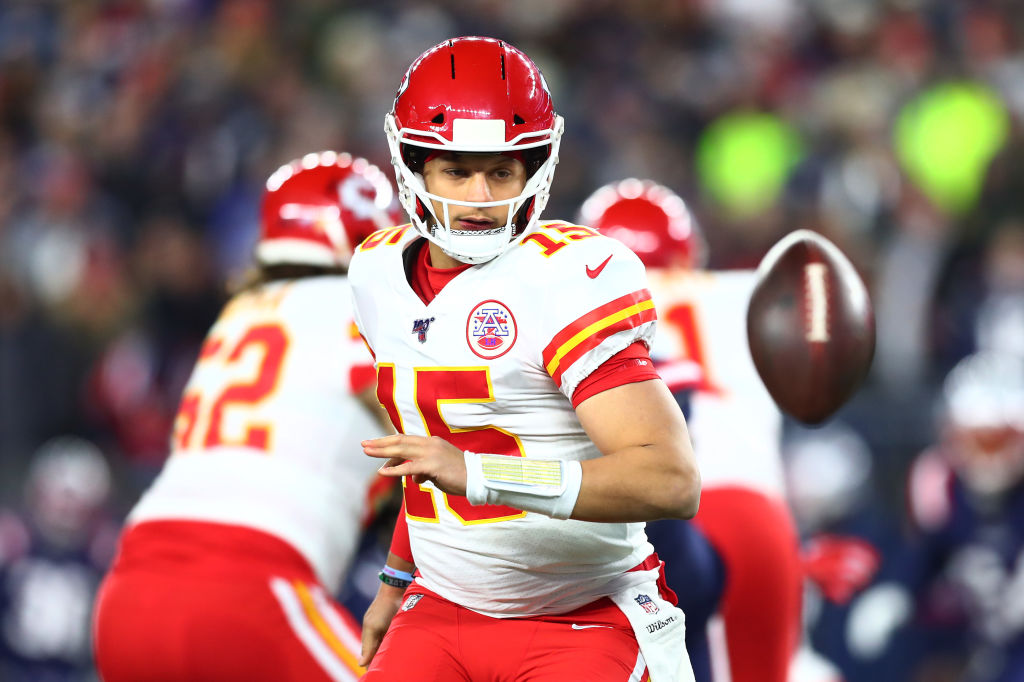 Patrick Mahomes' High School Coach Landed a Super Bowl Ticket From an Unexpected Source
Patrick Mahomes' high school football coach will attend Super Bowl LIV thanks to the quarterback's former college coach.
Don't ever forget the guys who helped you climb to the top.
That's the lesson learned this week from a connection made between two coaches who played significant roles in the development of Patrick Mahomes, who'll be quarterbacking the Kansas City Chiefs in Super Bowl LIV against the San Francisco 49ers in Miami.
One coach who's made it to the top of the profession has paid back a high school coach for handing over a polished quarterback who made landing one of the exclusive 32 head jobs in the NFL possible.
Patrick Mahomes thrived under Kliff Kingsbury
If you went solely by wins and losses, Kliff Kingsbury constituted a curious choice for a head coach by the Arizona Cardinals before the 2019 season. His six years as the head coach at Texas Tech included only two winning seasons, both in his first three years on the job.
But part of what attracted the NFL team's attention was Kingsbury's innovative approach to operating the offense. Tech scored at least 446 points in five of his six seasons in charge, averaging 37.8 points a game during his tenure.
Much of the damage to opposing defenses was the work of Patrick Mahomes. In two full seasons beginning in 2015, Mahomes threw for 9,705 yards and 77 touchdowns with just 25 interceptions in 752 attempts.
That ultimately resulted in Mahomes being selected 10th in the 2017 draft by the Kansas City Chiefs, where he has become both immensely successful and popular.
Patrick Mahomes' path to success
Before arriving at Texas Tech, Patrick Mahomes attended Whitehouse High in Whitehouse, Texas, where he was a three-sport athlete. Though also an intriguing baseball prospect, Mahomes attracted more attention for his prowess on the football field, throwing for 4,619 yards and 50 touchdowns as a senior and earning national awards.
No quarterback plays that well without a good deal of coaching on and off the field, and a chunk of that was the responsibility of Whitehouse football coach Adam Cook. He had Mahomes ready to go once college recruiters came calling, and Kingsbury must have felt like he won the lottery the day Mahomes committed.
Kingsbury didn't forget about how Cook prepared Mahomes to handle the most important position on the field for a major-college football program.
A high school coach is heading to Super Bowl LIV
Every NFL team gets an allocation of tickets for the NFL championship game, with management determining who gets to use them. Not surprisingly, coaching staffs share in the allocation, and Kingsbury put one of his tickets to good use by rewarding  Cook.
Cook made the gesture public by posting a letter to Kingsbury's father, Tim, on Twitter this week. His words were heartfelt:
"Your and Sally's baby boy (Kliff) sent a text and blew me away with a ticket offer to the Super Bowl so this old coach could watch his former High School QB in the most exciting game in football."
Cook might never get the chance to attend another Super Bowl, but he's sure to remember this one because an old acquaintance remembered him.